Fitzwilliam alumnae Winckless selected as first woman to umpire men's Boat Race
Olympic medallist and veteran rowing umpire to take charge of men's 2020 University Boat Race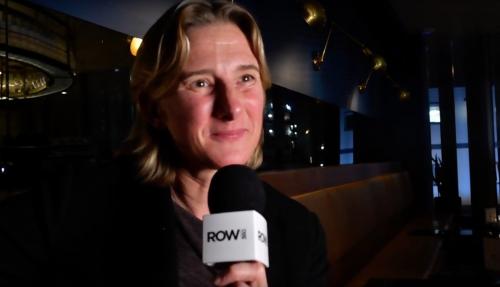 Fitzwilliam graduate and Olympic medallist Sarah Winckless (NatSci Physical 1993) has been selected as the first woman to umpire the mens University Boat Race in it's 166 year history.
After leaving Fitzwilliam, Winckless made her rowing debut for Great Britain in the women's eights at the 1998 World Championships in Cologne, and went on to forge a highly successful rowing career including gold at the 2005/6 World Championships in the women's quad as well as an Olympic bronze in 2004 alongside partner Elise Laverick in the double sculls.
Beyond retirement from competition, Winckless moved into sports administration and has served as the UK's Chef de Mission for the 2018 Commonwealth Games in Australia and currently sits on the board of the UK Anti-Doping agency. She received an MBE in the Queens 2015 birthday honours for 'services to sport and young people'.
Cambridge supply adjudication for the men's race in even years whilst Oxford provide for odd, with Winckless selected by an Oxford panel to take the reigns of the UK's most prominent domestic rowing competition.
Winckless officiates the men's having umpired the women's competition in 2017, as well as the men's reserves in 2016 and most recently both the Cambridge and Oxford Trial Eights at the tail end of 2019. Winckless was also the first woman to umpire at the Henley Royal Regatta in 2016.
Speaking to Fitz online, she stated "I'm really excited about having the opportunity to umpire this race, and I'm female. I don't pay attention to that part of history so much. I'll be thinking about the boats and the athletes, rather than the occasion for myself."
"As an umpire you're to facilitate the athletes' performance and to ensure it is clear what they need to do to stay within the rules, and allow them to perform at their best."
Taking place on 29th March at 3:44pm for the women's at 4:44 for the men's, the Light Blues look to defend their titles in both events after successes in 2019. Since it's inception Cambridge lead the records at 84-80 in the men's and 44-30 in the women's.
As always you will be able to follow the race live on the day, with rolling coverage from Varsity beginning in the morning.