What is Varsity?
Varsity is Cambridge University's independent student newspaper, established its' current form in 1947. Varsity is published on regular Fridays during term time and is available to all students, staff, alumni, friends of the University and local residents.
We deliver up to 10,000 free copies to all 31 colleges in the University, from where they are distributed from mail rooms, common rooms and social areas. Copies are also distributed to the University's faculties, departments, social spaces and to the wider population of the City of Cambridge too - we have over 160 individual distribution locations in total.
We also now have the facility for readers worldwide to subscribe to postal copies of our print editions.
As well as our award-winning news, features, opinion and editorial content, Varsity is the essential guide to everything "Cambridge"!
Varsity is read, both online and in print worldwide, by tens of thousands of students, prospective students, families of current and prospective students, University staff, College staff, local residents, Cambridge alumni and anyone with a interest in higher education in the UK.
Independent, Established, Trusted
Unlike most student publications, Varsity is an independent newspaper unaffiliated to any student union – a status that, along with our quality and history, means that Varsity is Cambridge's most established and trusted news source. Despite the newspaper's independence, we are privileged to hold strong ties to the University of Cambridge.
Varsity is owned and operated by Varsity Publications Ltd, a not-for-profit company devoted to the encouragement of student journalism. Our registered charity, The Varsity Trust hopes, each year, to award funds to enable Cambridge's most talented journalists to develop their careers through postgraduate study. Varsity Publications also publishes a series of supplements and sister publications, including the joint Oxford/Cambridge student anthology, The Mays.
Week in, week out, our team of dedicated student journalists continues to produce one of the world's most renowned and respected student newspapers and news websites.
Who's who?
The Editor(s) is/are the persons in charge of what appears in the paper,
commissioning articles, controlling the vast team of contributors and scheduling each and every one of our print issues and our online editorial content. Unlike many student newspapers, Varsity editors don't take a year off from their studies to do the job: as well as editing the paper for a term, they're also studying full time for a degree!
The team is made up of over 70 students per term. From section editors, to photographers, to production staff, everyone plays a vital role in putting together a newspaper in time for the deadline! Alongside print editions, our website receives hundreds of thousands of views a month.
The Business Manager is our sole salaried position, responsible for the running of all of Varsity's operations - our current Business Manager & Company Secretary is Mark Curtis.
Recent Editors
| | |
| --- | --- |
| Michaelmas 2023: | Isabel Dempsey & Taneesha Datta |
| Easter 2023: | Erik Olsson-Ferrer & Hannah Gillott |
| Lent 2023: | Meg Byrom & Famke Veenstra-Ashmore |
| Michaelmas 2022: | Fergal Jeffreys & Jacob Freedland |
| Easter 2022: | Lotte Brundle & Juliette Guéron-Gabrielle |
| Lent 2022: | Emaan Ullah & Bethan Moss |
| Michaelmas 2021: | Nick Bartlett & Isabel Sebode |
| Easter 2021: | Elizabeth Haigh & Meike Leonard |
| Lent 2021: | Gaby Vides & Georgina Buckle |
| Michaelmas 2020: | Rich Bartlett |
| Easter 2020: | Caterina Bragoli & Gabriel Humphreys |
| Lent 2020: | Lottie Reeder & Jess Ma |
| Michaelmas 2019: | Maia Wyn Davies & Stephanie Stacey |
| Easter 2019: | Isobel Bickersteth |
| Lent 2019: | Vivienne Hopley-Jones & Catherine Lally |
| Michaelmas 2018: | Noella Chye |
| Easter 2018: | Anna Jennings |
| Lent 2018: | Daniel Gayne |
| Michaelmas 2017: | Elizabeth Howcroft & Patrick Wernham |
| Easter 2017: | Patrick Wernham |
| Lent 2017: | Millie Brierley |
| Michaelmas 2016: | Louis Ashworth & Callum Hale-Thomson |
| Easter 2016: | Eleanor Deeley |
| Lent 2016: | James Sutton |
| Michaelmas 2015: | Tom Freeman |
| Lent 2015: | Talia Zybutz |
| Michaelmas 2014: | Amy Hawkins |
| Lent 2014: | Emily Chan |
| Michaelmas 2013: | Alice Udale-Smith |
| Lent 2013: | Salome Wagaine & Aliya Ram |
| Michaelmas 2012: | Charlotte Keith |
| Lent 2012: | Louise Benson & Madeleine Morley |
| Michaelmas 2011: | Rhys Treharne & Laurie Martin |
| Lent 2011: | Alice Hancock & Lara Prendergast |
| Michaelmas 2010: | Joe Pitt-Rashid |
| Lent 2010: | Emma Mustich & Laurie Tuffrey |
| Michaelmas 2009: | Robert Peal & Anna Trench |
| Lent 2009: | Hugo Gye & Michael Stothard |
| Michaelmas 2008: | Patrick Kingsley |
| Lent 2008: | Tom Bird & George Grist |
| Michaelmas 2007: | Lizzie Mitchell & Elliot Ross |
| Lent 2007: | Joseph Gosden & Hermione Buckland-Hoby (Issue 1), Joseph Gosden & Natalie Woolman (Issue 2-9) |
| Michaelmas 2006: | Emily Stokes (Issues 1-2), Mary Bowers & Jonny Ensall (Issue 3-9) |
| Lent 2006: | Jon Swaine & Amy Goodwin |
| Michaelmas 2005: | James Dacre |
| Lent 2005: | Amol Rajan |
| Michaelmas 2004: | Archie Bland |
| Lent 2004: | Reji Vettasseri & Laura-Jane Foley |
| Michaelmas 2003: | Tom Ebbutt |
| Lent 2003: | Oliver Duff & Luke Layfield |
| Michaelmas 2002: | Katy Long |
| Lent 2002: | Rob Sharp |
| Michaelmas 2001: | Adam Joseph & Julian Blake |
| Lent 2001: | Tom Royston & Sarah Brealey |
| Michaelmas 2000: | Ed Hall |
| Lent 2000: | Jonti Small |
| Michaelmas 1999: | David Peter |
The Lent term editor also edits a single edition at the start of Easter term, and a separate editor controls a special edition May Week issue (or, in some years, daily May Week issues!) at the end of the academic year.
Recent Business Managers:
| | |
| --- | --- |
| 2014– | Mark Curtis |
| 2007–2014 | Michael Derringer |
| 2006–2007 | Adam Edelshain |
| 2005–2006 | Chris Adams |
| 2004–2005 | Eve Williams |
| 2003–2004 | Sam Gallagher |
| 2002–2003 | Tim Nixon |
| 2001–2002 | Ed Hall |
| 2000–2001 | Kate Norgrove |
| 1999–2000 | Rachel Flowerday |
| 1998–1999 | Suzanne Arnold |
| 1997–1998 | Madeleine McTernan |
| 1996–1997 | Emma Horton |
| 1995–1996 | Dylan Jones |
| 1994–1995 | David Nicolson |
| 1992–1994 | Rebecca Thompson |
| 1990–1992 | Peter Davis |
| 1987–1990 | Scott Ross |
Varsity History & Trivia
• Varsity has its origins in a newspaper first published in 1931, re-establishing itself in 1947 despite the rationing of newsprint after World War II, in the basic form we are now familiar with. In the mid-1970s it merged with the radical paper 'Stop Press' and was known for some years as 'Stop Press with Varsity' before reverting to the more well-known Varsity branding.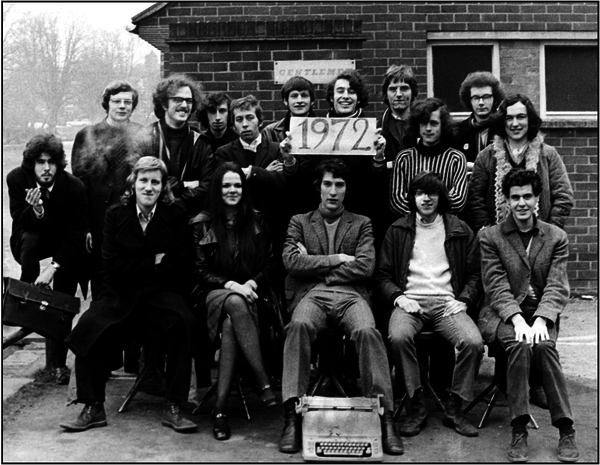 • Well known ex-editors include TV presenter and journalist Jeremy Paxman (centre in photo on the right), Sir David Frost, film director Sir Michael Winner, TV presenter Richard Whiteley OBE, TV presenter and Factory Records founder Tony Wilson, Financial Times editor Andrew Gowers, BBC Media Editor & TV presenter Amol Rajan, writer Graham Lord, EastEnders producer Matthew Robinson, historian Jonathan Spence, theatre director James Dacre, Vogue editor Suzy Menkes OBE, novelist Robert Harris, writer and art historian Laura-Jane Foley, Guardian writer Oliver Burkeman, novelist Preti Taneja, online editor of The Spectator Lara Prendergast, Daily Mail reporter Elizabeth Haigh and Reuters financial journalist Elizabeth Howcroft.
• Other notable past student contributors include Lord Snowdon, comedian and actor David Mitchell (a regular Varsity columnist and writer), comedian and actor Ben Miller, playwright Michael Frayn, former Foreign Secretary Charles Clarke, Rupa Huq MP, Liz Kendall MP, Andy Burnham - Mayor of Greater Manchester, Germaine Greer, Clive James CBE and even HM King Charles III.                                                                                                        
• There are a huge number of former Varsity team members who have gone on to succeed in the field of journalism and the media. To name just a few, they include film & tv critic, broadcasting executive and founder of the 'Halliwell's Guide' Leslie Halliwell, BBC & London Evening Standard journalist Andrew Gilligan, Observer political editor & Guardian Columnist Gaby Hinsliff, BBC sports presenter Eleanor Oldroyd, Guardian and GQ Magazine music writer Alexis Petridis, author & columnist Iain Hollingshead, BBC sports editor Dan Roan, chief sports writer at The Times Matt Dickinson and from The Independent, news editor Oliver Duff, New York correspondent Stephen Foley, columnist Johann Hari & Deputy Political Editor Hugo Gye, Editor of Vice UK Zing Tsjeng, news reporter at The Times Peter Chappell and Deputy National Editor of The Guardian Archie Bland.
• Douglas Adams, author of 'The Hitchhiker's Guide to the Galaxy' & many other bestsellers (he was also a BBC TV Dr Who writer & script editor) was a Varsity writer. His first contribution to the newspaper was published in November 1972 - it was an interview with a certain Mr John Cleese!
• Many former Varsity members have succeeded outside of the media/entertainment industries too! Former features editor Ayesha Vardag is the founder of world-famous celebrity lawyers - Vardags, Sir Martin Sorrell, founder and former CEO of WPP was one of our first technology reporters and Suranga Chandratillake OBE was our first web manager.
• Varsity has a long tradition of attracting notable guest writers - these include children's author Enid Blyton, legendary comedian Spike Milligan, broadcaster and comedian Kenneth Horne and artist and illustrator Sir Quentin Blake.  Also, believe or not - Sir Stephen Hawking took up music journalism for a week and took charge as head reviewer for our 1997 coverage of the Brit music awards!                                                                
• Some of Sylvia Plath's earliest poems and J G Ballard's first published story appeared in Varsity.
• Legendary comedian Peter Cook met his first wife while posing for a Varsity May Ball photoshoot!
• Former Varsity Business Manager, Rachel Flowerday went on to co-create two hugely successful TV Dramas - Father Brown and The Moonstone along with writing for Holby City, Doctors, Casualty and EastEnders, she also developed Enid Blyton's Malory Towers book series for BBC TV.
• Novelist Zadie Smith was first noticed by literary agents after her short story appeared in the 1997 edition of 'The Mays' - an annual collection of short stories, poems and art by Cambridge and Oxford students published by Varsity.
• The Mays is still published by Varsity to this day. Notable guest editors in recent years have included Stephen Fry, Kate Bush, Arlo Parks, Nick Cave, Jarvis Cocker, Patti Smith, Sir Quentin Blake, Ted Hughes, Rupi Kaur, Sir Philip Pullman, Louis de Bernières, Roger McGough CBE, Oscar Murillo and many more!
• Varsity has a special place in Lord David Owen's heart. In 1959 – his final year at Cambridge, he saw an advert in our pages for a place on 'the Cambridge-Afghanistan expedition', which he took up -"It changed my life, really…it opened my horizons – influenced me when I was Foreign Secretary, influenced me in many ways."
• Varsity has made a number of appearances on screen, most famously in the 2014 Stephen Hawking biopic - "The Theory of Everything" (blink and you'll miss it!). More recently, we gave permission to the BBC to use the Varsity crossword, which was central to the plot in "The Riddle of the Sphinx" - an episode of the comedy drama "Inside No. 9" which aired in March 2017.
• In May 1953, Varsity was one of the first newspapers in the world to report the discovery of DNA by Watson and Crick.
• In his youth, legendary Pink Floyd guitarist David Gilmour enjoyed a brief career as a male model (!) and featured prominently in a Varsity May Week fashion shoot. Gilmour, of course, did not attend the University but lived in the city at the time.
• Comedian, actor and broadcaster, John Oliver was one of the first recipients of a Varsity Trust bursary award in 1994.
• We don't like to show off, but The Guardian used to run conferences for student newspaper editors entitled "Why your paper isn't as good as Varsity" (!) Varsity has won countless national awards over the years - our best haul was in 2009, when Varsity took home six prizes for student journalism at the (now defunct) Guardian Student Media Awards. Our writers and their work continue to receive attention world-wide today and in recent years, Varsity writers have won multiple times at the coveted Orwell Society NUJ Young Journalist Of The Year awards.
• We are one of only three UK student newspapers to be independent of their student unions and universities.
Company Information
Varsity Publications Ltd is a company registered in England, number 561235.
Registered Office: 16 Mill Lane, Cambridge, CB2 1RX. United Kingdom.
VAT No. 213 9420 86
Complaints
Our journalists strive for accuracy but on occasion we make mistakes. For further details of our complaints policy and to make a complaint please click here.