Away from the Six Nations, Spain are rugby's headline act
As the fight for a place at the World Cup in Japan intensifies, it is Spain who are, miraculously, in the driving seat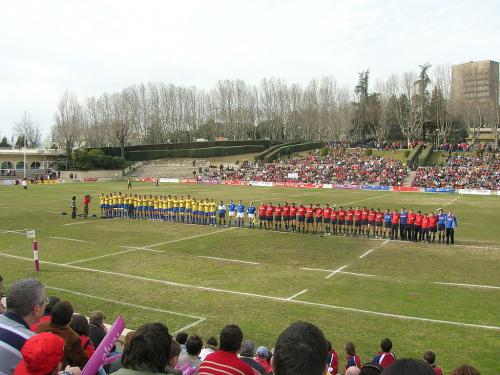 After exploring Iberian rugby last term, Spain's improving national side is once again making headlines. The NatWest Six Nations may have taken a break this weekend, but the second-tier tournament – the Rugby Europe Championship – continued in full swing. Having defeated Russia away in Round One (13-20) it was a big weekend for Spain, who welcomed Romania to their Madrid home – the team just one point ahead of them in World Cup qualification going into the game.
While the REC is being contested by Spain, Romania, Georgia, Russia, Germany and Belgium, match points between the five teams excluding Georgia – who have already qualified – go towards a separate table, for European World Cup qualification, over 2017 and 2018. Only the winner is guaranteed a World Cup place, while the runner-up enters the Repechage.
After 2017, Romania led the way on 15 points, Spain were in second on 13, and Germany behind on 9. After round one of 2018, Romania extended their tally to 20 points, while Spain stayed behind on 17. After round two, it is Spain who are in pole position: one point ahead of their eastern European rivals.
It was a game Romania were expected to win, and one in which a solitary losing bonus point would have been enough to leave automatic qualification in their own hands. Ultimately, however, it was a game that finished 22-10 to the home side, leaving the Oaks with nothing.
Romania have been involved in every World Cup to date, though have never emerged from the Group Stage, and in the past 12 months have beaten Georgia, Canada and Samoa. Indeed, the last time Spain beat them was in 2012, thanks to a 77th minute drop-goal, and, before that, you have to go back to 1992 to find a Spanish victory. It was a poor performance by Romania, who suffered a similar slip-up against Germany last year, but it was a game Spain deserved to win.
Romania possess some enormous backs – of Tongan origin, it must be added – and have shown they are more than capable of scoring tries, after winning 85-6 against Germany last weekend, but Spain clearly knew if they could stop them at source, they would be able to grind out a victory. It was a game-plan they executed brilliantly, disrupting Romanian ball at the breakdown, and harrying the scrum-half at every opportunity. It was this speed around the ruck, as well as impressive tackling in wider channels which forced the Oaks into countless errors, coughing up possession as well as territory.
Los Leones, meanwhile, were clinical, finishing the few opportunities which presented themselves. Two tries in the first ten minutes put them in control of the match, and they didn't let it go. Though they had opportunities to kick for touch and go for the try bonus-point, they focused on putting the game beyond doubt and, crucially, taking the losing bonus away from Romania. Winger Brad Linklater converted each of his four penalty attempts, pushing the score beyond the opposition's reach. When Romania scored with five minutes to go, this tactic proved its worth.
Arguably the most significant passage of play, though, was when Spain went down to 14 men after a cynical offence on their own line. A series of pressurised, and collapsed, scrums ensued but the pack kept its composure and eventually forced the error from Romania. This passage lasted a full 7 minutes – using up a large part of the 10-minute sin-bin. It was a historic performance full of heart and passion, spurred on by a record crowd of 15,600 in el central.
If Spain can win their final matches with at least one try bonus-point, at home against Germany and away against Belgium, we'll be seeing them in Japan. Anything less, and Romania still have a chance. With Germany conceding 149 points over the past two weekends, and Belgium 95, the dream is very much alive.
El sueño de Japón ya vive