Mauling in Madrid: rugby's Iberian adventure
On his year abroad, Ben Cisneros looks at the development of rugby in Spain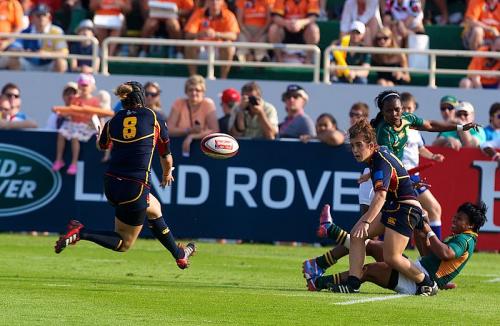 As the first weekend of European cup rugby approaches, teams will be preparing for matches across the continent, from Ireland all the way to Russia. Not Spain, though. Not yet.
Yet that is where I find myself, on my year abroad, studying at the Universidad Autónoma de Madrid, and staring out my window at thirty blokes throwing an oval ball around… Yes, you read that right: I am living opposite the university's rugby pitch (completely by chance, I might add). In fact, my view is so good that I spotted some crossing in the build-up to a try the other day, which the referee managed to miss. I might yet have a career as a TMO.
More to the point, football-mad Spain do play rugby. There's a sandy football pitch down the road, and a five-a-side enclosure around the corner but, here at UAM, the pitch with the floodlights and watering system is the rugby one. And every day of the week there is something happening on it; university men and women's training, local club training and matches at weekends. I've been pleasantly surprised.
The standard is decent, too. In last weekend's game, the handling skills initially seemed poor but, as the game wore on, passing improved and there were some cheeky offloads thrown. Okay, they're not top athletes by any means, but they'd put up a fight against the average college team. The set-piece was pretty strong and there was some nice kicking from the tee.
But what of the national team? Los Leones, as they are nicknamed, play in the European Nations Cup (formerly the Six Nations B) and are 19th in the world rankings. This puts them ahead of Canada (24), who have made several World Cup appearances and played Ireland in last year's Autumn Internationals. 1999 was the last time Spain qualified for a World Cup, but the national side have been playing since 1929 – only nine years after their football equivalent.
"There is a clear sense of ambition within the sport, which is great to see, and the recent commercial progress is a huge step forward"
Eighty-eight years on, the sport is gathering real momentum. The women's national team reached the 2017 World Cup, and the men's U20 side were runners-up in the 2016 U20s Trophy tournament. The men's Sevens team has qualified as a core member of the 2017/18 World Series, while both men and women's Sevens teams made the Rio Olympics.
What's more, the European cup finals will this season be played in Bilbao, in Spain's Basque region. The 53,000 capacity San Mamés stadium – home of Athletic Bilbao – will play host to Europe's finest in May 2018, in a move European Professional Club Rugby (EPCR) see as "a big step in the expansion of our sport across the continent".
Indeed, the Spanish game has its roots in the Basque and Catalan regions, owing to their close proximity to France. French sides Biarritz and Bayonne have played games in San Sebastián in the past, whilst Barcelona's Olympic Stadium hosted the 2011 Heineken Cup quarter-final between Perpignan and Toulon. More recently, the 2016 TOP 14 Final was played at the Camp Nou in front of 99,124 people – the world record attendance for a club game. In the European Nations Cup 2017, Spain had the second highest average home attendance after Georgia.
Signs of a keen rugby audience in Spain were confirmed by the record 26,500 attendance at their own final; that of the 2016 Copa del Rey de Rugby. This year, torrential rain put a few people off, but there were still 20,000 in the stands. Spanish rugby is clearly on the rise.
EPCR are not the only ones to have recognised that there is a growing market for the sport here. From this season, the Spanish top division – previously the División de Honor – is to be sponsored by rugby giant Heineken, with the competition being renamed 'Liga Heineken'. In a further boost to the semi-professional league, regular TV coverage has also started this season. 'Teledeporte' has secured a deal to show one live match every Sunday and, on Thursday evenings, will broadcast a national rugby programme, 'Pasión Rugby'.
The Liga Heineken features 12 teams from across Spain, though mainly the Madrid, Valladolid, Basque and Catalan regions. There is even a Madrid team named Complutense Cisneros! I'm planning a trip in the near future, and might put myself forward as a mascot.
Highlights from Round 4 of the Heineken League FERUGBYTV
The league seems pretty competitive, too, with only five points separating first and fifth. Spanish Rugby Federation President, Alfonso Feijóo, has said that "I hope rugby will continue getting as close as possible to football in terms of presence in Spanish society".
There is a clear sense of ambition within the sport, which is great to see, and the recent commercial progress is a huge step forward. There were 51,123 registered players in Spain as of 2014, but this number must have increased, and will continue to rise as more people read about it in the news, watch it on TV, and start supporting their local team.
Around half of Spain's international players come from this league, while others play professionally in France, mainly in their second division. If the sport continues to grow at its current rate, though, it may not be long before Spanish players start to appear in the TOP14, Pro14 and maybe even the Premiership.
That said, there is already one former Spanish international who has become a household name, albeit in Hollywood rather than on the rugby pitch; Javier Bardem used to play prop for Spain's U17s.
With regards to the 2019 World Cup, Spain still have a chance of qualifying. Georgia qualified automatically, after finishing third in their pool in 2015, so only one other Tier 2 European team is guaranteed a place. This will be the top team in the European Nations Cup over the 2017 and 2018 seasons combined (excluding matches against Georgia). At the moment, Romania lead with 15 points, and Spain are second on 13. Germany are third on 9. A win over Romania in spring 2018 would likely see the Spanish through to Japan.
If they do finish second, however, they will have to beat Portugal or the Czech Republic to reach a play-off against Samoa, the winner of which will also be guaranteed a place. If they were to lose this, they would have a third chance of qualifying through the Repechage, against Canada/Uruguay, Namibia (probably), and one of Tahiti, Hong Kong, Malaysia or South Korea.
Spanish politics may be something of shambles, but at least its rugby gives cause for optimism