Cambridge PhD student Peter Biar Ajak 'detained in hellhole' and potentially faces death penalty
The political activist has been detained without charge in South Sudan for six months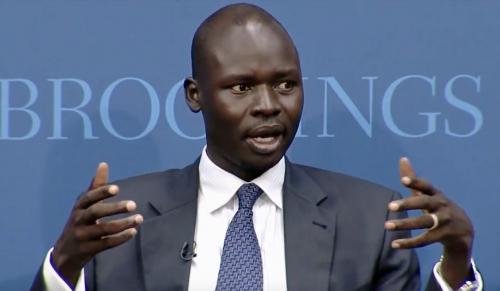 The lawyer of Peter Biar Ajak, Jared Genser, has told the BBC that Peter Biar Ajak is being "arbitrarily detained in a modern-day hellhole in clear violation of his rights under international law". He also said that charges being considered by the Sudanese government include treason and terrorism, both of which carry the death penalty.
Peter Biar Ajak, 35, has been detained without charge in South Sudan since his arrest at Juba Airport in July last year by South Sudan's National Security Service. He is currently studying for a PhD at Cambridge University.
Ajak has been a vocal critic of the regime, tweeting on 4 July 2018, less than a month before his arrest: "We must stop thinking that the so-called leaders will bring peace #SouthSudan. We, the great people of #southsudan, must organize ourselves to bring about the peace we deserve!" Genser told the BBC that the government decided to target him for arrest "because he was being a very effective critic".
Ajak had returned to South Sudan, which is in the midst of a civil war, to attend a youth forum organised by the Red Army Foundation, which was created by former child soldiers seeking to address social issues in South Sudan.
Ajak fled Sudan as a child refugee during the Second Sudanese Civil War  and was offered asylum in the US when he was 16. He was granted a scholarship to study a PhD at Cambridge in 2013.
Last week, Congresswoman Madeleine Dean highlighted Mr Ajak's plight in the United States House of Representatives, stating that she "knew Peter as a brilliant student and leader" while teaching at La Salle University.
A Cambridge University representative said to Varsity: "The University remains deeply concerned about Peter's welfare and his access to legal representation and the violation of his rights in accordance with the Constitution of South Sudan, which guarantees all South Sudanese people liberty and security of person, due process, and freedom of expression and association."
On 4 September 2018, Cambridge University Vice Chancellor Stephen Toope wrote a letter to the President of the Republic of South Sudan, Salva Kiir Mayardit, stating that the University  "call[s] on the government to either release Peter Biar Ajak, or to bring charges against him in a timely manner in accordance with the rule of law and to grant him access to a lawyer."
Genser told the BBC: "Somebody like him needs to be on the front lines fighting for freedom, democracy and human rights – not arbitrarily detained in a modern-day hellhole in clear violation of his rights under international law and for crimes he did not commit."
International human rights organisation Amnesty International has taken up Mr Ajak's cause. Seif Magango, Amnesty International's deputy regional director for East Africa, said that his ongoing detention without charge was "absurd" and in breach of South Sudan's own constitution and international law. He told the BBC that "South Sudanese authorities must either release him so he can rejoin his wife and children who miss him dearly, or charge him with an offence recognised under international law."
A petition to release Mr Ajak, which has collected over 80,000 signatures, states that "Peter has always kept his focus on South Sudan and his hope for a peaceful future for his country". The petition describes Mr Ajak as "a youth advocate for peace and a friend and inspiration to many who know him around the world".
The petition states that "more pressure is needed to show South Sudan government that the best option it has is to immediately release Peter", adding that "Peter's arrest comes amid a worrying trend in arbitrary detentions due to a crackdown on freedom of expression by the South Sudanese government."