Cambridge PhD student and political activist detained by South Sudanese government
Supporters have taken to Twitter using the hashtag #FreePeterBiar to call for the immediate release of Peter Biar Ajak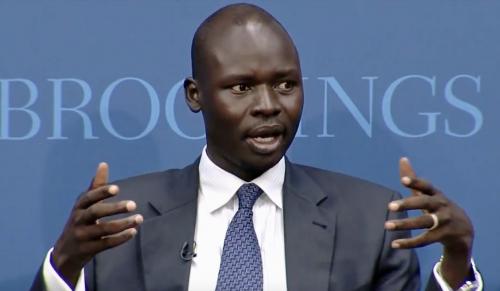 Cambridge PhD student Peter Biar Ajak has been detained by the South Sudanese government, with no clear reason offered for his arrest.
Ajak, a member of the Department of Politics and International Studies (POLIS) and a Cambridge Trust scholar, was arrested at Juba airport on Saturday morning by South Sudanese National Security Service (NSS) officers.
The first person from South Sudan to study at Cambridge, Ajak was involved in the African Society of Cambridge University (ASCU) while working toward his PhD at Trinity College. 
An economist and political activist, Ajak is a founding member and director of C-SAR, an independent policy think-tank based in Juba, the capital of South Sudan.
He is also a senior advisor at the International Growth Centre (IGC) and chairman of the South Sudan Youth Leaders Forum, which works with South Sudanese young people to address both humanitarian and security challenges facing the country.
The charges for Ajak's arrest are as yet unknown, and he is currently being held at the NSS headquarters. His family have been unable to contact him.
A petition put together by Ajak's family calling for his release has received over 400 signatures.
An open letter from "the undersigned colleagues and students of the University of Cambridge and the wider academic community" has also been drafted by ASCU and the Centre of Governance and Human Rights (CGHR) to call attention to Ajak's arrest, demanding that Ajak is made aware of the charges made against him, given access to legal representation, and be held in decent conditions while he is detained. 
Calls for justice have grown on Twitter under the hashtag #FreePeterBiar, with support pouring in from many of Ajak's colleagues within Cambridge, as well as fellow activists.
Dr. Sharath Srinivasan, a fellow member of the POLIS department, tweeted that he was "calling on the authorities to release him immediately".
Speaking of the arrest, Srinivasan said the incident "will have a chilling effect unless we all join with South Sudanese in making it not so. For now, he must be granted his due process rights. Rights which South Sudanese fought a long civil war to enjoy."
Maha Rafi Atal, a fellow Cambridge PhD student, called Ajak a "vital voice for peace and the rule of law in South Sudan".
Ajak's arrest follows an incident in April in which Juba authorities refused to permit Ajak and his colleagues to hold meetings with local youth in the towns of Aweil and Wanyjok.
Amnesty International Kenya also tweeted about the arrest, calling on South Sudanese intelligence officials to release Ajak immediately.
Jonathan Leape, executive director of the IGC, released a statement of support for his colleague, saying: "we are deeply concerned to hear of the arrest on unspecified charges of Peter Biar Ajak", adding that Ajak has "relentlessly supported the cause of peace and reconciliation in South Sudan."
Sarah Logan, a political economist for the IGC, told Varsity that the centre had been in touch with Ajak's wife, but confirmed that no updated information on either Ajak's situation or any formal charges filed against him has been released, now more than 48 hours after his arrest.
Logan added that the IGC is working with diplomatic channels and had been in touch with the Foreign and Commonwealth Office, the Department for International Development, and the US Embassy in Juba.
The POLIS department has released a statement saying they are "deeply concerned to hear reports of the detention of Cambridge PhD student Peter Biar Ajak by authorities in Juba, South Sudan.
"We are in contact with his family, who are understandably worried and distressed by these events. We join their call for Peter to be released safe and well, and will continue to support the family in any way we can."