Brunch Briefing – Week 7: CUSU hackery, snowy boaties, and Tinder politics
Varsity brings you the most interesting stories, videos, and photos from the past week in Cambridge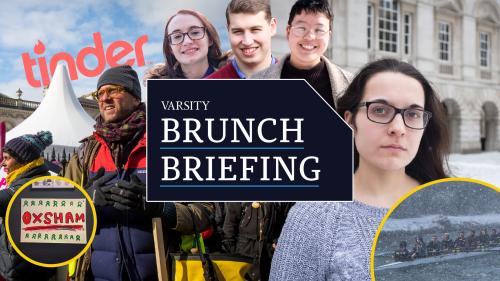 In Cambridge this week, CUSU elections got underway, the Divestment Working Group was hit by a resignation, and striking staff employed some rather unusual tactics.
Sign up here to get Varsity's Brunch Briefing delivered to your inbox every Sunday morning (we don't spam!).
Make sure you also follow us on Facebook and Twitter.
---
Key stories from this week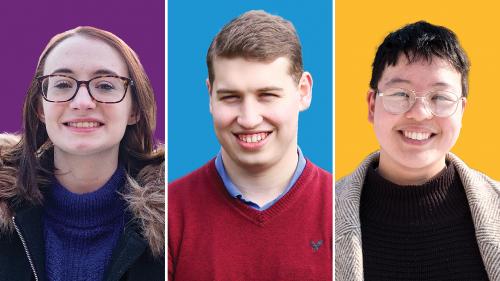 Which hack has your back?
Three candidates, Evie Aspinall, Connor MacDonald, and Siyang Wei, have dived into the hotly-contested race to be CUSU's next president. Student political – and sport – groups have already endorsed candidates in the election. Voting is open on Tuesday until Friday for the ten positions which are up for grabs, including six CUSU sabbatical roles, Graduate Union (GU) president, University councillor, and ethical affairs officers. Make your voice heard in Varsity's election poll.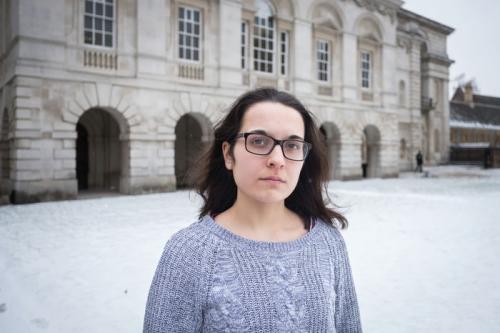 Divestment dissension
A student representative on the ten-member Divestment Working Group, Newnham geographer Alice Guillaume, resigned on Thursday in protest at the lack of movement on Cambridge's investments in the fossil fuel industry, citing a failure "to address the urgency of climate change". A early version of the Group's draft report has been leaked to Varsity, although the final result is due to be submitted to the University Council in May.
Getting prickly at the pickets
Tensions have escalated over the UCU strikes this week, including between staff and students, though science students have remained largely unaffected. On Monday, CUSU Council is set to vote on two motions: one to back a petition calling for students refunds, and another to condemn 'harassment' of students at picket lines. Meanwhile, vice-chancellor Stephen Toope has said Cambridge may be forced to consider a pensions scheme of its own should the UCU-UUK talks fail.
Sedition against Stocking
Dame Barbara Stocking, former Oxfam CEO and president of Murray Edwards, has been criticised by her College JCR committee, MECSU, over her handling of the Oxfam scandal which saw the charity accused of a cover-up over a string of sexual misconduct allegations against former employees. The undergraduate committee accused her of a "cavalier attitude", and Stocking swiftly apologised, saying that student concerns were of "paramount" importance.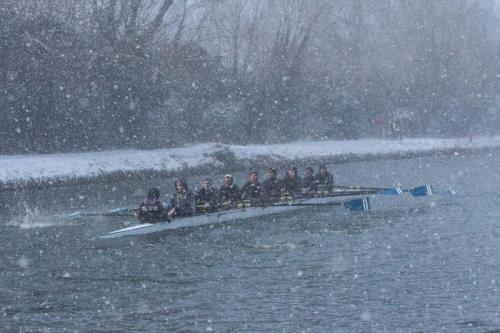 To row, oar not to row
There was disappointment for rowers this week as Lent Bumps were cancelled for the first time in over fifty years, due to heavy snow. Despite the best efforts of over a hundred boaties to grit the tow path, the races were deemed unsafe for umpires. In less chilly news, the 2018 Boat Race crews were also announced this week, with the Light Blue crews both being heavier than their Oxford counterparts, as well as including the tallest-ever competitor, James Letten of Hughes Hall, at 6ft 10in.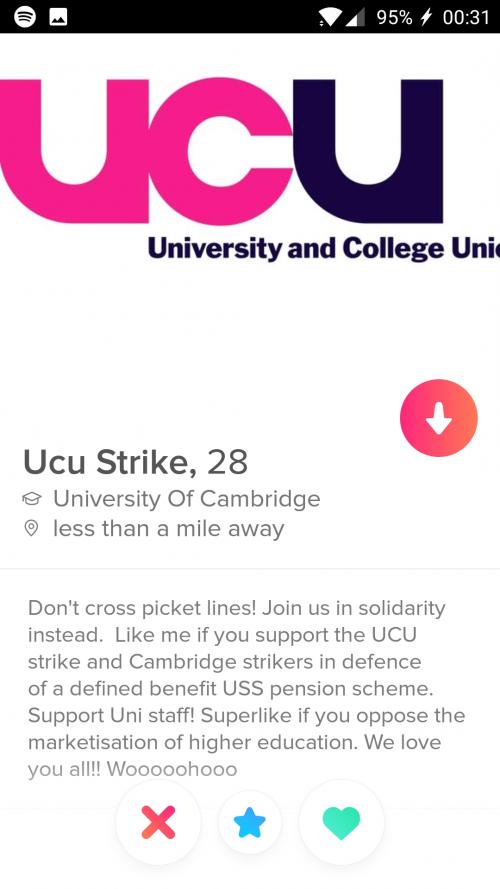 Swiping while striking
Calling all singletons with penchants for industrial action, defined benefit pensions, and standing in the cold! A certain 'Ucu Strike, 28' is on the hunt for love and support from Cambridge Tinder users. They are encouraging all Cantabs to swipe right if they support the strike, and superlike if they "oppose the marketisation of education".
In other striking social media news, someone has dug up an old Hitler meme from the 2004 film Downfall, to satirise the UCU clash with UUK over the USS pension reforms. Watch it here.
No penis for Pembroke
Pembroke's undergraduate committee, the JPC, had somewhat of a sense of humour failure this week when its president sent a cringeworthy email profusely apologising for making a penis joke. The president normally signs off his regular emails with "Some wise advice from my gran", which this week included "Romance is like snows [sic], you can guess, but you'll never really know how many inches you'll get".
Less than three hours later came an email from the president, headed "Apologies for Joke.", wishing to "profusely apologise for any hurt caused".
It noted two reasons why some may have been offended: "Firstly that this kind of crude genre/type of humour is of course not always appreciated, and secondly based on that it appears to prescribe or insinuate […] that 'romance' or love is limited to a particular gender/sex. It has been and always will be the view for myself and the JPC that this is of course not the case - That Romance is not limited in this way."
Got a story that could be covered here or reported elsewhere by Varsity? Let us know:news@varsity.co.uk