Rowers grit towpath in effort to save Lent Bumps
A Facebook group has been established to coordinate an intercollegiate effort to make the towpath safe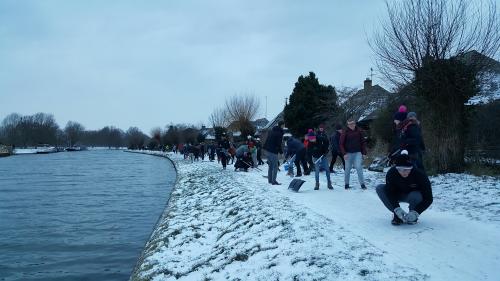 In an effort to prevent the cancellation of Lent Bumps, college rowers have taken to gritting the river's towpath themselves.
Informal arrangements to grit the towpath have been made through Facebook, with student-led gritting set to take place at 5pm this evening, and then again at 8am on Friday. Currently, at least 150 kg of salt has been bought and gritting of the towpath is underway.
On Wednesday, a number of divisions had been cancelled owing to "challenging conditions" on the towpath used by cyclists accompanying competing crews. A decision was taken to cancel all of today's racing shortly before 12pm by Cambridge University Combined Boat Clubs (CUCBC).
Lent Bumps were last forced into cancellation by cold weather in 1963.
CUCBC, in an update posted on their website on Thursday which also confirmed today's cancellation, notified rowers that authorisation for independent gritting of the towpath had been granted by the Cambridgeshire County Council Highways division, but that CUCBC lacked the capacity to carry out the gritting themselves. College rowers were, thus, encouraged to pick up the slack in an attempt to make conditions safe for Bumps to continue on Friday