Tough clash ahead in battle for CUSU presidency
Evie Aspinall, Connor MacDonald and Siyang Wei will fight it out for the crown of Cambridge student politics
CUSU elections commence today
Students will battle against the snow and continued staff strikes in the coming days, as battles of another kind are played out during CUSU and the Graduate Union's annual elections.
Three students are going head-to-head for the position of CUSU president this year, a role marked in recent years by several hard-fought campaigns.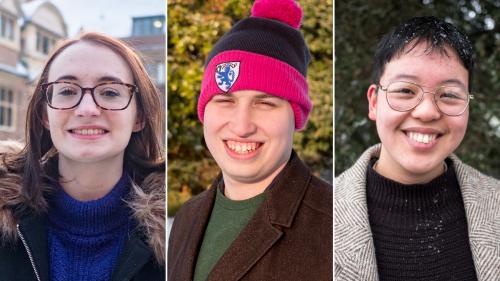 Evie Apinall, from Pembroke, Connor MacDonald, from Emmanuel, and Siyang Wei, from Newnham, have all put themselves forward as candidates to become next year's president.
The elections will also see competition across the roles of access and funding officer, CUSU/GU welfare officer, Graduate Union (GU) president and University Councillor. The positions of disabled students' officer, women's officer and education officer are all only being contested by a single student, and nobody has put themselves forward for the jointly-held position of ethical affairs officer.
Campaigning will pose extra problems for this year's candidates: as well as the usual compressed timeframe for campaigning – with voting opening next Tuesday and closing on Friday – quiet lecture sites brought on by strikes and weather-induced disruptions to Lent Bumps mean that students may lose two of their key opportunities to hand out leaflets, and pick up all-important floating voters.
Superficially, the three presidential candidates have much in common: all are third years taking the HSPS Tripos, and all have had an active involvement in their respective college JCRs. Beyond that, however, they begin to differ, both in their political backgrounds and goals for the student union.
Aspinall has the lowest profile of the three: though highly active within her own college, both as women's officer and as founder of the Jo Cox feminism society, she has never been highly involved with CUSU, and only began attending CUSU Council – where many prospective candidates try to cut their teeth and gain experience of the student union's operations – this term.
Her campaign is focused on engagement, which Aspinall claims as an outsider she has a unique ability to comment on out of the three. She told Varsity that "not being in the CUSU bubble" means she understands "the position [towards CUSU] of most students at Cambridge, which is one of disillusionment."
Aspinall aligns with many of CUSU's currently held positions on topical issues such as divestment, decolonisation and strikes, but said she had concerns that the distress felt by students who feel they are missing work because of current industrial action is an "afterthought for CUSU".
---
Connor MacDonald (Emmanuel)
MacDonald, in contrast, has arguably the most direct experience of any of the candidates: as with the last two successful candidates, Amatey Doku and Daisy Eyre, he was president of his college's JCR – unique among this year's candidates. He has a high profile at CUSU Council, is a Cambridge National Union of Students delegate, and is leading the ongoing inquiry into the student union's financial woes.
On paper, MacDonald's experience would usually put him as the clear frontrunner in the race, but his political persuasions put him at odds with recently successful candidates: MacDonald is also chairman of Cambridge University Conservative Association (CUCA), which has been a vocal critic of CUSU under his leadership – criticising Eyre for her handling of disclosing TCS's financial issues and for her decision to speak out against Toby Young's short-lived appointment to the Office for Students.
MacDonald's CUCA connections put him in a similar position to Jack Drury, from Gonville & Caius, who came second in last year's contest. MacDonald, who was Drury's campaign manager, shares many elements of the Caian's manifesto promises, including an emphasis on steady financial management, and increasing the student union's credibility. He insists, however, that he is his own candidate: emphasising in particular his long-standing involvement with CUSU. He is a frequent opinion writer for Varsity.
Wei will have a solid block of support from CUSU's core campaigns and many of its most engaged students. With a wide range of experience – across the campaign group FLY, BME theatre, the Cut the Rent campaigns, and recent UCU strikes – Wei can most likely be assured of a strong backing from the activist student left. In addition, they were previously co-chair of Cambridge Universities Labour Club (CULC): placing them further in opposition to MacDonald.
They are positioning themselves as a continuity candidate: this year's sabbatical team have adopted strongly leftist positions on most of the issues they have encountered, and Wei has stressed that they want to continue student union projects, to ensure they "don't just get forgotten and then wasted".
In a pre-election interview, Wei stressed the impact which their work as a journalist in Varsity's news team has had, saying it shaped their outline on both activism and how the University operates (Wei currently holds the position of Deputy News Editor on the Varsity team. They have been suspended from their role for the duration of the elections, and had their access to the paper's communication channels removed).
Wei has reported on a variety of topics, and recently revealed how inconsistencies in government policy left some intermitting students in financial difficulties. In office, Wei says they would focus on fighting against the University's implementation of Prevent, which CUSU adopted policy against last week.
All the election news, in one place
Comprehensive news and analysis on the CUSU/GU elections, collected.
Visit Varsity's Elections 2018 hub.