Lent Bumps cancelled due to extreme weather conditions
Snow and ice on the towpath causes the first weather disruption to the annual races in more than fifty years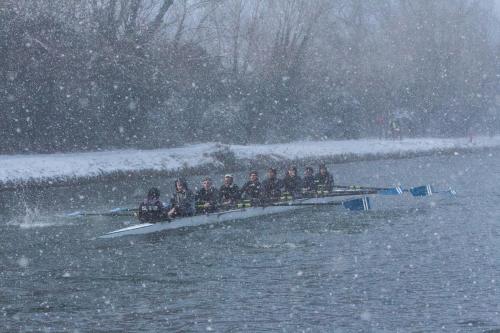 The Lent Bumps have been cancelled for the first full day since 2001, following extreme weather that has made towpath conditions unsafe.
Deteriorating conditions on the towpath caused racing to be cancelled after three divisions had been raced yesterday, due to safety concerns. Cambridge University Combined Boat Clubs (CUCBC) chairman Dr David Munday confirmed shortly before 12pm today that racing would not go ahead on Thursday, due to "risks of consequences that could rapidly become extremely serious in the event of significant delays or accidents during racing".
Chief Umpires met yesterday evening for crisis talks to attempt to salvage the races after heavy snowfall raised the risk of injury to umpires who cycle alongside crews to award bumps and ensure the safety of competing crews. Solutions such as installing static umpires, or modifying the bumps format were rejected. CUCBC Safety Advisor Mark Jacobs told captains yesterday that "within the current constraints of weather, established racing practice and manpower this would not provide an environment where we could effectively deal with the full range of plausible racing incidents."
Hopes of restoring racing for the remaining two days of Bumps now appear to rely on being able to grit the towpath to clear the snow and ice that has formed overnight when temperatures dropped as low as -10°C. Formal permission has been sought from the County Council; however, with conditions unlikely to improve on Friday, CUCBC has cautioned that racing is likely to be cancelled tomorrow.
Lady Margeret and Jesus College Boat Clubs remain at the head of the river for the men and and women respectively, and have yet to have to defend their position at the top of the bumps charts due to Wednesday's cancellation.
Bumps was last disrupted in 2001 due to the outbreak of foot and mouth disease which forced the towpath to close; however, it is not since 1963, when the Cam froze over completely, that Bumps was last cancelled due to inclement weather.