Freezing temperatures force Lent Bumps cancellation
CUCBC announced a cancellation to the rest of the day's racing this afternoon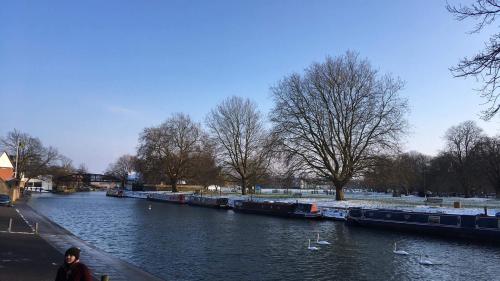 The second day of Lent Bumps has been curtailed, owing to inclement weather conditions making rowing hazardous.
This afternoon, shortly before the beginning of the men's third division (M3) contest, it was announced that all further racing planned for the day had been cancelled, amid temperatures of -4℃ on the river.
It is anticipated that the cancelled races will be rescheduled for later this week.
Earlier in the day, the M4, W4, and W3 divisions races had already taken place, before the decision to cancel the day's racing was taken by by Cambridge University Combined Boat Clubs (CUCBC).
Cancellation of bumps races are unusual, with the last curtailment occurring in 2001 as a result of the outbreak of foot and mouth disease. Lent Bumps were last affected by ice in 1963, when the event was cancelled completely.
Lent Bumps is the premier inter-college event on the Cam in the Lent Term. Races are held daily over the course of a week. During races, boats begin roughly 150 feet apart and attempt to catch the boat ahead, "bumping" it.
Speaking to Varsity, Mark Jacobs, CUCBC safety advisor and deputy chief umpire, explained the reasoning behind the decision: "At the start of the day's racing we reduced the number of cyclists accompanying crews from 4 to 2 due to challenging conditions on the towpath. After the W3 division conditions had deteriorated and we were no longer certain that we could run a division without risking a serious accident on the towpath, involving either coaches/supporters, umpires or members of the public."
He continued, "Over the remainder of the Lents CUCBC will be assessing conditions each day - we will run as much of the scheduled racing as we safely can. Much as we all love rowing, and Bumps in particular, it's not worth risking broken limbs for."
In an email sent later this evening to boat club captains, Jacobs said that "conditions on the towpath are unlikely to improve between now and scheduled racing tomorrow, and there is also a reasonable chance of ice forming on the river itself. None of CUCBC, the Cam Conservators or the County Council are able to grit the towpath and further snow would leave gritting at this stage unlikely to make a difference anyway."
While options were being explored for ensuring the safety of the course while the cold snap continues, he continued: "We will keep captains and clubs updated as to the possibility of racing tomorrow, and will circulate a final decision on Thursday's racing by 1pm at the latest"
Stuart Knowles, captain of St Catharine's College Boat Club, told Varsity: "Whilst it's very disappointing for our athletes to have the races disrupted, the decision to not row some divisions was made by CUCBC on safety grounds, which always have to come first."