Meet the candidates: Siyang Wei
Presidential candidate Siyang Wei talks to Jack Conway about building on CUSU activism, challenging the University, and bringing campaigns together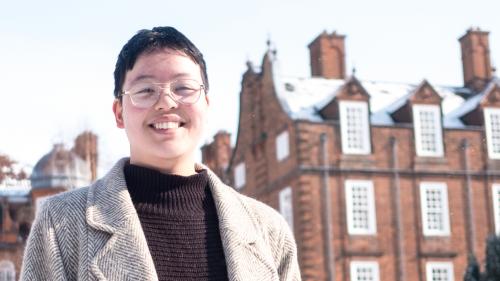 After years of involvement in an broad array of activist positions, experience is perhaps the biggest asset that Siyang Wei brings to the race for CUSU presidency. A third year Sociology student at Newnham, Wei is currently events officer of the CUSU BME campaign, and has previously served as the campaign's treasurer, alongside involvements with with Cambridge University Labour Club (CULC), FLY, BME theatre, Cut the Rent, recent UCU strikes, and even Varsity. This broad background is what informs Wei's three-part approach to activism: "coordination, continuity, and collective action."
In describing what they have learned from their involvement in so many branches of Cambridge life, they said: "I really have thought while taking part in all these things that there is so much potential or so much strength in coordinating or working together." This theme – the importance of coordinated action – was continually stressed by Wei, showing their commitment to a vision of how disparate groups can work together to achieve their vision for the University.
Regarding this vision, Wei's activist experience and past involvement with CUSU have only strengthened their commitment to the student union's current path. When asked what they like about the current CUSU programme, they expressed approval for current policy on Prevent, Breaking the Silence, decolonisation, the handling of the strikes, and the deepening links between CUSU, the UCU, and the GU. When asked about the weaknesses of this year's administration, on the other hand, Wei struggled to come up with significant criticism. Such a focus on continuity suggests that a CUSU led by Wei would be unlikely to deviate from its current trajectory.
In making the case for such a maintenance of the status quo, Wei stressed that, since the president and sabbatical officers are elected for terms of only one year, it was "really important" to ensure that the projects of outgoing sabbatical officers "don't just get forgotten and then wasted."
Extended engagement with and attendance at CUSU Council have ensured Wei's familiarity with the full complexity of the union's working, and, on an institutional level, of the wider workings of the University itself. This knowledge, they say, has been supplemented by their work as a news reporter for Varsity, in which capacity they have reported on the financial difficulties faced by intermitting students, recent industrial action by the University and College Union, and the progress of Cut the Rent campaigns. Wei has also written for Varsity's Opinion section, describing their navigation of a British-Asian identity: "British Asian, Asian-American, Asian-whatever Western diasporic identities are shaped by specific experiences of Eurocentric racial alienation as much as by any links we might have left to the homeland." (Wei currently holds the position of Deputy News Editor on the Varsity team. They have been suspended from their role for the duration of the elections, and had their access to the paper's communication channels removed.)
Wei hopes to apply their "coordination, continuity, and collective action" approach to three distinctive policy areas: education, welfare, and access. Within these, Wei touched upon a broad range of topics: improving the fairness and efficiency of financial welfare provision, working with the GU and the UCU to tackle the root of problems with supervisions, a transparent, rights-based approach to tackling Prevent, rent cuts, decolonisation, and more. Their manifesto lists seven specific policy priorities in all, with three in the area of education and two each in welfare and access.
Wei's policy aims, though ambitious in their breadth, showed a recognition of the difficulties of truly achieving change. When asked about divestment, Wei noted that the issue, though important, was not up to them. Questions about CUSU's finances and engagement with students returned a similarly circumspect response, with Wei commenting that "there is no quick fix."
Quickfire Questions

Van of Life, Van of Death, or Gardies?
Van of Life
Describe yourself in three words
Committed, principled, and proactive
Are you a dog person or a cat person?
I can't say I feel that strongly about either of them [...] Cats; they are more predictable in their behavior, so I know how to interact with them
If you could have dinner with anyone, living or dead, who would it be?
This is such a hard question! I don't know
If you could change anything about Cambridge what would it be?
Bring back the good value Sainsbury's meal deals. They were once fine, and now they are terrible.
All the election news, in one place
Comprehensive news and analysis on the CUSU/GU elections, collected.
Visit Varsity's Elections 2018 hub.