Cambridge's NUS Conference delegates announced
The five elected delegates will join CUSU president Daisy Eyre at the NUS' annual conference in March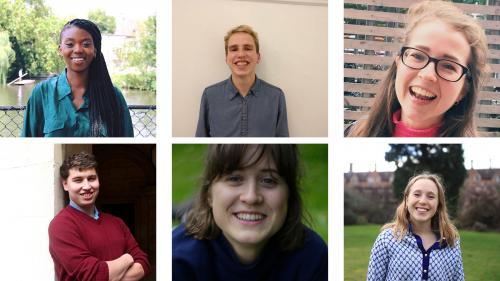 The results of CUSU's election for delegates to the annual NUS Conference have been released, with Lola Olufemi, Connor MacDonald, Miriam Gauntlett, Angus Satow and Carine Valarché earning places to attend alongside CUSU president Daisy Eyre. At the conference, which will take place in Glasgow in March, delegates will vote on the policies and national officers of the NUS.
The NUS election was one of the most highly-contested in recent years. With Eyre automatically designated one of Cambridge's six delegates, eleven candidates vied for the five remaining spots.
The delegation is required to be gender-balanced, which means three places must be filled by women or non-binary students. Because of Eyre's automatic place, two of the candidates selected this week had to fulfil this definition. However, this rule did not have an effect on the results, with Olufemi, Valarché and Gauntlett all elected with out the need for a women-only round of counting.
A total of 1,696 students cast votes in the election. This represents more than double the turnout of last year, but only around 7% of the 23,803 eligible voters. Voters had to list candidates in order of preference.
The candidate with the most votes was current CUSU women's officer Lola Olufemi, who won 333 first-round votes and aims to "represent the views of the most marginalised students". Her interests are, among other things, tackling the black attainment gap, decolonising curricula, and promoting zero-tolerance policies on sexual assault.
The only other candidate to pass the first round was Carine Valarché, who received 268 first-round votes. Valarché ran an unconventional campaign as a critic of "CUSU fuckboi[s]", marking a departure from Eyre and Olufemi, who are both already CUSU sabbatical officers. MacDonald, Gauntlett and Satow received 158, 134 and 120 first-preference votes respectively.
Overall, the delegates represent a wide range of views, with MacDonald recently criticising the student union for being overly-focused on "factionalism". Satow co-founded the Zero Carbon divestment campaign and made it a focus of his candidacy. The final delegate, Miriam Gauntlett is currently the Secretary of the CUSU Women's Campaign.
The elections passed largely without drama, though Valarché claimed after hustings last Monday that she had become the "object of derision" after being questioned on her commitment to divestment.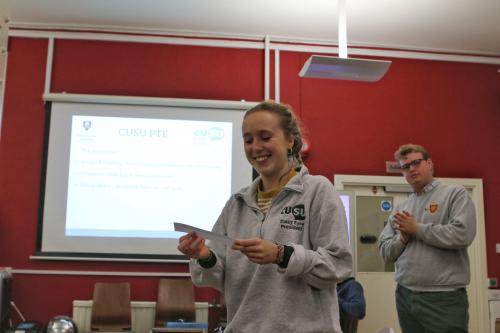 Upon the release of results, MacDonald, current president of Emmanuel College Students' Union and NUS Delegate in 2016, said he was "proud that Cambridge students have elected NUS delegates that represent a broad spectrum of student opinion" and added he was "looking forward to working with them in Glasgow".
"I don't agree with all of them, but I think students are better represented when there are many voices on the table. And I'm looking forward to critiquing the NUS when it doesn't stand up for students."
Olufemi said she was "thrilled and really looking forward to the conference".
The six NUS delegates will now go on to represent Cambridge at the NUS conference in March. They will join delegates from around 600 other university student unions to set the agenda for the NUS over the next year.
Results were also announced for the CUSU part-time executive, ethical affairs team and Graduate Union. The winners were as follows:
CUSU Part-time executive:
Ethical affairs: Jin Choi and Fieke van de Speck
Union development: Miranda Hewkin Smith and Angela Xia
Welfare: Carolyn Irvine and Felicity Irving
CUSU ethical affairs officers:
Ellen Pearce-Davies and Dylan Amin
GU executive:
Academic officer: Mansoor Anwar Ahmed
Environmental officer: Andrea Reyes Hernandez
Events officer: Laura Scott
Families officer: Aditi Vedi
International officer: Izuogo Chukwuma
Mature undergrads' officer: Amalie Hoegfeldt
Welfare officer: Mrittunjoy Guhar Majumdar
Women's officer: Bridget Shaffrey
The full results of the election can be found here (Raven protected).