Sabbatical officer elections set to heat up – but half the roles are uncontested
In total, 16 students will battle it out for seven positions besides that of the president (and zero students battle for one position)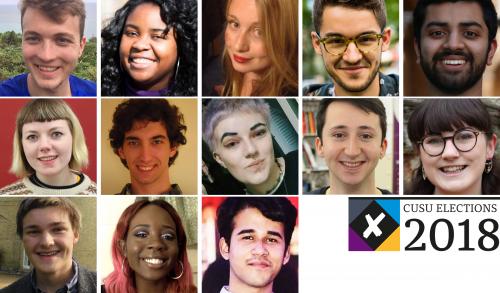 As per tradition, the race for CUSU presidency is likely to attract the most attention (and headlines) in this year's elections. However, pundits may do well to expand their focus to the roles surrounding the presidency, a number of which are set to provide interesting competition.
The upcoming elections will see three of the six sabbatical officer positions contested by multiple candidates, and with several high-profile members of Cambridge's activist groups posing their candidacy, affiliations and allegiances could have a significant influence over the competition.
Competition finally comes to sabbatical officer elections
The CUSU president is supported in their work by five full-time sabbatical officers – welfare and rights (a role split with the Graduate Union), education, access and funding, women's, and disabled students' – which together have responsibility for running the union. Last year's competition was decidedly uneventful, with all five positions uncontested. This year is set to provoke considerably more excitement, with two sabbatical roles (besides that of president) being contested by two candidates.
Candidates for the roles of disabled students', education, and womens' officer – Emrys Travis, Matt Kite, and Claire Sosienski Smith respectively – will face competition only in the form of RON (re-open nominations).
Competition is likely to be more fierce, however, in the election of access and funding officer. In the running for the position is Shadab Ahmed, Christ's College JCR's access officer, and Rhiannon Melliar-Smith, a second-year HSPS student at Trinity Hall, and current co-chair of Cambridge Universities Labour Club. As head of one of the most prominent political societies in Cambridge, Melliar-Smith undoubtedly has a high profile among students. However, last year she jointly contested and subsequently failed to win a position on her JCR (as a fresher, and against multiple other candidates) – often a useful addition to the credentials of any successful sabbatical officer candidate, and a vital step towards building a support base. Both candidates' manifestos heavily stress the importance of continuing access work beyond the Cambridge offer; Ahmed's manifesto proposes an offer-holders' mentor scheme, while Melliar-Smith's commitments extend past arrival at Cambridge to the promotion of marginalised students' groups and bursaries.
The role of welfare and rights officer will be fought out between Christine Pungong, an art history student at Newnham, and Walinase Chinula, a law student at Gonville & Caius. Two years ago, the fight for the role saw one of the election's biggest scraps, between the eventually successful Sophie Buck, and re-running incumbent Poppy Ellis Logan.
Politics could impinge on elections, as high-profile activists pitch candidacies
While sabbatical officer positions are not overtly political, the policies they are responsible for implementing are largely left-of-centre, reflective of the wider political makeup of Cambridge's student body. Though the student union is theoretically guided by CUSU Council policy, in practice incoming sabbatical officers have the potential to significantly influence CUSU's work.
Melliar-Smith is not the only individual running this year to head up prominent student campaigns. Both Matt Kite and Emrys Travis will be known to students for their lengthy careers as student activists; Travis through CUSU's LBGT+ and disabled students' campaigns, and Kite as a member of both Cambridge Defend Education and Cut the Rent campaigns.
Through frequent attendance at CUSU Council, both have built up considerable networks within the organisation. Through their involvement in these groups, these candidates have taken strong and unequivocal stances on a number of issues, from divestment to decolonisation, that will undoubtedly influence their work should they be elected.
The comparatively more radical demographics represented in this year's list of candidates could, however, trigger frictions. With the prospect of incumbent-CUCA-chair Connor MacDonald's presidency comes the risk of a potentially difficult relationship between the president and the sabbatical officers meant to support them.
A repeat performance from University councillor hopefuls?
Last year's competition for University councillor, a role which encompasses a seat on the University's governing body, somewhat stole the show of the entire election. Candidate Josh Jackson was brought in front of a disciplinary hearing after having launched a fierce attack on the record of his opponent, incumbent Umang Khandelwal, accusing her of "a massive lack of transparency and accountability." Khandelwal was also reprimanded for accusing Jackson of "defaming" her in hustings. Onlookers will be waiting to see if tensions reach the same pitch this year among George Breckenridge, from Fitzwilliam, Hugo Larose, from Gonville & Caius, and another of last year's candidates, Marcel Llavero Pasquina, from Girton.
Whoever succeeds this year will likely find their biggest challenge in the long-running question of divestment. As one of three student representatives on the University Council, the University councillor will have direct influence over the University's policy-making and financial decisions, and thus over the divestment question. Two of the candidates, Llavero Pasquina and Breckenridge, explicitly commit to divestment in their manifestos, with Llavero Pasquina claiming to be "an active political campaigner, particularly around the issues of global climate justice".
No candidates are standing for the role of ethical affairs officer. This position will be decided by a by-election later this term
All the election news, in one place
Comprehensive news and analysis on the CUSU/GU elections, collected.
Visit Varsity's Elections 2018 hub.