CUCA slams TCS as 'political bias subsidised by student money' – then deletes post
The Conservative Association accused the student newspaper of refusing to publish articles unless they are "left-wing"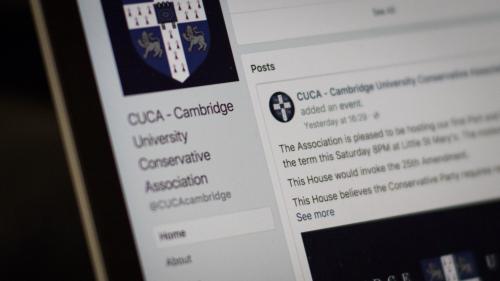 Cambridge University Conservative Association (CUCA) labelled the CUSU-funded student newspaper The Cambridge Student (TCS) as "political bias subsidised by student money" in a Facebook post, which was deleted shortly after.
In a post uploaded shortly after 6.30pm, CUCA criticised CUSU for "displaying such a dishonourable lack of transparency" for refusing to disclose precise figures pertaining to the finances of the paper. The statement was deleted less than two hours later.
CUCA chairman Connor MacDonald told Varsity that it was a "draft post" which "did not represent the collective view of the committee".
The combative statement followed CUSU president Daisy Eyre's refusal at Monday's CUSU Council to disclose specific figures about the paper's expected revenue, calling them "quite sensitive".
On Sunday, Varsity reported that TCS directors had criticised "regrettable inaccuracies" in a CUSU budget briefing, which claimed that the paper "continues to perform far below that expected with a significant loss in revenue from TCS expected for the end of the year." Eyre later defended the comments, with the student union and paper apparently resolving their dispute.
CUCA's post on Tuesday accused TCS of refusing to publish their members' pieces because they "did not defer to TCS's left-wing editorial stance".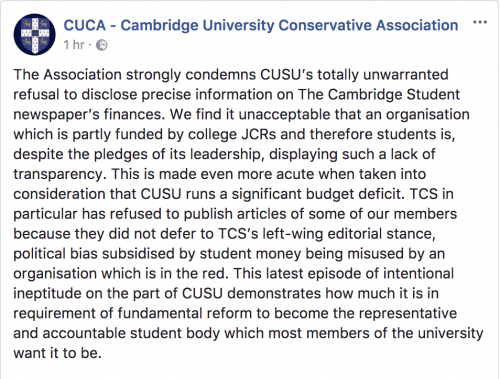 In a statement, TCS's directors disputed this, insisting that they "have never turned away writers on the basis of political party affiliation".
"TCS's editorial policy is a matter entirely separate to CUSU's financial situation," they said, adding: "editorial decisions are subject to many factors, something that we would discuss with individual writers rather than organisations as a whole. TCS is committed to free and balanced debate, as we try to demonstrate every week."
CUCA chairman Connor MacDonald, who is the former president of Emmanuel's JCR and a Cambridge delegate for the upcoming National Union of Students conferences, said the post had been made in error, but defended its assertions.
He told Varsity: "There were a series of misunderstandings that resulted in a draft post being published. In tone and style, it did not represent the collective view of the committee, and thus the post was deleted.
"The post did, however, address a number of substantive concerns many students have about how CUSU is run."
"CUCA believes that every publication in Cambridge should operate as independently as possible," he added. "We also worry that, since CUSU's relationship with TCS has been fraught in the past, we are not hopeful of any resolution. CUCA does however wish that any agreement is productive and not the result of sniping at each other in the student press."
The statement is the latest in a series of public criticisms of CUSU by an increasingly belligerent CUCA. Earlier this month, they publicly criticised Eyre over her comments about Office for Students appointee Toby Young, saying it was "disappointed in CUSU's partisan critique" of Young. Eyre said she was "proud to have stood up for students".
In a statement to Varsity in response to CUCA's comments, Eyre insisted that CUSU takes its financial responsibilities "very seriously".
"Given the commercial sensitivity of TCS's finances, we are unable in this mid-year budget review to give precise details about its performance."
She continued: "We have been open about the ways in which the decline in print advertising has caused TCS to make less profit than it used to, and we are concentrating on other income streams, such as online advertising and a new careers project."
Eyre called for increased student engagement, and defended the budget review which CUSU conducted on Monday, in which she disclosed that the students' union expected reduced operational losses this year – £70,000, instead of £75,000.