Vulture's back to school menswear wishlist
From high-street brands to high-end designers, Fashion Editor Gabriel Humphreys takes us through his top menswear picks for Autumn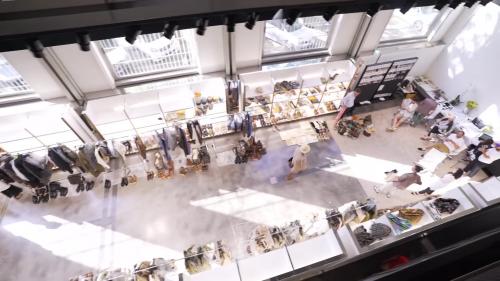 There's never a wrong time to give your wardrobe a bit of an overhaul, but when better than the start of a new year? With Spring/Summer menswear shows just a month old, it's a great time to shop pieces which will stay on trend right into 2020, and whether you're looking to shake things up a bit or completely reinvent yourself for Michaelmas, we've got you covered.
Pretty in pink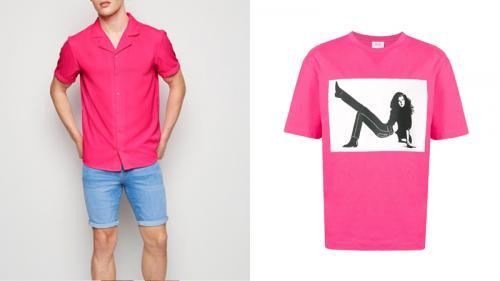 An injection of pink into your wardrobe can't go amiss – the Spring/Summer 2020 menswear shows embraced the colour fully, with Kim Jones at Dior committing to head-to-toe pink futurism amidst a pink set, and Comme des Garçons styling it with frills and stripes. If you want a subtler way to take it, add it as a bold pop of colour to stave off the oncoming Autumn. It pairs well with practically any other colour, so versatility is another advantage, and it can make a great statement piece for colour blocking.
Bright Pink Neon Short Sleeve Shirt, New Look, £7, newlook.com
Icon Print T-shirt, Calvin Klein Jeans, £58, farfetch.com
In the bag

Feeling stylish and organised shouldn't be hard, and statement bags in menswear collections this season, like those at Louis Vuitton, taught us that they're not going out of style anytime soon. A strong bag is the perfect way to bring together a cohesive outfit, as well as look like you absolutely have it together even though you haven't done your washing in two weeks and the deadlines are piling up.
Logo tote bag, Calvin Klein Jeans, £78, farfetch.com
Large shopping bag, Comme des Garçons, £77, farfetch.com
A5 panelled tote, NaNa-Nana, £164, farfetch.com
Wave MK tote bag, Maison Kitsuné, £57, farfetch.com
Softboy chic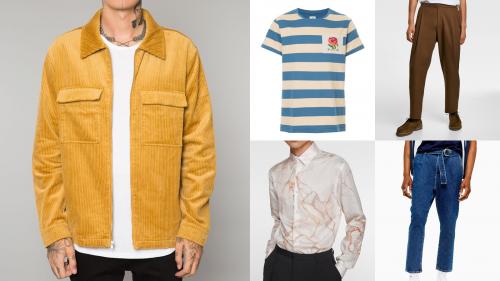 Take a page out of Celine's book, rep that late 60s, early 70s vibe and get your hair cut into the soft curls of Timothée Chalamet. The soft elegance and easy appeal of a mix of tailored details and relaxed streetwear is both universally flattering and appealing. You can also swap out individual items to keep things fresh, without disrupting the whole aesthetic, making it a sustainable and adaptable approach.
Mustard corduroy mechanic jacket, Elwood Clothing, £45, elwoodclothing.com
Striped T-shirt, Kent & Curwen, £40, farfetch.com
Tie-dye print shirt, Zara, £29.99, zara.com
Textured trousers with pleats, Zara, £49.99, zara.com
Indigo belted chinos, Topman, £30, topman.com
Tailoring, but not as we know it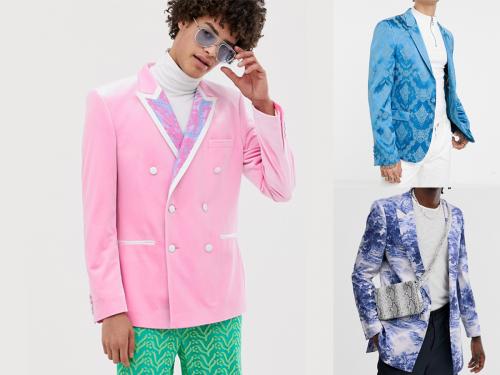 While a hint of tailoring can elevate an otherwise unimpressive ensemble, full suited-and-booted is menswear's longest-lasting trend. Double-breasted and shallow single-breasted suits both took it to the extreme by making appearances on menswear runways in June, but with many opportunities for formalwear in Cambridge, I think it's the perfect chance to bring some whimsy to a traditional silhouette. Unconventional patterns and cuts add interest and you can never be too extra, so push the boat out.
Slim suit jacket in lace detail, ASOS EDITION, £37.50, asos.com
Slim suit jacket in blue tonal jacquard, ASOS EDITION, £85, asos.com
Slim longline blazer in all over landscape artwork print in blue, ASOS EDITION, £85, asos.com
Who wears short shorts?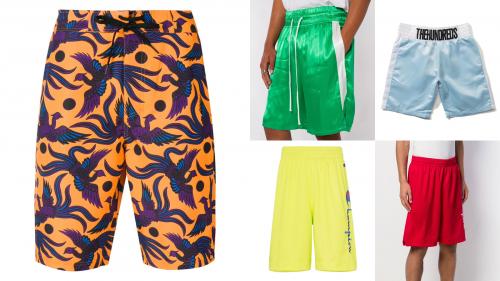 To make the most of the last of the hot weather, take another trip into fashion history, and get your vintage shorts vibe on. With athletic, bright satin moments at Kiko Kostadinov and Versace, and the enduring popularity of activewear, there are options out there to fit a trip to the gym or to Summer parties and festivals.
Bird print swimming shorts, Kenzo, £75, farfetch.com
Kelly green satin track short, Elwood Clothing, £23, elwoodclothing.com
Clubber shorts, The Hundreds, £75, thehundreds.uk
Logo mesh track shorts in red and yellow, Champion, £27, farfetch.com
Athleisure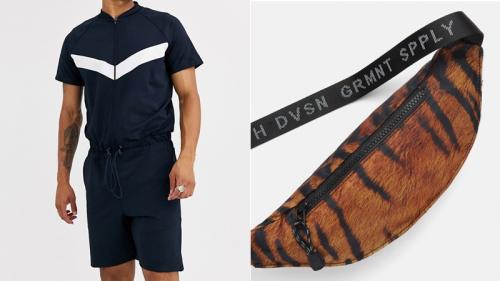 Keeping things casual, while looking like you just came back from the gym? Sign me up. Jumpsuits are a fantastic alternative to more explicitly sporty activewear, that still has a wearable feel. Jumpsuits designed for men are hardly new, but are making their way from the catwalk to the high street more and more, and if you're searching for a low-effort look, you've found it. Distinctive accessories, especially belts and cross-body bags, are the key to breaking up the potentially blocky silhouette, and pairing them with boots can add formality, while chunky trainers bring back the Sporty Spice style.
Short jumpsuit in poly tricot with chevron in navy, ASOS Design, £40, asos.com
DVSN Sling Pack, 10 Deep, $70, 10deep.com
The new sexy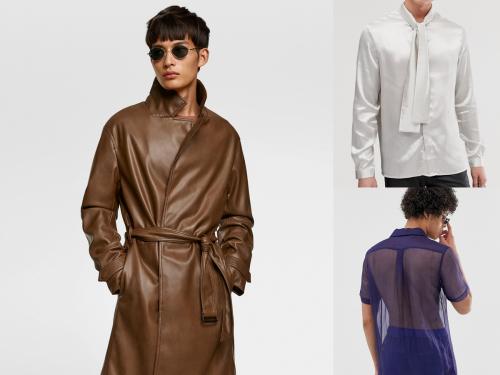 One of the biggest and boldest trends of the season was the inclusion of sheer fabrics, showed off by so many designers, in everything from vests to trench coats and tracksuits. Combined with the lounging sensuality of open satin shirts, there's no holding back the new Victorian-style hyper-futurist couture. Things peaked at the show of the young designer Ludovic de Saint Sernin, where shirts were doused with water to bring out their sheer quality, leather and Oxford shirts were thrown over bodies with abandon, and a model walked covered only by a perfectly draped towel.
Faux leather coat, Zara, £99.99, zara.com
Regular fit satin shirt with pussy bow in off-white satin, ASOS DESIGN, £28, asos.com
Regular fit sheer shirt in navy, ASOS DESIGN, £12.50, asos.com
All mouth and no trousers

Trousers are a great opportunity to exploit your favourite trends from the upcoming season, or just grab a wardrobe staple that will last. Pinstripes popped up across the board at SS20 mens' shows, and add a subtle elegance and some visual interest. If you're looking for something a bit more striking, pick a pair with an eye-catching print, or head down the semi-tailored route that has become popular, and sport a neatly pressed crease, while still in comfortable joggers – perfect for rolling out of bed and straight into a supervision.
Traveller joggers, Zara, £29.99, zara.com
Newspaper twill slim pant, Elwood Clothing, £37, elwoodclothing.com
Blue striped original jeans, Topman, £45, topman.com
Natural pinstripe stretch twill jogger, £34, elwoodclothing.com
If the shoe fits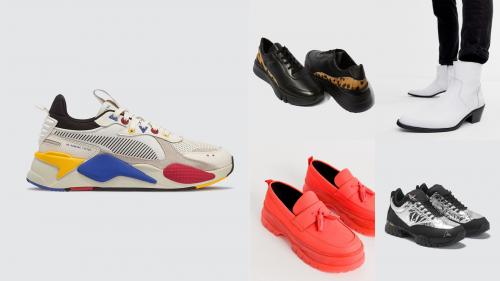 Footwear fashion is staying overwhelmingly swayed towards a chunky 90s moment, making sneakers a perfect year-round choice, while adding some grunge and punk to an outfit. Style it out in white or black with coloured highlights, or commit to a block of colour for a statement flourish to round off your look. Boots took a backseat at SS20 collections, but remain an elegant sartorial detail, and I challenge anyone not to feel powerful while wearing a cuban heel.
RS-X Color Theory, Puma, $114.72, hbx.com
Black Leather 'Glaze' Trainers, Topman, £85, topman.com
Cuban heel western Chelsea boots in white leather, ASOS DESIGN, £44, asos.com
Loafers in block red with chunky sole, ASOS DESIGN, £45, asos.com
Neal sneaker, Roa, $335, hbx.com
All about accessories

As fashion icon Patsy Stone once told us, you can never have too many accessories, and they truly can be the keystone of a capsule wardrobe. Headwear's been taken to bold places recently, so add a hit of vibrant print, or take things down the futurist route. The surge in popularity of utility wear, with cargo trousers and pockets galore, has also driven practical accessories, so throw your keys onto a lanyard and never risk losing them again.
Lanyard with plastic neck wallet and slogan detail, ASOS DESIGN, £8, asos.com
Sheer visor, Track & Field, £28, farfetch.com
Beret with snake print, ASOS DESIGN, £14, asos.com
Faux fur beret in blue with animal print, ASOS DESIGN, £14, asos.com
Explore fashion with Vulture
---