Vulture's top ten drugstore products
Your guide achieving a glam on the go look without breaking the bank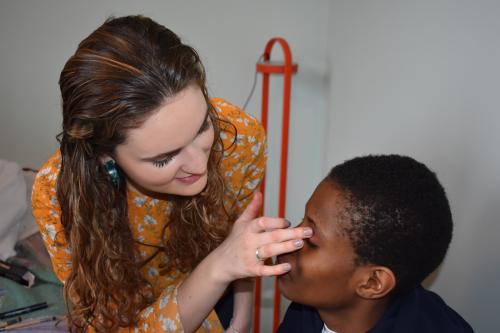 YouTube and Instagram have become the main ways to find reviews and recommendations for makeup products. However, quite often, the products that come out on top are often way off budget and inaccessible due to localities and availabilities. As our feeds are constantly flooded with luxury makeup products, less expensive products become tainted by the view that they won't perform as well or last as long. At the time same time, we are encouraged to buy large quantities of makeup, to use multiple products for one purpose, and that the more makeup we wear the better we will look.
This is a false cause-and-effect analysis. Buying makeup on a university budget can be difficult. Instead of buying many products, it is better to find products that suit you best. Makeup should be about choosing an area of your face that you want to accentuate and bring attention to. Thus, by choosing just a few products off this list, it is possible to create a look that best expresses you and your personality. These individual drugstore items can be used to tailor your perfect every day and night look. Remember: it is often not about the product, but how you use it!
L'Oréal Unlimited Mascara £11.99.
This is one of my all-time favourite mascaras. It's a great dupe for products such as Benefit's They're Real! mascara. It lengthens and dramatises lashes but is also super-buildable. This makes it perfect for daytime and evening use. Another great thing about this mascara is that it's completely budge-proof — so no need to fear the dreaded panda-eye!
NYX Worth the Hype Mascara £9.
Fancy something more striking? This lengthening mascara comes in the shades black, blue, and purple. While it appears electric blue in the tube, the colour is only visible when your lashes catch the light. This adds another dimension to either a more natural or distinctive look. This is a great choice for those who want to accentuate their blue eyes, whilst the purple shade would be suited to those with brown.
Rimmel Stay Matte Pressed Powder £3.99.
This powder is great at ensuring that your base stays put all day. The powder has a natural finish, so it is not too mattifying or cakey.
For dryer skin, lightly sweep over the T-Zone with a brush, whilst people with oilier skin can use this to touch up during the day.
Revolution 196 Colour Spectrum Palette £28.
The ONLY palette you will need. With 196 colors, the range of looks that can be created vary from a super natural look to something more creative and playful.
Yes, some of the matte colors do take a bit more blending than others. However, the shimmers and metallics are amazing, and these are applied best with your fingers rather than brushes. Once applied, they rival shades from Naked or Too Faced palettes.
Maybelline Master Precise All Day Eyeliner £6.99.
When comparing this liner to other high-end products, such as MAC's Brushstroke liner, it's clear that you don't have to spend much on liner to achieve the perfect wing!
This product has a very fine felt nib which means you have a lot of control over the accuracy of the line and wing. Once applied, the ink doesn't transfer or smudge.
Rimmel Lasting Finish Soft Colour Blush £3.99.
This is a very affordable and portable blusher due to its small size. It comes in four natural shades and gives the perfect pop of colour on the cheeks for a natural, day-to-day look.
Collection Lasting Perfection Concealer £4.19
This concealer has been raved out about by influencers for years, and it is still a makeup bag staple. It does what it says on the tin: a full-coverage, matte concealer that lasts all day.
The only drawback is that it can be drying, so put a small amount on your fingertips and lightly pat onto the under-eye or blemishes.
Revlon Ultra HD Lipcolour £7.99
For those who find lipsticks drying, this product is perfect. Revlon have created a unique product, as it is a combination of a lipstick and a lip balm. It glides on seamlessly without much work and doesn't accentuate dry areas. It is very nourishing without compromising colour pay-off.
EcoTools Eyeshadow Brushes £6.99
The right makeup brush can make a huge difference to the way that powders and creams sit and blend upon the skin.  
Unfortunately, these can often be very expensive. However, this set is an affordable option with two double-ended, labelled brushes that seamlessly blend shadows. This would be a cheaper option for those considering brands such as Real Techniques.
NYX Proof it! Waterproof Eyeshadow Primer £6.
This primer appears white on the doe-foot applicator but dries clear on the lid. The consistency is not too wet, so it is easy to blend with your fingers or a brush. Once applied, eyeshadows eyeshadows applied on top wear very well and don't crease during the day. The only drawback is that as it dries, it loses its tackiness, so place the shadow on top right after applying the primer.
Want to add a quick bit of glamour to your 9am? Here's A-Glam on-the-Go eye-look tutorial using some of the products mentioned above:
Step 1: Place the eye primer onto the back of your hand or your fingertips and blend onto your eyelids until it turns clear.
Step 2: Take the Shade brush from the EcoTools set and sweep a natural shade from the palette all over the eyelid and crease.
Step 3: Select a darker shade to place in outer edges and corner of your crease. Blend out with the fluffy blending brush.
Step 4: Select a metallic shade and swipe this over the centre and inner-corner of your lid with your fingertip.
Step 5: Brush away any excess eyeshadow off your under-eye with a cotton pad. Take the Collection Lasting Perfection concealer, and lightly pat it under the eye with your fingertips. Use as much or as little as desired.
Step 6: If you have time, take the Smudge brush and place a matte shade underneath your lower lash line. But be sparing with the amount of shadow on the brush!
Step 7: Put the NYX blue or purple mascara on the top lashes and the black mascara on the bottom lashes.
Step 8: (Optional) Apply Revlon Ultra HD Lipcolor in shade Dawn (or similar).