Aboah's success marks progress in the industry
Following her recent accolade at the Fashion Awards, Emily Blatchford takes a look at the model who is dominating catwalks and covers and whose online presence is paving the way for change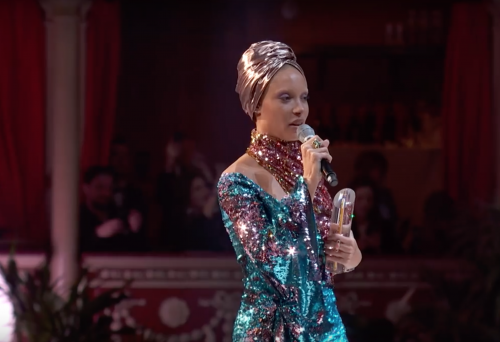 Held on the 4th of December, the annual Fashion Awards was as dazzling and star-studded an event as ever. Unveiling the nominees in October, British Fashion Council chairman Natalie Massenet promised the press that the award winners would "represent the most creative talent and innovative businesses of the year", and the night certainly lived up to expectations.
Among those going home with an accolade were Marco Bizzarri for Gucci with the Business Leader honour and Christopher Bailey, who is leaving Burberry after 18 years, with the Outstanding Contribution to British Fashion award.
It was Adwoa Aboah, however, who walked home with the Model of the Year award – an accolade which celebrates "the global impact of a model, male or female, who over the last 12 months has dominated the industry". Previously won by the likes of Gigi Hadid and Jourdan Dunn, the model was up against stiff competition from last year's winner, Gigi; her sister, Bella Hadid; Kaia Gerber and Winnie Harlow. For many this marks a creative and more inclusive change in the fashion industry.
International Model of the Year 2017British Fashion Council
To say Aboah has had a successful year would be an understatement. She has walked for countless designers, appearing in some of the biggest advertising campaigns from H&M to Marc Jacobs, and appeared on Pirelli's 2018 Calendar. Perhaps her biggest achievement was appearing on the front cover of Edward Enninful's first issue as editor-in-chief of British Vogue. The new editor is heralded as bringing much-needed diversity in contrast to ex-editor Alexandra Shulman's white-washing, and the cover places Aboah at the heart of this new movement.
Aboah is not just a pretty face. Actively speaking out about feminist and racial issues, she has created an organisation for young women called Gurls Talk. Described as "a safe space for girls to share and listen without any judgement or stigma", the Gurls Talk Instagram account has 126,000 followers, regularly posting photos on body positivity, self-care, sexual harassment and mental health, including campaigns such as a discussion on slavery in Libya.
Back in the summer the organisation even put on a one-day free festival in London in association with the fashion brand Coach, where the founder, along with other special guests, spoke about many of these issues to hundreds of young women.
The influence of Instagram on the fashion world cannot be underestimated – particularly on the modelling industry. Models can even gain campaigns as a result of their following, especially when their figures are as eye-wateringly high as Gigi Hadid's 37.3 million and Kendall Jenner's 85.6 million followers. Those working in fashion are no longer a two-dimensional image on a campaign but an accessible and often relatable person whose glamorous life can be followed at the touch of a button, allowing the public into a previously closed world.
Models are no longer merely clothes hangers but personalities. Yes, their feeds are carefully curated, giving the appearance of perfect lives and it is therefore refreshing to see Aboah using her platform to nurture a younger generation to effect change, a platform which highlights and celebrates individuality and diversity. Aboah does not shy away from challenging topics such as her own difficult past of drugs and depression. In an industry which has a history of painting women as unattainable perfection, Aboah is shaking things up and giving us a taste of the nitty-gritty of life.
It does, however, raise the question of what obligations models, or even the fashion industry as a whole, have to promote discussion of these issues. Perhaps Aboah's Model of the Year award shows a step in the direction of a more accessible high-fashion world. A world which is no longer aloof and flawless but deals with real-life issues