Cambridge's sartorial spaces: architectural edition
Marie-Louise James takes us on a journey down Cambridge's very own Trumpington Street, finding fashion inspiration along the way.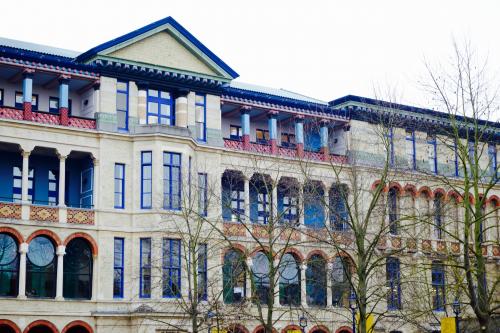 Trumpington Street: cyclists dodge absent-minded pedestrians as they whizz down from King's Parade, trays of hot Chelsea buns wait at the turquoise-rimmed windows of Fitzbillies Café, and the occasional student speeds nimbly around the cobble-street corners to rush to a supervision at Pembroke or Peterhouse. The tall, historic buildings loom above the busy scene, a backdrop of architectural intricacy and gradient hues of red-grey brick. The air is fresh and the colours vibrant: inspiration is everywhere.
A couple of weeks ago, I played with the idea of finding fashion inspiration in these kinds of 'real life' mediums – buildings, people, even artwork. Getting dressed is a living and breathing mode of expression, not solely determined by what we wear, but, rather, by how we communicate that self-created persona. Just like a painter who draws on his surroundings, we, too, can echo the colours and textures of our very streets in our personal style.
"Getting dressed is a living and breathing mode of expression, not solely determined by what we wear, but, rather, by how we communicate that self-created persona."
And much like with a work of art, seeing an outfit as a visual composition is what lends fashion its unique dynamism. In the sartorial world, this idea of "composition" is most strongly manifested through a focus on silhouette and texture. Yet in the real world of streets and city centres, such visual elements are most strongly embodied in the form of buildings – artistic compositions assembled entirely through shapes, materials and textures, varying in silhouette from every angle. As a result, in this instalment I will focus exclusively on architecture so as to explore the potential symbiosis of buildings and clothing within the streets of Cambridge – be it even in just one of its most famous routes.
The Corpus Clock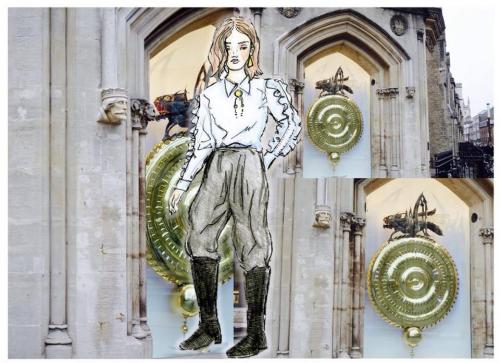 The first stop along Trumpington Street is more an object than a building itself: the gold metal Corpus Clock on the corners of Trumpington and Bene't Street. Named one of Time's best inventions shortly after its construction in 2008, the Corpus Clock comprises a quasi-gothic, spindly metal locust – though more reminiscent of the Polish Basilisk monster – perched atop a ribbed gold-plated disc. The entire ensemble forms a pendulum, framed by the more classical and angular frame of paired Corinthian columns under a stone lancet arch.
To translate this mix between gargoyled Gothic and futuristic machinery, try pairing loose black trousers with a ruffled Victorian blouse – ideally, one with a more structured collar that balances out the frilliness of its shoulder details. The relaxed fit of the trousers is the closest we get to imitating the spherical shape of the gold clock, short of wearing a bubble dress. This effect of roundness can be further amplified if you tuck the trousers into a pair of structured boots, making them billow around the knees. Picking up on the blueish light emitted by the side of the clock, the intricacy of a pastel blouse mimics the gothic and quasi-Victorian details of the gargoyle grasshopper, whereas the trousers create a rounder silhouette. This shape remains nonetheless structured – much like the framing of the actual Corpus Clock – through a tailored, tucked-in waist and column-like boots.
But if you are worried about looking like one of Treasure Island's pirates, fear not. Through both cinching in the waist and pairing your ensemble with geometrical jewellery, the silhouette strikes a balance between billowed and structured, vintage and modern. The features of a pendulum, on the other hand, can most boldly translated in your choice of jewellery: gold-hue earrings and pendant necklaces, or, if you want to go the extra mile, a bolo tie (worn by both ranchers and fashionistas alike; Chanel did its own take in 2014) is the closest sartorial relative to the grandfather clock.
Fitzbillies Café
Next, we walk down a block or two and reach Fitzbillies Café. A popular coffee and cake destination, Fitzbillies attracts with its quaint and retro atmosphere. The walls, some striped with vertical panelling and others set in glazed ceramic brick, are a vibrant turquoise and clean white, contrasting with framed silver and black hangings. Even before stepping in, you look down at a doorstep of black and white diagonal checkers, the kinds of geometric details that create one cohesive, yet multifariously patterned, colour palette.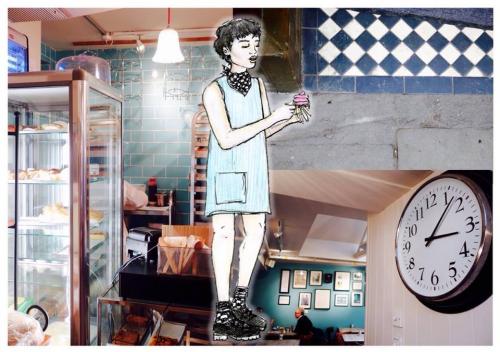 Thus in creating an outfit inspired by Fitzbillies, I wanted to focus on the interior balance between solid colour blocks and geometric variation. Try, for example, a more rigid and structured dress with heavy-soled shoes. These shapes parallel the unwavering vertical geometry of Fitzbillies's interior. Patterns, on the other hand, can be mixed with a choice of striped mint green and checkered black and white fabrics. A neck scarf will do the trick, adding just the right amount of vintage whimsy to the ensemble. Likewise a socks-and-shoes (or better yet, sandals) combination will also create a sense of retro quirkiness. Extra points if your socks match your scarf.
Old Addenbrooke's
Lastly and only a few metres further, we reach the old Addenbrooke's site, situated directly across the Fitzwilliam Museum. Now home to the Judge Business School, the building's façade has been spectacularly renovated and renewed, featuring pops of bold colour against a neutral beige background. The shapes of the exterior are just as varied, featuring both curved arches with vertical columns and round, mirror-like windows that are directly juxtaposed with stacked rectangular ones.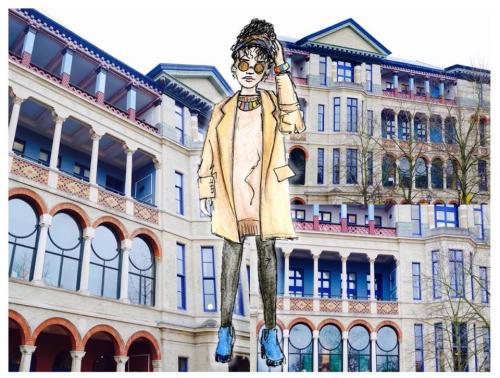 This last building is perhaps the most interesting as a source of sartorial inspiration, both colour-wise and in its eclectic mix of shapes. The best way to recreate this work of architecture is to literally translate its tonal scheme: a neutral background with interjections of vibrant colour. Your 'neutral' portion of the outfit can be far from bland, especially if it mixes structured silhouette – a tailored overcoat, for example – with looser shapes, such as the comfortable fit of a knit sweater dress. Two slightly different neutral shades, such as beige with camel yellow, also play into the visual interest of a monochromatic pairing.
Conversely, accessories are key to adding the unexpected elements of colour in the outfit. Pieces such as headscarves, bangles and chunky bracelets are an easy way to mix reds with blues and oranges. Likewise, a pair of shoes in a bold colour – take cobalt blue – can provide a surprising yet engaging contrast with the neutral top half of the outfit. Just add a pair of round lens John Lennon sunglasses, and you can only imagine the scope for endless combinations of shape and colour!
Fashion is, ultimately, about having fun. If there were a recipe for the process of taking inspiration from architecture, it might be something along the lines of two parts colour palette, one part linear form, and a sprinkle of history. Don't be afraid to mix patterns, shapes, and colours; the architectural dynamism of Cambridge's very own streets is perhaps the best illustration of this principle. Go outside, look at some buildings, and then say: "hey, I'm going to wear this apartment block tomorrow!" Make me proud: I support you