Cambridge's sartorial spaces
Marie-Louise James takes inspiration from the city itself to explore how Cambridge's quirks translate into in the way we dress, a mode of expression intimately connected to the spaces around us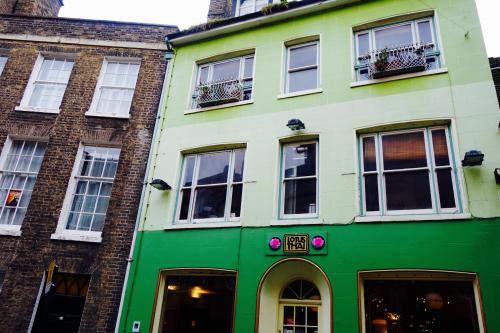 Walk down the streets of Cambridge and you will be struck by the vibrancy and variety of every building, every nook and corner. As you pass Trinity College, a porter may eye you suspiciously from his post at the Great Gate; a few steps further, you turn onto Green Street and find yourself looking at a block of kaleidoscopic building façades, ranging in hues from sea foam green to ashy greys and sandy yellows.
"Fashion is not something that exists in dresses only. Fashion is in the sky, in the street, fashion has to do with ideas, the way we live, what is happening," said Coco Chanel. These are the kinds of forms, colours and movements that can transform the way we dress. The city of Cambridge becomes our colour palette, its vitality our silhouette and its surfaces our textures.
And so I would like to explore the ways in which some of Cambridge's quirks and corners translate into in the way we dress, a mode of expression ultimately so connected to the colours and shapes around us.
 "The city of Cambridge becomes our colour palette, its vitality our silhouette and its surfaces our textures"
My first source of inspiration for this experiment is the very essence of the Cambridge porter. A black bowler hat, tie, dark wool coat, white shirt and navy suit—the standard uniform, its very immutability paralleling the wearer's steadfast and upright authority.
In seeking to "get the porter look" I gravitated towards a similar uniform-like gravitas. For the monochrome suit, pair a dark blue pair of trousers with a similarly hued wool coat, perhaps juxtaposing the structured and oversized silhouette of the overcoat with a slimmer fit of jeans. Then draw further inspiration from the standard suit ensemble with a white top—for this weather, a sweater, since we don't have to be so literal and the knitted texture plays off the felt of the overcoat. Instead of a tie, try a blue neck scarf, because why not?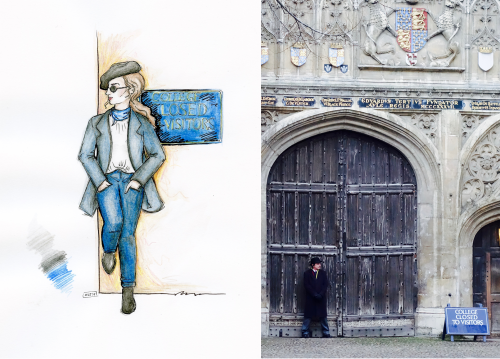 No porter look is complete without the signature black hat. Now if you want to go the full Monty, then, by all means, wear a bowler hat. But perhaps a slightly less outdated yet nonetheless timeless version of this headpiece is the classic black wool beret (which, despite already being a perennial staple, has become especially popular as of late, spotted in everything from NY Fashion Week street style to Prada's 70s inspired Fall 2017 Men's Runway). Finally, finish your look with that extra element of porterly solemnity: a pair of mysterious dark-lensed sunglasses. We're giving "prêt-à-porter" a whole new meaning!
Yet as iconic as the Cambridge porter may be, fashion inspiration doesn't just have to come from the city's people. The vibrant buildings, cobblestone textures and ornate structures all translate into forms of colour and movement—which is why my next source for inspiration is a bright green building just off the corner of Trinity and Green Street: the Lotus Thai Restaurant.
Mind you, I have yet to discover what the restaurant has to offer on the culinary front, but I have always marvelled its exterior. Every time I walk by, I am struck by its eccentrically painted façade, consisting of three gradated blocks of green and a bright pink lotus flower over the door. The green ombré effect, combined with the pink details, provides an unusually vibrant colour palette and plays perfectly into the concept of monochromatic colour blocking.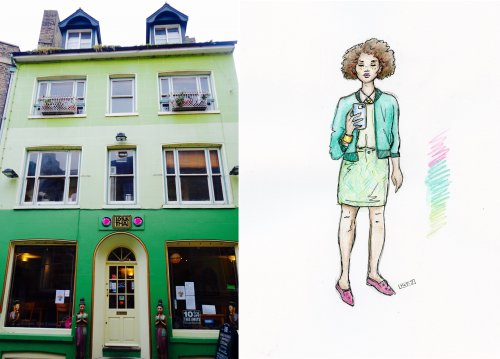 Though these shades of green and pink may seem almost intimidating, they can come together quite harmoniously given the right balance of textures and fabrics. Play with the idea of using shades of green throughout the outfit: a solid bomber and a textured skirt or a long overcoat and trousers. The next most crucial step is throwing in that pop of pink — be it in the shoes or in a carefully constructed layering of green, warm tones, and pink. With this kind of colour palette, the combinations are endless: it's all about utilising texture and small surprise peeks of colour.
If you're wondering why this colour combination works so well, pink and green are almost directly across each other on the colour wheel, which makes them nearly complementary colours. With this kind of outfit, you strike the balance between a funky choice and an eye for detail. And, with a bit of luck, your complementary colour scheme will be compliment-worthy!
My last creative muse was La Place Clichy, a painting by Pierre-August Renoir in the Fitzwilliam Museum. Much like the Lotus Thai building, I was drawn to its colour scheme, which combines various shades of blue and purple with warmer yellow, pinkish-orange tones. Renoir's impressionist style also introduces elements of texture, while his subjects — most notably a lady in the foreground – add a Victorian backdrop.
One way to translate Renoir's use of colour is in a more subtle and finely woven pattern, such as that of a silk Kimono-style jacket. A pussycat silk bow blouse, on the other hand, is almost a literal reference to late eighteenth century Victorian costume, seen in the bonnet and dress of Renoir's female subjects. Likewise, the coarser texture of Renoir's brushstrokes allows us to use a variety of threads, which is why a distressed patchwork pair of jeans can offset the chiffon and silk in the top half of the outfit.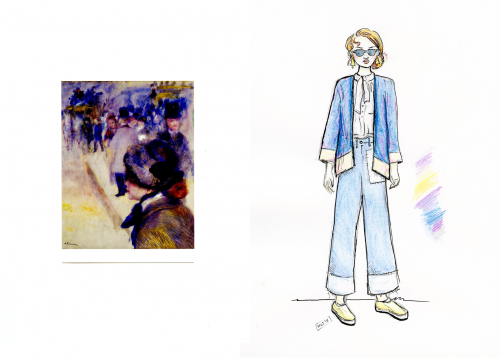 Renoir's painting follows a mostly blue and purple colour palette, but the occasional use of warmer tones allows us to once again juxtapose complementary colours. Yellow can offset the predominant blues of the outfit, whether it appear in the shoes — such as a casual platform sneaker — or gold accessories.
Ultimately, our sources of fashion inspiration can be found everywhere. Fashion is meant to be live and breathe, and the world fuels its energy as an art form. Finding sources of inspiration is simply a question of perception. Every nook and quirk of Cambridge can be our next creative influence, so keep your eyes open, and stay tuned for more!