Spaces review
Spaces is a captivating production, which comfortably dives into important issues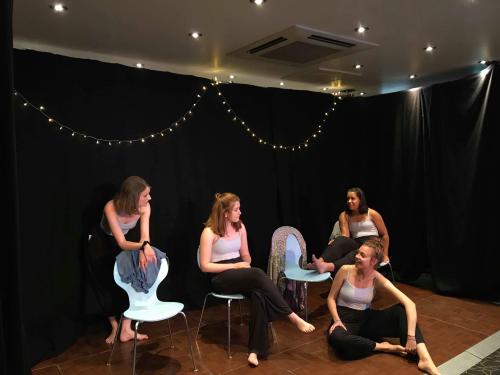 Spaces is a production which describes itself as exploring "how boundaries affect the ways in which we interact with each other, the questions we ask, the things we choose to hold back, and the things we lay bare". The play weaves between three plots that occasionally overlap. One student struggles with the symptoms of anxiety and coming to terms with both her diagnosis and the broken mental health care system available, another tries to placate her divorced parents as well as negotiating being a mixed-race student among friends who, although well-meaning, sometimes prove ignorant. We also follow the developing relationship between a devout Christian and an LGBTQ society member who meet on a night out.
The dialogue of the play is snappy, lively and has that vivacity one associates with the average student conversation.
A simple set consisting of four chairs allows the play to flow easily from one thread of the plot to another. The very capable actors, who were comfortable switching roles at pace throughout the production, aided in this flow. For example, Olivia Miller switched seamlessly from a character suffering panic attacks and coming to terms with her anxiety to a sarcastic barista within a few breaths. We're also treated to some really well choreographed and clever set pieces throughout. Especially impressive were scenes which juxtaposed scenarios like a confession at church against an LGBTQ society meeting. The effect of excellent direction, realised by very good acting, was clear.
I was particularly impressed by Hannah Shury-Smith, whose depiction of a BME student handling insensitive comments by her own friends ("who's that random white guy with your family") reminded me of countless experiences at university. The devised nature of the play shines through particularly in her storyline, and the depiction she produced was nuanced, subtle and stood out. In general, the dialogue of the play is snappy, lively and has that vivacity associated with the average student conversation; in short it seems natural and organic despite clearly being very well rehearsed.
Something I couldn't reconcile with the otherwise slick nature of the production was its use of music. During one extended scene, the music is as pulsatingly loud within the club toilets as it is on the dance floor itself. Apart from being disorientating for the audience, it's a struggle to hear the dialogue. I'm also not sure why Chance the Rapper's "Same Drugs" was played to announce one character telling her friends she was suffering from anxiety; it certainly didn't confer the sort of poignancy to the scene one might have expected was the intention. The music played during the transitions tends to be quite abrupt and a little clumsy, too. In other instances, however, it works, but the overall result is decidedly mixed.
All things considered, the production is a success. The cast work well together, and you sense the same must have been true when various scenes were being devised. Meanwhile, Tallulah Vaughan's direction does well to blend the various plot lines together and produce a show that flows fluently from one to another, captivating the audience it takes with them through a variety of highly sensitive, topical and very important issues. Make sure you don't miss it. 
This production was reviewed during a preview.