Varsity's guide to Cambridge at the Edinburgh Fringe
No matter what kind of show you're looking for, someone in Cambridge is putting it on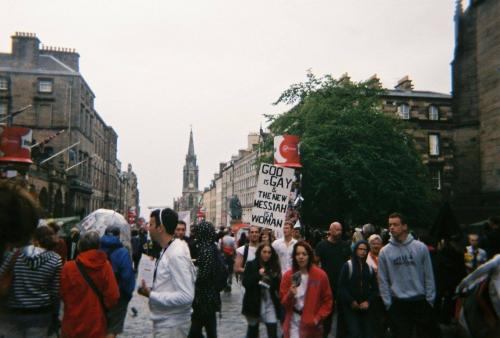 Cambridge theatre is no stranger to the Fringe, and we are certainly set to make a splash in 2018 with 30 shows on this list alone. Still more impressively, the majority is new writing from Cambridge students.
Here's a guide to the tasty treats Cambridge has to offer at the Fringe, limited to shows with current students and those who graduated this year, but there are plenty of alums at the Fringe who have not been mentioned.
Stand-up shows
Will Hall: Netflix and Will
Where: Guilded Balloon - Wine Bar Price: Free or £5 for a guaranteed seat
Dates: 2-26 Time: 14:30
'At 22, Will's just found his first grey hair: this is his story.' Following a successful one-night-stand at Corpus, Footlights regular and general funnyman Will Hall is bringing Netflix and Will to the Fringe – it definitely isn't one to be missed.
Ania and Riss are Trying Their Hardest
Where: Tolbooth Market - Room 1 Price: Free
Dates: 4 - 25 Time: 15:00
Having smashed the Cambridge comedy scene and beyond, these two women are splitting the bill for the month. This 'light' show tackles the subject of having depression as a woman, from comedy veterans who promise to put on a good show.
Economics Ft. Obscure References
Where: Just the Tonic @ The Mash House - Just the Bottle Room
Price: £6 Dates: 14-26 Time: 11:30
Kritarth has become a comedy regular in Cambridge over the past year, and is taking his talents to the Fringe. His show combines the two things he has learnt at Cambridge, economics and comedy. Described as the "most enthusiastically mediocre show you'll see," it might be worth making time to see this.
Free Footlights
Where: Just the Tonic @ The Mash House - Just the Cask Room
Price: £5 or free at the door
Dates: 2 -12 14 - 26 Time: 21:05
A Fringe classic, this show is a surefire way to have a laugh. The line-ups change every night, with a variety of sketch, stand-up and other comedy stylings, including my own. This show is normally oversubscribed, so buy a ticket or get there early to guarantee yourself a seat.
Sketch comedy
The Cambridge Footlights International Tour Show 2018: Pillow Talk
Where: Pleasance Dome - Ace Dome Price: £13
Dates: 1-12/14-25 Time: 17:20
Despite the unfortunate decision not to include me in the cast (I had a recall), this show is hilarious. The Footlights tour show is another Cambridge-at-the-Fringe classic. It is a regular, but the current cast and directors are all brilliant, and definitely worth making time to go and see if you haven't already.
Speechless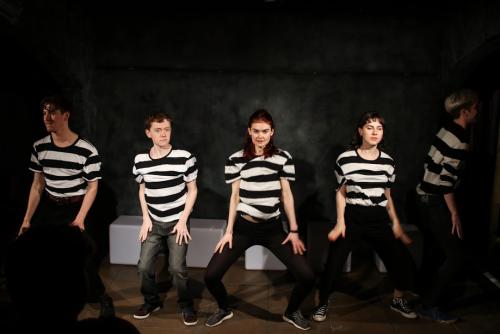 Where: Underbelly (Cowgate) - White Belly Price: £10
Dates: 2-12/14-26 Time: 14:20
Following successful runs in both Cambridge and London, Speechless is making its way to a very comfortable slot at Underbelly. The show has taken on the unique task of a sketch show without speech, and received plenty of high praise. If you haven't already, go see what everyone is talking about – or rather not talking about (sorry, had to).
No Funny Business
Where: C venues - C aquila (temple) Price: £8.50
Dates: 12-27 Time: 14:00
This satirical sketch show debuted at Corpus and is now going on to greater things at the Fringe. The cast are not Footlights regulars, so this could be a hidden gem.
Music/Musicals
Trump'd
Where: C venues - C -- 1 Price: Varies
Dates: 1-7, 9-14, 16-21, 23-27 Time: 19:15
This musical is playing at the Fringe for the second year running after its success in 2017. The show follows a Wizard of Oz-like journey through the land of Trump in the year 2030, so if you're not sick of Trump jokes, you'll enjoy it.
A Very Brexit Musical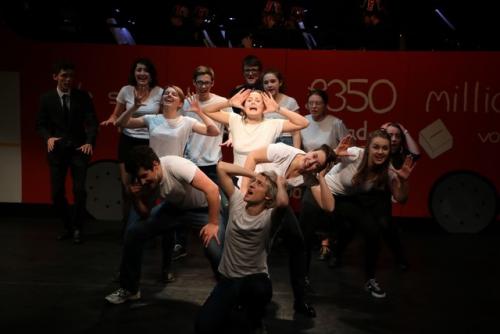 Where: Just the Tonic @ La Belle Angele - La Belle Angele
Price: £5 Dates: 2-12, 14-26 Time: 17:00
This show follows in the footsteps of Trump'd (and follows it on this list). Like Trump'd, it is also a student-written political satire as well as a happy-clappy musical. Can it make as big a splash as Brexit?
LUCKY
Where: Greenside @ Infirmary Stree - Forest Theatre
Price: £10 Dates: 3-11, 13-18, 20-25 Time: Varies
Ash Weir and Harry Castle have joined forces to create CUMTS's original musical at the Fringe. The show is about a young girl who gets roped into being on reality TV, and all that goes along with that. After the success of SiX last year there is a lot of hope for Lucky.
hunger
Where: Paradise in the Vault - The Vault Price: £5
Dates: 4-11 Time: 12:10
This is an original short opera by Joanna Ward and Ryan Hay, and very Cambridge. The story follows a female artist as she reconciles her gendered treatment, and explores related themes. If you want something a bit different from the normal Fringe show, this is definitely one to go for. For those of you who can't make it to the show or the Fringe, the original performance can be listened to here, or watched here.
Cadenza
Cambridge a capella group Cadenza will make its Fringe debut this year
Where: theSpace Triplex - Big Price: £9
Dates: 13-17 Time: 13:00
This a capella group is making their Fringe debut. If a capella is your thing, then you can tell from their YouTube video that this lot can certainly sing. They are only in Edinburgh for a short time, so catch them while they are there.
The Quest: A Fantasy Musical
Where: theSpace @ Venue 45 Price: £9.50
Dates: 10-25 Time: Varies
This show's cast and crew are an amalgam from Cambridge and Oxford. Filled with trolls, elves and adventures, The Quest sets itself apart as the only show in the fantasy genre on this list. Go watch, and make this college mama proud.
Drag
Dragtime Presents: Live things
Where: theSpace @ Niddry St - Lower theatre Price: £8
Dates: 20-25 Time: 19:55
Dragtime promises the usual variety of 'drag kings, queens and inbetweens'. They never fail to entertain in Cambridge, so I can't see it being any different at the Fringe! Go for a guaranteed good time.
Character comedy
BIG SHOP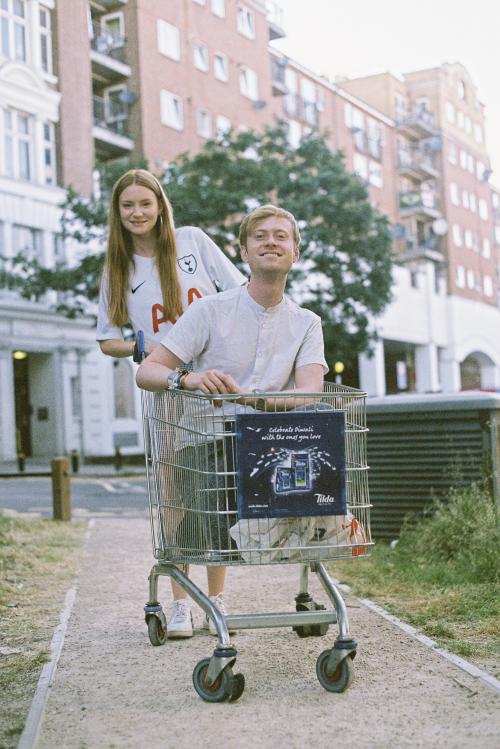 Where: Underbelly (Cowgate) - Belly Laugh Price: Varies
Dates: Aug 2-12, 14-26 Time: 17:00
This character comedy is brought to you by two Footlights, John Tothill and Eve Delaney. It follows two security guards, and looks at the different characters who are all doing their 'big shop'. These two have been in a range of hilarious and brilliant shows, so I'm sure this will be a smash.
Manhunt
Where: Underbelly (Bristo Square) - Friesian Price: Varies
Dates: 1-12, 14-27 Time: 15:40
Yet again two Footlights (Leo Reich and Emmeline Downie) bring you what is certain to be a brilliant character comedy. After working together on this year's Footlights Presents, they are bringing a new show to the Fringe. The focus is on the ever-familiar search for love, and maybe going to Manhunt will help you find love – they are both very attractive and talented.
The Man Presents: Women
Where: Assembly George Square Studios - Four
Price: Varies Dates: 1-12, 14-26 Time: 21:20
This is the fourth iteration of this show, and definitely worth a watch. It is a series of character monologues from female and non-binary comedians, presented by a man (or in this case a woman pretending to be a man – Adrianna Hunt). Simple enough concept, and a simply enjoyable performance.
Comedy plays
Drifting Towers
Where: C Venues - C Aquila - Temple Price: Varies
Dates: 2-12, 14-27 Time: 15:00
This show follows two best friends who have played the same game together for eight years. As they reach the final level, they face a different stage in their lives. The show uses a diversity of fantasy game world scenes and real-life scenes to create a performance that is both funny and energetic, while also creating a connection with the characters.
Shot in the Dark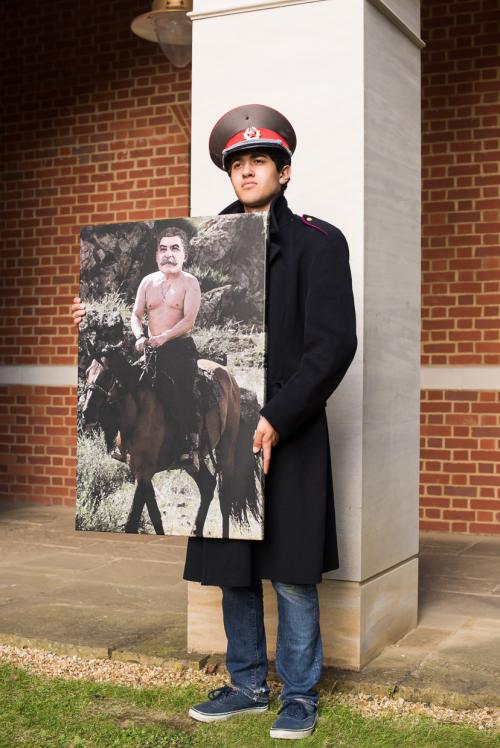 Where: Just the Tonic @ La Belle Angele - La Belle Angele
Price: Varies Dates: 17-21, 24-26 Time: 15:30
Like Drifting Towers, this is another piece of original Cambridge writing. The story is a wild romp set in the late '50s, with spies dealing with their assassination – or lack thereof. If you missed it in Cambridge, try to make it to a Fringe performance.
Spoiler Alert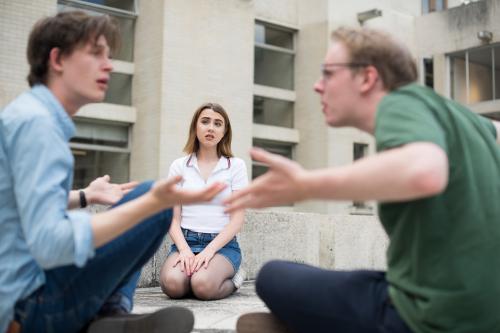 Where: Greenside @ Infirmary St Price: £8.50
Dates: 13-18, 20-25 Time: 11:25
The winner of the Footlights' Harry Porter Prize is making its way to the Fringe. The story follows a suddenly-prophetic young woman and the problems she encounters, as well as the new communities she finds.
Five Women Wearing the Same Dress
Where: theSpace on the Mile - Space 1
Price: £10 Dates: 3-4, 6-11, 13-18 Time: 20:20
Five bridesmaids, none of whom like the bride, end up hiding in the same bedroom together. They soon delve into each other's stories loves, losses and eventually form friendships. This play is an Oxford/Cambridge crossover in cast and crew, and sounds like an enjoyable way to spend two hours.
The Cambridge Impronauts Present: A Series of Improvable Events
Where: Guilded Balloon Teviot - Billiard room Price: £10
Dates: 1-27 Time: 12:00
Another Cambridge-at-the-Fringe classic, this is a show to see once, twice, or however many times you want – it changes every time. The Impronauts always put on a fantastic show, and their performance at the Fringe will be no exception.
Space Doctors
Where: Guilded Baloon Teviot - Wine Bar Price: £10-11
Dates: 1-13, 15-27 Time: 12:15
Gently taking the piss out of old sci-fi shows, while still paying homage to them, this play is set at a Comic-Con-type convention for the fictional show 'Space Doctor', as crazed fans of the '70s show reenact scenes from the first episode. This show is stacked with Cambridge comedy old hands, so it will definitely be funny.
Serious plays
Reigen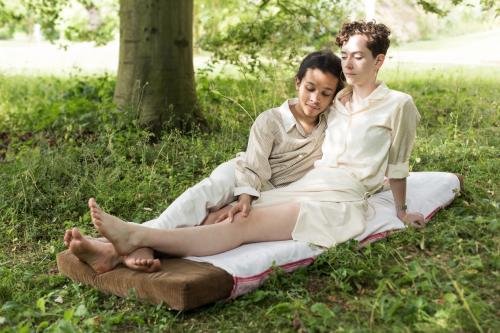 This show is in two locations during the month.
Where: theSpace @ Venue 45 Price: £8
Dates: 13-18 Time: 10:40
Where: theSpace @ Niddry St - Upper Theatre Price: £8
Dates: 20-25 Time: 16:15
Ada Günther has taken on the mammoth task of creating a new translation of a play and directing it at the same time. The play at its first release was seen to be extremely scandalous, and it was banned in the early 1900s for its frank discussion of sex through interviews before and after a sexual interaction. As relevant to us now as it was then, this show is definitely something to try and see.
Spaces
Where: Sweet Grassmarket - Grassmarket 2 Price: £9
Dates: 2-6, 8-13, 15-20, 22-26 Time: 14:25
This piece comprises verbatim dialogue and devised spaces, and delves into the nature of our relationships. What do we say and not say? How do we interact? The play explores those tricky issues of race, religion, mental health and sexuality in our modern political landscape.
How My Light is Spent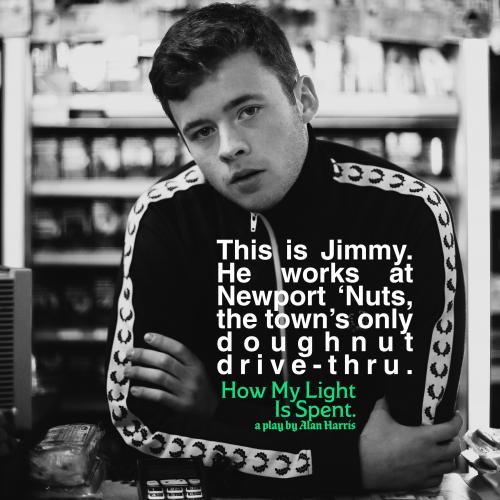 Where: Greenside @ Nicolson Square - Fern Studio
Price: £10 Dates: 3-11, 13-18 Time: 19:45
Jimmy's hands have started to disappear, and the sex phone operator he talks to every week thinks she might know what's going on. This show promises to be funny, but also explores issues of loneliness. With Aaron Kilercioglu's directorial success in the past, this show is potentially one to see.
Breathing Corpses
This show is in two locations during the month.
Where: theSpace @ Jury's Inn - Main Theatre Price: £8
Dates: 6-11 Time: 19:20
Where: theSpace on the Mile - Space 1 Price: £8
Dates: 20-25 Time: 12:35
Three different lives interact and collide with death and corpses in this show. The play's twists and turns are shocking, unexpected and darkly humorous. With an impressive cast and director, this is a show to see if you want something a little darker.
Loneliness and Other Adventures
Where: Paradise in Augustines - Studio Price: £10
Dates: 4-11 Time: 22:00
The fear of being alone is something with which we are in some way all familiar. This play follows a young woman in her search to avoid that fate, in a devised piece that looks beyond just finding love, and into the self.
Rights of Passage
Where: C venues - C too - Main House Price: Varies
Dates: 20-26 Time: 17:00
Rights of Passage is about real stories from LGBT refugees, from their problems at home to those they face seeking asylum in the UK. The message of this show is extremely important. Despite the difficulty and pain of these stories, they are in essence the lucky ones: there are plenty of others who did not gain asylum. After an extremely successful initial run in Cambridge (4 ½ stars from us), it is a show worth taking in in spite of its difficult subject matter.
Walk Swiftly and With Purpose
Where: theSpace on the Mile - Space 1 Price: £9.50
Dates: 13-18, 20-25 Time: Varies
A coming-of-age story which follows four girls as they edge into adulthood. So far in their lives, their imaginations have been powerful, but reality is beginning to shine through. This show looks at what it is to become a woman today.
Varsity is the independent newspaper for the University of Cambridge, established in its current form in 1947. In order to maintain our editorial independence, our newspaper and news website receives no funding from the University of Cambridge or its constituent Colleges.
We are therefore almost entirely reliant on advertising for funding, and during this unprecedented global crisis, we have a tough few weeks and months ahead.
In spite of this situation, we are going to look at inventive ways to look at serving our readership with digital content for the time being.
Therefore we are asking our readers, if they wish, to make a donation from as little as £1, to help with our running cost at least until we hopefully return to print on 2nd October 2020.
Many thanks, all of us here at Varsity would like to wish you, your friends, families and all of your loved ones a safe and healthy few months ahead.