Performance about performing: an interview with LUCKY
A look behind the scenes of the CUMTS new musical at the Fringe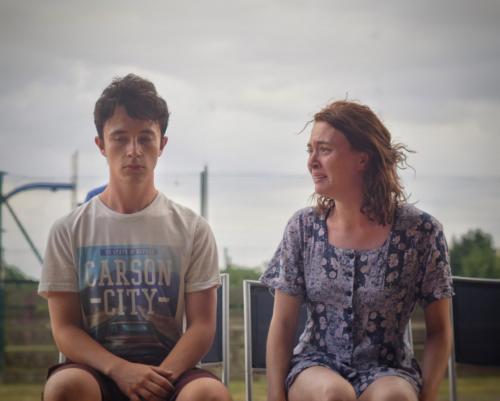 Managing (just) to push through the crowds on the Royal Mile, I head out to the apartment where the cast and crew of LUCKY are preparing for opening night. Putting on a musical in Edinburgh is always a hectic affair; organising band rehearsals, rehearsal spaces, flyering, social media, reviewers. I sense it has been especially so for this company.
"It's about the performance of emotion and not really knowing what to feel"
"It's a totally different experience to Cambridge - I mean, we rehearsed in a garden and a field before coming here, and we got into the venue last night." I'm told the set was ordered almost entirely from Amazon Prime. But director Alistair Henfrey seems to relish the sense of genuine accomplishment that comes with a successful Fringe run. "At the Fringe you're launched into this world where you have to market your own show, and make sure publicity is getting done. There's no one to chase you, and if they are, they're not really invested", he says. "It's a baptism of fire."
Given such circumstances, it is fitting that Ashleigh Weir and Harry Castle have devised a musical set in the high-stakes, high-pressure arena of what we call, somewhat imprecisely, show-business.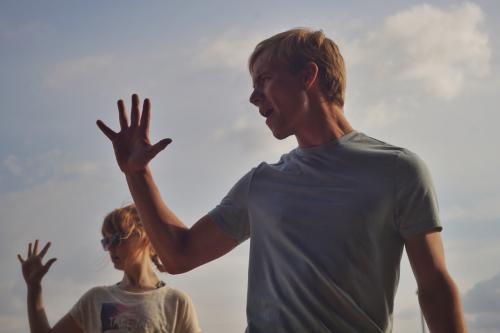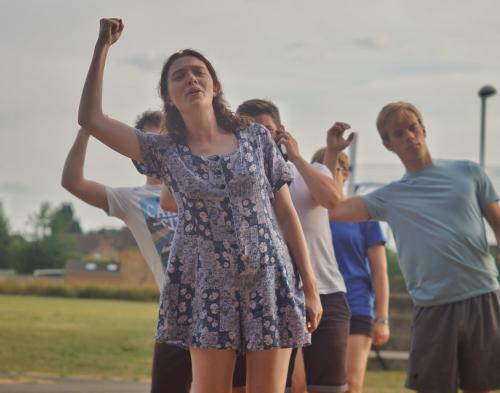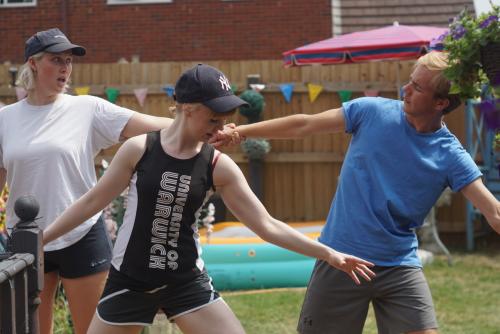 Joy Gingell plays Lucy, the introverted protagonist who is thrust mercilessly into the world of reality television upon her mother's death. Her father is an ageing reality star, forced into confronting his estranged daughter and, with the help of his stilettos-of-steel producer, trying to fit her into his public persona of the promiscuous, ultra-masculine Ricky Pense.
The sheer size of the Fringe makes pedalling a more 'serious' show difficult. Flyering can often feel like herding cattle or enticing young children. The most successful original shows are usually comedies, especially if they involve hackneyed Donald Trump impressions.
LUCKY seems to go in a very different direction. Gabriel Humphreys, the show's producer, describes the score as "a cross between Jason Robert Brown and Sondheim – it's very modern British musical theatre." The lyrics are sharp, and not a bar of Castle's score is wasted in developing a rota of complex, conflicted characters.
"It's less a damning of the show-business world than a damning of audiences. We're part of the problem."
The role of Lucy has presented Gingell with fresh challenges. "She's quite an introverted character and takes a back seat a lot of the time. I've never really had a chance to play a character that's not the confident one that dominates the play!" I ask if Lucy as a character fulfils that most progressive of theatrical tropes, the 'strong female character'. "It's hard to define because she's strong in many ways, she's getting on with things – but also she's not strong because she's very confused. She's overwhelmed by the whole situation."
This is a show which enjoys subverting expectations. In the make-believe world of reality television, where integrity and superficiality have the most promiscuous of relationships, the writers have found a fertile ground full of contradictions, dichotomies and ironies. "It's about the performance of emotion and not really knowing what to feel", says Gingell. The line between reality and performance becomes blurred as her life and family relationships are packaged and marketed for the audience. Henfrey notes the subversion of the word 'lucky' throughout the show: despite the adoring crowds and the swanky new house, how lucky is Lucy really?
"I never go into a show wanting people to come out with one thought. I think that's lazy"
This is a show for the Love Island generation, many of whom (including the writers) find themselves grappling with a crisis of conscience. "When you watch Love Island you feel very ambivalent about it because you enjoy it as a show, but you know fundamentally there are things wrong with it," explains Henfrey. "It's less a damning of the show-business world than a damning of audiences. We're part of the problem." Just as the lives of Love Island contestants become the property of the public in tabloid newspapers, so Lucy's life becomes externalised, her sense of self hollowed out and served to the day-time monster.
While LUCKY clearly has an incisive message, Henfrey insists the show is not didactic. "I never go into a show wanting people to come out with one thought. I think that's lazy. Viv, the producer of Ricky's shows, gives us this fantastic speech when she says to Lucy, 'Look, people's livelihoods and careers, their families, depend on you doing a good performance so that this team can get paid.' It's horrible but then there's a logic to it." Even Lucy's father commands sympathy. "You still feel sorry for Ricky because he's trapped in this world… he has no life outside this performance."
As the Fringe expands and becomes more competitive every year, it is just as well that LUCKY has set its ambitions high. It hopes to ask pertinent questions about the world of reality television, and our complicity in it, while delivering the humour, pathos and musical delight that audiences expect. If the enthusiasm of the cast and their grasp of the characters is anything to go by, it will surely succeed — just as long as potential audiences are not too distracted by those Trump impressions.