Taking on Beckham's Boys – CUAFC's Postcard From Miami
CUAFC central midfielder Louie Roberts on a winter break to remember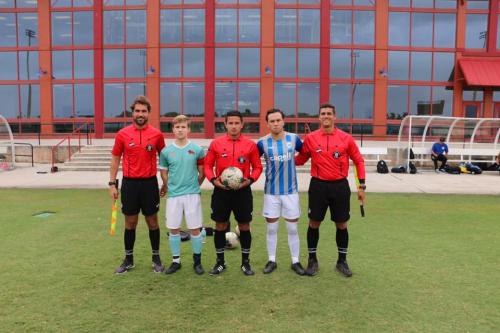 On the 4th January, a cold, dark Saturday morning, Cambridge University's finest footballers assembled at London Heathrow Airport before taking a 9 hour flight to cast off the interminable grey cold of England for the unbridled sunshine of Miami, Florida. Here our stateside opponents would take various forms, but unquestionably the pick of bunch was a clash against David Beckham's long- awaited new MLS team Inter Miami CF, whose U19's we would face on the Friday.
Inter Miami represented a very shrewd piece of business on Beckham's part (or at least his agent's). As far back as 2007 when he first joined the MLS in a major coup for what was a fledgling international league at the time, the contract signed between the two gave him the option to purchase a franchise later down the line for $25 million. In 2013, these plans began to take shape and in 2018 the Beckham led group was officially awarded the 25th MLS franchise in Miami. In an attempt to keep appeal broad in an area featuring many Spanish speakers the name Club Internacional de Fútbol Miami was settled on, and the team lines up for its first MLS game against Los Angeles FC on March 1st.
Football focused, the squad was ready to start the decade off with a successful tour. After arriving at Miami International Airport, CUAFC headed to the wonderful Walsh residence. Graham Walsh, an ex-CUAFC player, significantly contributed to the organisation of the tour and hosted the squad throughout the week, along with allowing several players to experience Miami from boat side.
"This was a particularly hard two hours for our players as a quick adjustment to both the time and temperature difference were required"
On day two, CUAFC kickstarted a hard-working week with a productive training session at Little Haiti. This was a particularly hard two hours for our players as a quick adjustment to both the time and temperature difference were required. Rehydrated, the squad headed to Naomi's Kitchen, a local restaurant where the players enjoyed learning about local cultures and the delicious food they had to offer.
Later that evening, the squad split off to welcoming guest homes, hosted by friends and associates of Graham Walsh and Cambridge's Alumni network. Wednesday morning saw CUAFC train at Flamingo Park, a great pitch with an excellent view of the towering architecture of Miami's financial district. The light session included a spicy game of one-touch one-bounce, with a decider for last place between Ujjal Sunuwar and Ellis Birch. In the end, Birch was thrilled to take home the trophy for last place.
The squad continued an upbeat start to the day by heading to Miami Beach, before sitting down for lunch at Big Pink, a true American Diner. While some of the players seemed to forget their first match of the tour was that evening, ordering waffles and fried chicken to name but a few of dishes, the squad was well prepared for the upcoming fixture.
CUAFC played a defensive shape in a floodlit match against Florida Soccer Soldiers, with several counterattacks that came close to goal with efforts from Kosi Nwuba and Ethan Radus. CUAFC held the semi-professional side for 80 mins before conceding to lose 1-0.
A recovery-centred following day brought CUAFC back to Little Haiti, with football tennis and shooting practice on the cards. Training in windy Key Biscayne, and visiting the village's beach afterwards, was the focus for Friday morning.
That evening, CUAFC's players travelled to St Thomas University to play in the most hotly anticipated face-off of the week, a clash against David Beckham's Inter Miami Academy Under-19 side. Keen to test their mettle, the boys gave their hosts a spirit performance but an unfortunate and unrepresentative 4-0 loss was to be the outcome of CUAFC's second game in Miami with a questionable offside side call going against a goal for Ethan Radus not helping matters.
Inter Miami vs CUAFC complete with some typically energetic Spanish commentaryFacebook/AVM Sports
Nonetheless, spirits were high for CUAFC's final match against Kendall Academy. Before the final game, the squad took to Brickell for a game of rooftop 5 a-side. The beauty of the golden, Miami sunset went largely unrecognised in the presence of the exquisite CUAFC passing and movement.
Sunday 12th January was the club's final match. After a hattrick from Illiya Stoev and a brace from man of the match Ryan Hoffmann, CUAFC secured their first win of the tour, beating Kendall Academy 3-5. To celebrate, Graham and Candace Walsh treated the players to a complementary fine dining experience at Candace's Three Restaurant, a fitting reward for a week of dedicated body on the line performances.
On the final two days of the trip, the players relaxed and enjoyed the area nearby to the apartments they had been living in for the past five days. The 2020 Winter Tour to Miami was coming to an end, but will be forever looked back on as a truly inspiring experience that the players will find hard to forget.
A special, final thank you goes to to Paddy Mortimer, Kosi Nwuba and Graham Walsh for outstanding efforts in their organisational efforts for this tour.