Have England been clean bowled of leaders?
Following a calamitous showing in the Ashes down under, Iain Blackwell asks if England's Test side are rudderless and adrift in the ocean of mediocrity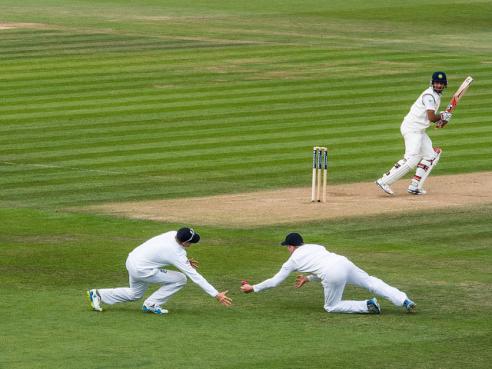 At the beginning of this month, cricket website ESPNcricinfo published an article titled 'Dawid Malan is 30 and an international novice but one day might he captain England?' The answer, "yes", was a reflection of the of Malan's character, capabilities and a real sense that Malan, one of England's current middle-order batsmen in what has been a rollercoaster ride of an attempt to find Kevin Pietersen's replacement, was "one of the few figures to emerge in credit after England's 4-0 Ashes thumping." As if only to further prove his credentials, Malan has also been made Middlesex's club captain in all three formats, capping off an extraordinary seven months since his Test debut and seemingly prompting the article in the first place.
Yet the very existence of such an article and its deserved praise for Malan serves to show just how far awry England's plans for the future of the Test team have gone. The increasingly imminent retirement of senior opening bowler pair James Anderson – who continues to defy his age – and Stuart Broad, and former captain and opening batsman, as well as Alistair Cook, who is looking desperately short of both runs and form despite the double ton against Australia on the pudding pitch at Melbourne, make the development of potential leaders within the England setup essential.
Frustratingly for England, the best tacticians on the field and in the dressing room remain in the limited overs sides. Eoin Morgan and Jos Buttler, both of whom are increasingly reconciling themselves with being limited-overs players, are two of the more astute cricketing minds the likes of which the Test side urgently need. Meanwhile, senior players such as Moeen Ali, Chris Woakes and Ben Stokes seem to have proved their unsuitability or unwillingness to lead the teams. Though there appears to be a way back into the side for Ben Stokes once his trial over an incident outside a nightclub in Bristol is over, England management may be unwilling to trust him with a position of responsibility. This is, of course, dependent on whether or not he will be at Her Majesty's Pleasure.
Trevor Bayliss's hands-off approach to coaching is an open attempt to foster maturity amongst these future players to shape them, if not into leaders, into responsible senior figures within the England setup. Frankly, the results have been disappointing. This is not to say that the fault rests with Bayliss. The coach's irritation with unwelcome incidents over the course of the Ashes tour was increasingly visible. The impression the England team has given since Ben Stokes was arrested and later charged with affray, for which he is standing trial, indicates a lack of professionalism amongst squad members. With attention focused on the players during an Ashes tour anyway, the wisdom of wicket-keeper Jonny Bairstow's 'headbutt' encounter with Australian opener, Cameron Bancroft, and squad member Ben Duckett's apparent belief that pouring a drink over James Anderson in the very same bar would escape notice did England's PR team no favours.
It may be reasonable to ask whether these events would have occurred while Cook was captain. Cook's captaincy was notable for the harmony and sense of purpose it encouraged amongst the players. Root has been announced as the captain-in-waiting since his establishment in the team and arrival as a world-class player in 2014, and appears to have the respect of the coaches and his teammates, at least on the field. Whilst his tactical decisions are certainly more innovative and aggressive than his predecessor who had been criticised for a sometimes-conservative approach, at the moment it is simply too early to say whether Root will be a successful captain.
Certainly, his county, Yorkshire, have never invested him with the captaincy, so it appears the decision to elevate Root rests in part on the belief that the best player in the team should also be the captain. The decision also rests on the hope that he can grow into the role, lacking experience of captaincy at first-class level. Seeing the successful impact that the captaincy has had on Virat Kohli for India, Steve Smith for Australia, and Kane Williamson for New Zealand, who are all the best players in the teams they captain, may also have encouraged England to try their hand with Root. It is the best option England has available to them at the time, given the paucity of suitable alternatives. This tactic is, however, a risky one, as England have learnt promoting Ben Stokes to vice-captaincy only for the all-rounder to land himself in exceedingly hot water. Only time will tell if England will live to regret bestowing the moniker of Captain on Joe Root