Everything you need to know about the 2017 Varsity matches
Ben Cisneros gives the low-down on what's set to be another hotly-contested pair of Varsity matches at Twickenham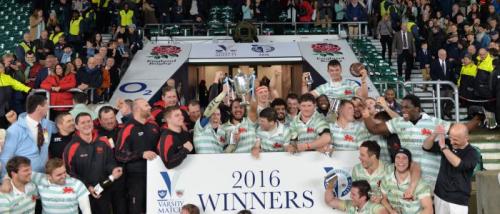 Where? Twickenham Stadium, London
When? Thursday 7th December, 11:30 (Women's KO), 15:00 (Men's KO) – Twickenham gates open at 11:00.
How? Both - Varsity's live blog; Women's – BBC Red Button; Men's – BBC Two; Both – UNILAD Sport Facebook live; Tickets: www.thevarsitymatch.com (Student tickets £15)
What?
Since 1872, the rugby teams of Cambridge and Oxford University have been going head to head in what is one of the world's longest-running sporting fixtures. Though the first Women's Varsity Match was not played until 1988, there is no doubting the fierce rivalry between the sides, in what will be the 31st and 136th Varsity matches.
For the men, the record stands at Cambridge 62 – Oxford 59, with 14 draws along the way. Though Cambridge have the lead in the all-time stats, last year's 23-18 victory was their first in seven years. Despite being runners-up last in 2016, Oxford go into this year's fixture having lost just twice in their last 10 games.
The Light Blues, meanwhile, having had a more difficult start to the season, are coming off the back of a 53-22 win against the Steele-Bodger XV. The defending champions have shown they are more than capable of scoring tries this season, but they will need to carry the form from their last game into the Varsity Match if they are to retain the trophy.
In the women's game, it is Oxford who lead with 19 wins to Cambridge's 11. They have never drawn. Oxford are seeking to defend the title they won in 2016, but face a Cambridge side which has lost only once this season. The Dark Blues, though, have not fared too badly either, having won all but two of their fixtures. With both sides in good form, it's set to be a fascinating contest – though it will surely be higher-scoring than last year's 3-0 Oxford win.
Who?
Women's Squads
Cambridge narrowly lost the 30th Varsity Match 3-0The Varsity Match
Cambridge have the more settled of the two sides, with 13 Blues in their matchday 23 compared to Oxford's 8. However, the Dark Blues, led by Sophie Behan, do have last year's player-of-the-match, Sophie Trott, to count on at fullback. Cambridge, though, boast a talented full-back (and former captain) of their own, in Alice Middleton. Lara Gibson captains the side from outside-centre.
Keep an eye out for Cambridge twins Fiona and Jenni Shuttleworth as well as Jess Gurney, the Newnham medic making her seventh appearance in the Varsity Match. Having played a number of positions in the pack, including prop, flanker, and number 8, Gurney will start this year's match as the Light Blue hooker. She will hope to bring all her experience from her year as captain (2013/14) and president of CUWRFC (2015) to secure one final win. 
Men's Squads
History will be made in the men's Varsity Match, as Cambridge's Will Briggs makes his seventh Varsity Match appearance, to surpass the previous record of six, held jointly by Herbert Fuller (Cambridge, 1879-1883) and Lewis Anderson (Oxford, 2009-2015). Will Briggs's on fire.
For Cambridge, Briggs is joined by former England Sevens and Bristol professional Charlie Amesbury, who captains the side. The Light Blues will be hoping he can have the same kind of impact he did last year, when he put in some huge hits and made key line-breaks. He is not the only former international in Cambridge's ranks, however. Ollie Phillips, 2009 World Sevens Player of the Year and former England Sevens captain, who also played 15s for Stade Francais, starts on the wing. Inside him, at 13, is Archie Russell – brother of Scotland fly-half, Finn – while ex-Bristol professional Nick Koster starts in the second-row.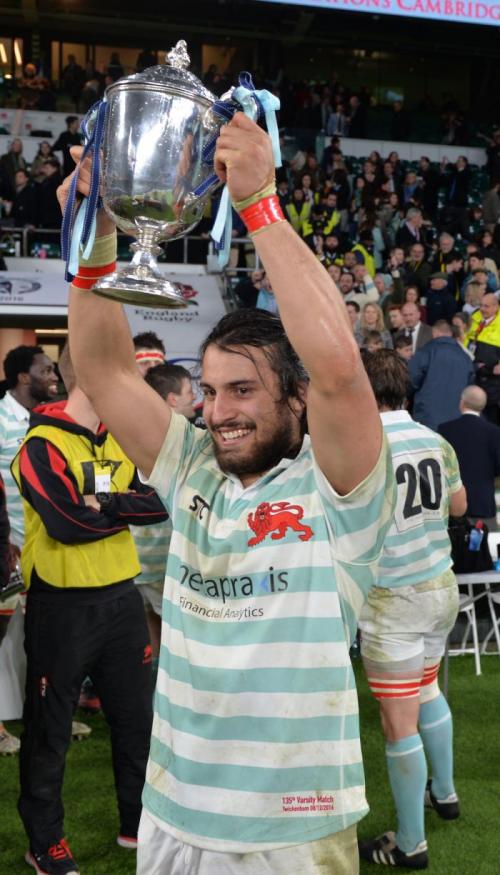 Both sides have eight Blues in their matchday squads, and Cambridge are not alone in possessing international-calibre players. England Sevens star Sam Edgerley starts for Oxford at full-back, whilst outside-centre Dan Moor is a current Canada international. At openside flanker is Andy Saull, formerly of Saracens, Newcastle and England Saxons. Having been talked up as a potential England star in his prime, but suffering some serious injuries along the way, the Light Blues will have to be on their mettle at the breakdown.
Cambridge have enough confidence in their back-line to leave last year's match-winner Rory Triniman on the bench, but Oxford are able to omit a Premiership and Heineken Cup winner. With injury having limited his appearances this season – as has been the case too often in his career – Dom Waldouck (Wasps, Northampton, London Irish and England Saxons) will hope to make an impact in the No.23 shirt.
GDBO