Plucky CUCC left chasing consistency and cohesion
Some strong performances and tactical lessons at the first canoe polo tournament of the year gave CUCC a solid platform on which to build, write Jon Wall and Keir Baker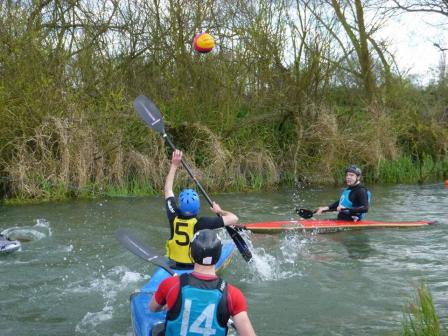 Cambridge University Canoe Club (CUCC) kicked off their canoe polo season on Sunday with a series of dogged and determined performances against an array of teams ranked far higher than them at their first tournament of the year at the University of Warwick. 
Having finished in 15th place out of 31 teams in the most recent edition of the BUCS tournament, the CUCC approached the Warwick meeting packed with stronger and more established opposition with a realistic outlook. Indeed, it was clear that matches against high-ranked teams such as Nottingham, London (a team made up of all the major London universities) and Warwick would be tough tests and that they would be unlikely to give positive results. 
However, there were also winnable games against Bangor and Southampton, whose standard at BUCS was not far removed from that of the Light Blues, and it was in these ties that CUCC were targeting positive results.
The Light Blues began the tournament with a tough fixture against Nottingham, a baptism of fire for CUCC debutants Christian Scheulen and Alex Watson. And while CUCC showed flashes of quality throughout, it was thanks to defensive lapses at key moments rather than any form of dominance on the part of Midlands side that gave the scoreboard a rather unwelcome one-sided feel as the Light Blues succumbed to an 8–1 loss. 
As well as underlining the necessity for CUCC to maintain a solid defensive system is the upcoming matches, there were positives that could be taken from the loss: though the match provided an abrupt introduction to the pace of BUCS-standard canoe polo for Scheulen and Watson, both more than justified their selections with strong performances throughout. 
Defensive strategy reset, the Light Blues approached the next match against Bangor in a much more cohesive manner. With the balance between attack and defence more evenly struck, CUCC went into half-time tied with the Welshmen at two goals apiece, with newly-crowned under-21 European champion Nathan Hammond the key man in attack. 
However, Bangor's strength and versatility across the team showed in the second period and they edged ahead, and even CUCC's speculative long-range efforts in the dying seconds of the game were not enough for the Light Blues as they failed to claw back a 4–2 deficit.
Still looking to find their signature game style, the CUCC opted to take a more offensive approach against both Warwick and eventual tournament winners Warwick Grads, with the Light Blues introducing a number of tactical changes that facilitated a more effective cycling system while attacking. While this appeared inspired at first, allowing CUCC far more possession through which they could attack, it was also jeopardised by handling errors which continued to creep into the Light Blues' game. And both Warwick sides, clinical throughout, seized on these mistakes to break with speed and score all too frequently: the results were an 8–1 loss to Warwick and a 7–0 loss to Warwick Grads.
Despite their lack of success against the Warwick sides, CUCC's new attacking approach produced a particularly entertaining match against Southampton. Goals from Hector Newman, skipper Jon Wall and Hammond gave the Light Blues their highest goal tally of the tournament, though the frenetic pace of the game coupled with Southampton's breaking (as well as some dubious refereeing calls) meant that CUCC eventually succumbed to an 8–5 defeat.
CUCC's final match was against London, and, on paper, the least likely to produce a result for the Light Blues. However, a slight 3–2 deficit at halftime reflected a very tight first period featuring aggressive defence from both sides. Unfortunately, the London side rallied and pinned back CUCC in the defensive third for almost the full second period and, despite the Light Blues' fierce defensive rearguard, the match finished 5–2 in London's favour.
Despite having given a good account of themselves, CUCC returned home winless. But the tournament clearly demonstrated the difference in strength and depth between the Light Blues and the higher-ranked teams on display that can largely be attributed to the difference in facilities and funding afforded to other teams. 
As CUCC captain Wall, speaking to Varsity after the tournament, explained: "It is hard to ignore the impact of indoor/all-weather training facilities and newer boats on teams' ability, as well as the contributory effect that such investment has in terms of a sports team's capacity to attract people to the sport and building a team."
However, Wall was keen to take the positives from the tournament: "Moving forward, we will look to capitalise on the experience gained at the tournament and expect to return to winning ways in the matches to come," he said, also noting that it was "clear that more defensive work in training will be needed for success to follow."
CUCC: Hammond, Newman, Scheulen, Spliet, Wall (c), Watson