World's first transgender mayor
Election of new Cambridge leader brings worldwide media attention
Cambridge's new Mayor has attracted global media coverage after announcing that both she and her partner are transgender.
Councillor Jenny Bailey, who has served as Deputy Mayor since May 2006, was appointed Mayor at Cambridge City Council's annual meeting last month.
Bailey, a Liberal Democrat, has sat on the Council since 2002, before which she worked as a telecommunications engineer and as school governor for Chesterton Community College.
Bailey said "I entered local politics because I believe in public service and because I wanted to make a contribution to the wonderful city we live in. I am honoured that my fellow councillors have now chosen me to be Mayor.
"I want my mayoral year to be about celebrating the unsung heroes of our city. There are many of them. They are individuals and organisations that quietly work away making a real difference to people's lives without expecting any reward or publicity in return. They deserve recognition and thanks for their work and I see it as a major part of my job as Mayor to make sure they know how grateful we are.
"There are many also many specific causes I want to highlight in the next twelve months. These include raising the profile of disability issues, supporting events for and on behalf of migraine sufferers and attending meetings of minority religious groups."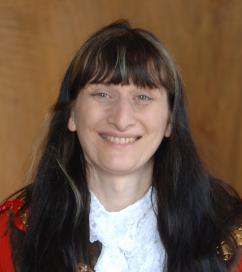 Bailey has a strong interest in environmental issues and has a history of encouraging cycling, waste management and recycling. She entered politics in an attempt to promote the domestic use of solar power. Her appointment coincides with the appointment of Cambridge City Council's first Climate Change Officer, Simon Chubb.
The international media became interested when the new Mayor made public that both she and her partner, former councillor Jennifer Liddle, are transgender. It was already well known in Council circles. Ms Liddle will serve for a year as Mayoress by her partner's side.
The couple met while undergoing hormone replacement therapy and now live together, bringing up Bailey's two sons from a previous marriage. Bailey's ex-wife remains a friend and told local media that she was "incredibly proud" of her former husband, anticipating that she will do an "excellent" job.
Ms Bailey is the first transgender person to hold the 800-year-old Cambridge office, and it is believed that the couple will be the world's first transgender Mayor and Mayoress.
American broadcaster Fox News reported the couple's appointments, claiming that "this university city is taking them in its stride".
Councillor Ian Nimmo-Smith, Leader of Cambridge City Council, said, "Jenny has fulfilled the role of Deputy Mayor in the past year with great distinction and we already know that she will make a really great Mayor."
Mayor Bailey replaces previous incumbent Robert Dryden.

Elliot Ross