Victim of London Bridge attack named as Cambridge graduate and Learning Together volunteer Saskia Jones
Saskia Jones "had a great passion for providing invaluable support to victims of criminal injustice", said her family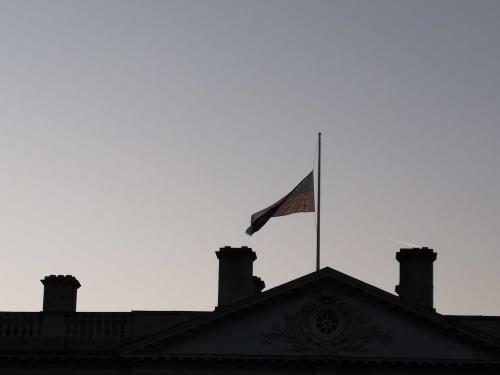 The Metropolitan Police have confirmed that the second victim killed in Friday's attack on London Bridge was former Cambridge student and Learning Together volunteer Saskia Jones.
Jones, 23, was from Stratford-upon-Avon in Warwickshire.
Her family said in a statement: "Saskia was a funny, kind, positive influence at the centre of many people's lives. She had a wonderful sense of mischievous fun and was generous to the point of always wanting to see the best in all people.
"She was intent on living life to the full and had a wonderful thirst for knowledge, enabling her to be the best she could be.
"Saskia had a great passion for providing invaluable support to victims of criminal injustice, which led her to the point of recently applying for the police graduate recruitment programme, wishing to specialise in victim support.
"This is an extremely painful time for the family. Saskia will leave a huge void in our lives and we would request that our privacy is fully respected."
The other victim, Jack Merritt, who was yesterday reported to have died in the attack, graduated with an MPhil in Criminology from Hughes Hall, and worked as a course coordinator for Learning Together. Confirming his death yesterday, his father, David Merritt, wrote on Twitter: "Cambridge has lost a proud son and a champion for underdogs everywhere, but especially those dealt a losing hand by life, who ended up in the prison system."
The attack which killed both Saskia Jones and Jack Merritt took place just outside of Fishmongers' Hall near London Bridge. The venue was being used to celebrate the fifth anniversary of the founding of Learning Together, a prison rehabilitation programme developed by Cambridge's Institute of Criminology.
Jones was a volunteer for the programme, which seeks to "bring together people in criminal justice and higher education institutions to study alongside each other in inclusive and transformative learning communities."
Earlier today, Vice-chancellor Stephen Toope issued a statement confirming that the second victim of the attack, Saskia Jones, whose name had not yet been released by the police, was a former Cambridge student. Among the three others who sustained injuries in the attack – whose identities have not yet been released by the police – one was a member of university staff.
Vice-chancellor Stephen Toope wrote: "Our University condemns this abhorrent and senseless act of terror. Our condolences, our thoughts and our deepest sympathies are with the victims and their families. We will be providing all the support we can to our colleagues, including counselling for staff and students who are affected by the event.
"We are grateful to the Metropolitan Police, to local emergency services, and to those members of the public – including students, staff, alumni and other participants at the event – who selflessly intervened to contain the incident."