"Spectacular" light-show will mark end of 800th anniversary celebrations
Icons symbolizing Cambridge's most recent innovations to be projected onto University buildings one year on from the opening of the celebrations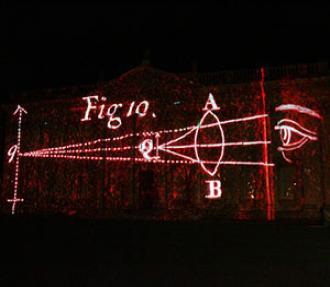 The grand finale of Cambridge University's 800th anniversary celebrations will take place this week-end. A light show is being held which will take place on three consecutive nights beginning Saturday 16th January. The lights will be projected onto Senate House and Old Schools one year on from the light show that took place at the beginning of Cambridge University's 800th year.
The show has been designed by world-renowned light artist Ross Ashton. Spectators will have the chance to walk about the ground of King's College, as lights shall also be projected onto the Gibbs building and King's Chapel.
Last year's show was incredibly successful, with over 10, 000 spectators. Also designed by Ross Ashton, iconic images from the history of the University were projected onto the edifice of King's College, treating the buildings of Cambridge as his canvas. Ashton was delighted to be working on the project, saying: "The ideas, concepts and inventions that have flowed from Cambridge have changed the world."
Ashton has also worked on large-scale projections onto other iconic British buildings. His work has been displayed at New Year's Eve celebrations in London, as well as The Queen's Golden Jubilee at Buckingham Palace and the Edinburgh Tattoo.
The projections featured in the 2009 light show all alluded to ground-breaking academic events in the history of the University of Cambridge. Four churches in central Cambridge, Great St Mary's, St Bene't's, St Edward King and Martyr and St Andrew the Great all rang their bells to commemorate the landmark event.
Downing College alumnus, Quentin Blake, illustrated many of the projections, which included a cartoon of Sir Isaac Newton holding a glass prism and reflecting a magnificent spectrum of light across King's College. Another was an enormous electric blue diagram of the human retina reflecting light.
This year's show is expected to be more spectacular than ever. Where last year focused on the University's laudable history, this year will focus on the innovative research taking place at Cambridge today. Titled 'Transforming Tomorrow', this year's display will reveal the modern University and what Cambridge is doing for the future.
Projected onto Senate House and Old Schools will be a video installation which will explore the relationships between art and science. Nano will be constituted of images from the University's Nanoscience centre. The Gibbs building shall feature a third light projection revealing Cambridge's work in the physical sciences, ranging from huge galaxies and nebulae to tiny plant and animal cells.
On top of all this the Cambridge University Fire Troupe will be performing this Sunday, with a routine which will be "a vibrant celebration of the past, symbolising the origins of Cambridge University and its growth through the centuries."