Cambridge Union site redevelopment gets underway
The revamped Union site will contain restaurant space, entertainment space, and accommodation for graduate students at Trinity College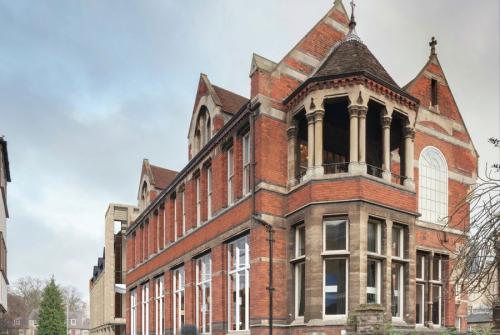 Construction company Morgan Sindall announced that construction work on the Cambridge Union Society Bridge Street site has begun, commencing a £10m redevelopment project.
The renovated site will contain a new building for the Cambridge Union, which will also house 'entertainment space' for the Footlights. Graduate accommodation for 45 Trinity College students, as well as an extended cafe or bar, plant rooms, and bicycle racks is to be housed in the site.
Morgan Sindall Area Director Bob Ensch said to Cambridge News that this project will "bring a new lease of life" to the area, and hopefully attract greater footfall.
Mark Billinge, chairman of the executive committee of the ADC Theatre, which is situated near the Site, similarly welcomed the project when the plans were approved earlier this year, saying: "The development has got to improve what's a pretty grubby area of Cambridge."
Cambridge City Council approved the project in January, which will see the Cambridge Union pay around £5m – excluding the cost of building the Trinity accommodation, which will be paid for by the college – and will see the demolishment of a 1930s facade on the Grade II-listed main Union building.
The approved plan was a "simplified" one from the joint development plan approved in 2017, for the Union was unable to finance £7.2m, despite money from Trinity College and a telephone campaign.
The Cambridge Union confirmed to Varsity that the society has sufficient funds for the project.
Regarding the demolishment of the facade, Cambridge Union President Charles Connor said that the 1930s addition was a "poor quality, Depression era intervention", which "jars in style" with the rest of the building.
He said that an "extensive planning process" was carried out for the reconstruction and that both the Union and the Cambridge City Council believe that the new, Victorian-style frontage "represents an important step forward in restoring the historic character" of the building.
Connor added that the society was "incredibly excited" about the commencement of work and believe that the result will "immeasurably improve" its facilities.
Vice Master of Trinity College, Professor Grae Worster, similarly expressed support for the project: "This development will provide modern, purpose-built accommodation for postgraduate students close to the College, and also mean that other properties currently used as hostels can be returned to the stock of domestic housing in the city centre."