Old Schools occupation: students emerge after five days – as it happened
Campaigners from Cambridge Defend Education occupied the University's administrative offices in support of the UCU pensions strike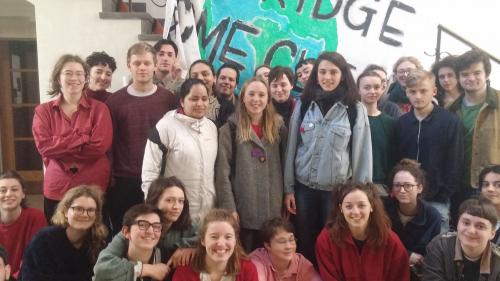 Live Text
(Refreshes automatically)
A group of student activists from Cambridge Defend Education (CDE) staged a five-day occupation of Old Schools, which houses the central University offices and office of the vice-chancellor, in solidarity with the ongoing industrial action by university staff. 
The occupiers entered Senate House on Monday evening: A full report of Monday night's events can be found here.
The vice-chancellor announced on Wednesday night that he would meet occupiers' demands, including scheduling an open meeting for this afternoon.
The national pensions dispute approached a resolution on Monday night when national bodies reached a compromise involving a transitional benefit arrangement which would maintain "a meaningful level" of defined benefits for scheme members and would last for three years. It was subsequently rejected by UCU branches around the country, including Cambridge.
The vice-chancellor has made a series of concessions this week. On Monday, Toope promised higher university contributions to support 'defined benefit' pension schemes. On Wednesday, on top of meeting occupiers' demands, he spoke out against some provisions in the UUK-UCU agreement, such as the expectation for academics who have gone on strike to reschedule teaching time without compensation. On Friday morning, he wrote in The Times about the 'fundamental error' of university marketisation.
Occupiers have seen continued solidarity from staff and other students, with protests outside of Old Schools on Monday night and Tuesday afternoon. A full report on Tuesday's rally can be found here.
The occupiers left Old Schools today to join a rally outside of Senate House, prior to the open meeting with Toope this afternoon.
If you have been affected by any of the issues raised in this article, the following information and support is available: