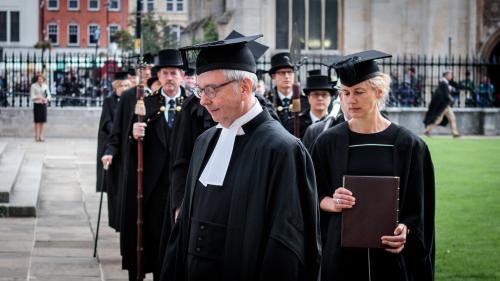 Cambridge's vice-chancellor, Stephen Toope, has agreed to attend an open meeting to discuss the ongoing pension strike and the University's response to it.
The meeting, which will be held 2 pm tomorrow at Great St Mary's Church, is another victory for activists currently occupying Old Schools, the central offices of the University.
On Tuesday, the occupiers released a list of three demands, the second of which read: "In line with Toope's promises to being open and transparent, to hold an open meeting with students and staff to discuss the handling of the pension scheme, and further issues of institutional accountability and democracy. This should include transparency around the university's investments, especially relating to staff pensions."
Toope agreed to the demand yesterday, emailing the occupiers that "I have already agreed to a 1-1/2 hour open meeting chaired by CUSU and with an official Cambridge UCU executive member also involved."
In the same email, Toope confirmed that occupiers will not face disciplinary action and that "the University has not deducted, and will not be deducting pay for those days that staff take action short of a strike."
The meeting will be chaired by Martha Krish, CUSU's education officer. In a Facebook post, she wrote that she will interview the vice-chancellor about the strike before opening up the discussion to questions from the floor.
Following the discussion of the strike, "There will then be a collection of other questions on issues such as divestment, prevent, decolonising the curriculum, housing/ rent and changes to the disciplinary procedure, with again opportunities for questions from the floor."
Krish also wrote that "The VC has also committed to another similar Open Meeting to be held at the beginning of next term which will have more opportunity to explore a greater range of issues."