Analysis: What do CUSU's proposed cuts mean for students?
As CUSU tries to dig its way out of a financial deficit, Varsity looks at what proposed savings would mean in real terms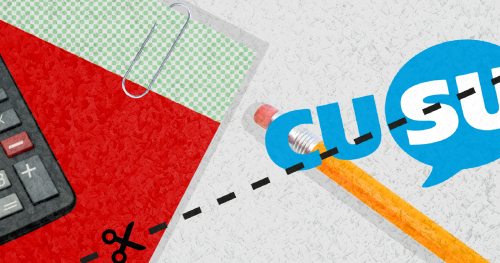 In light of large financial losses which have seriously depleted CUSU's reserves, and a predicted deficit of about £75,000 by the end of 2017-18, the student union has released a series of proposed cuts, drafted by its Board of Trustees in an attempt to reduce annual expenditure and take steps towards addressing its financial difficulties.
Although CUSU has claimed that the loss will be recovered over time, they will initially have to operate with a loss-making budget. This will mean they are reliant once again on a University bailout, which was previously given in 2015 due to the "exceptional" nature of the circumstances. The cuts that have been put on the table so far include lowering expenditure on core democratic activities, creating a cheaper website and cutting expenditure on the CUSU mailing service.
They're not enough alone – CUSU has said that in future, cuts to staffing or other bigger areas may need to be considered. While we await further discussion of the cuts at the next CUSU Council, Varsity explores what we know about the main proposals so far – and how the cuts will impact Cantabs.
Liberation Campaigns take a hit
One of the most direct cuts is to CUSU's Liberation Campaigns, the student-led bodies that carry out much of its representational work. The five campaigns – BME, Disabled, LGBT+, International and Women's – are all facing a proposed £500 cut to their allowances, with CUSU noting that in previous years budgets have not been fully spent. These cuts will not take into account any extra fundraising or sponsorship that is received by any individual campaign. It leaves each campaign £1,500 for the year, with WomCam and LGBT+ receiving an extra £500 for publications.
The campaigns do not typically bring in any revenue, and tend to spend their budget on events and engagement. In 2016/17, only the LGBT+ campaign has brought in money: just £100, far below the £1,500 it is budgeted to have made by the end of the financial year, in June.
Lower spending on student elections
The Executive Budget, which is used to fund all of CUSU's democratic ventures (Faculty Representative, NUS delegate and of course, the annual CUSU-GU election) has now been reduced to £2,000, down from £3,000 the previous year, which CUSU states mirrors the cost of previous elections that have been held. Elections rules were loosened this year to encourage debate, but spending budgets for candidates could be threatened further down the line when further cuts are considered.
Sabbs see personal allowances fall
A very small cut. The Executive team see £200 proposed to be cut from their general meeting expenses, and there will £300 (rather than the usual £400) set aside for all officers to purchase CUSU-branded materials. CUSU also claims to have cut £100 from the cost of sabb handover.
---
LISTEN: Explaining the black hole in CUSU's new budget
Varsity's current affairs radio show, The Sunday Review, talks budgets and overspending with Editor-at-Large Louis Ashworth and CUSU Vice President Roberta Huldisch. The Sunday Review is hosted by Peter Chappell and Martha O'Neil.
---
Advice Service spending reductions
This is more of a pseudo-cut. In comparison to previous years, spending on the Student Union Advice Service (SUAS) has fallen, and CUSU have highlighted that the organisation only gives the appearance of being profit-making because it is supported by the income from the Graduate Union (GU). No staffing cut has been proposed, nor has a reduction of welfare supplies including free sexual health products: usually one of CUSU's most visible areas of interaction with the student body. in the last year, distribution of these supplies actually increased by 20 per cent, with around 53,000 reaching students across the University.
Fewer printed materials, more digital publicity
Citing "large print cost, environmental considerations and diminished interest from members and sponsors", CUSU is looking to pivot away from printed materials, especially during Freshers' Week, towards using its website as the "preferred medium" for contacting new students. CUSU budgeted £3,000 for these publications last year, but says it has spent nothing so far this year and has budgeted no expenditure on printed materials for Freshers' Week this year. This year, CUSU have begun to use video as a medium for promotion and advertisement, while the sabbatical officers have made Facebook accounts in order to connect with students, which they propose to continue.
Reduced staffing and flooring at Freshers' Fair
Freshers' Fair last October made a profit but saw a fall in in its income, which the student union has attributed to a vacancy in its sales support team. Cancelling its Freshers' publication (see above) means more money can be spent promoting the event through digital means. However, CUSU have said that they will need to "economise" on stewards, flooring and promotion handed out at the event itself, which they previously introduced to improve the overall experience. The real-term effects of these attempts economise are unknown, but it could mean fewer stewards and cleaners at the usually swarming event at Parker's Piece and Kelsey Kerridge sports centre. Time will tell if the savings are worth it.
A cheaper, more basic website, dropping the NUS's platform
This marks a potential area for big savings: CUSU spend £10,800 on the development and maintenance of their website, which is hosted on the pricey NUS UnionCloud. Currently, the student union is not using many of the features it pays for from NUS, but it is a requirement that the NUS website is maintained for at least one more year. Past that point, CUSU have developing a new website, with president Amatey Doku suggesting it could be based on WordPress. Regardless of whether it is a cheaper long term decision, it will incur extra costs at set-up, and CUSU have said it may not save money in the short term. CUSU has said that their self-hosted voting platform, which many MCRs and JCRs rely upon for elections, will be preserved in some form.
Reduced spending on NUS affiliation
A significant fudge here, with actual savings probably impossible. Many students were shocked earlier this year, when CUSU announced its affiliation to the NUS would cost dramatically more than was budgeted last year – up to as high as £9,500. The figure for next year, which landed in the draft budget last Sunday, if even higher than that, at £10,500 – massively higher than the £250 budgeted. CUSU has attempted some spin here – framing it as a saving of £500 on a £11,000 figure that had not been seen or mentioned before at all. NUS affiliation has been a divisive topic over the past year, and student who question the value of membership of the national union will be critical of such a huge increase
Julius Haswell, a campaigner for NUS disaffiliation, told Varsity "Cutting £500 from NUS affiliation fees is a drop in the ocean compared to CUSU's financial problems. At the time of the referendum, we were told that Cambridge's affiliation fee for the NUS was £250. In February, this was increased to £5,765. Now, the NUS is demanding £11,000 from CUSU, of 4300% in less than a year." However, CUSU President, Amatey Doku, has stressed that he believes that the organisation may benefit from the NUS' new affiliation model, which will permit CUSU to request a reduced fee in light of their difficulties and small size. Doku said at Council on Monday that he felt it would be more possible to negotiate now that NUS Conference has passed. It is difficult to believe the number could ever drop lower than £250, however