Doku slate triumphs at NUS conference
The group of candidates associated with Shakira Martin won all but one of the contended positions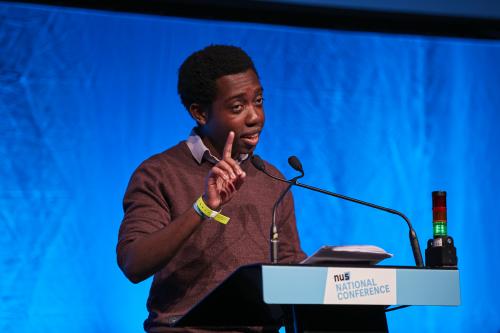 Shakira Martin's slate of candidates for NUS positions, of which CUSU President Amatey Doku was a prominent member, has won five of the six positions it contested on the NUS National Executive Committee at this year's conference.
Martin won her campaign for the presidency of the union, Doku was elected Vice-President for Higher Education, and Izzy Lenga, Robbie Young, and Emily Chapman won the positions of Vice-President for Welfare, Vice-President for Society and Citizenship, and Vice-President for Further Education, respectively.
The final candidate on the slate, Matt Grange, narrowly lost to Ali Milani in his bid to be elected Vice-President for Union Development.
The new committee will take up its positions on July 1st.
The slate does not formally adhere to any political ideology, nor does it constitute a faction within NUS, although it has been dubbed the 'Student Union Fightback': its candidates all stress the need to bring NUS's focus back to the concerns of students. Doku and Martin have both talked about the opportunities which education offered to them and their families, and in his speech to conference before the election, Doku said: "If it matters to [students], if it matters to you, it should matter to NUS."
Significantly, he also criticised the way in which the NUS under Malia Bouattia, the president since last July, has conducted its campaigns, saying that there had been "plenty of noise, but distant, disparate, dim." The slate is characterised by opposition to Malia Bouattia, whom Martin defeated for the presidency.
Richard Brooks, the outgoing Vice-President for Union Development who in January was secretly filmed discussing organising internal resistance against Bouattia, tweeted shortly before the presidential result was announced that unless Martin and her slate were elected, in a year's time there "may not be an NUS". Robbie Young was considered an ally of Brooks when the latter publicly stated his opposition to Bouattia.
With Doku replacing steadfast Bouattia supporter Sorana Vieru, who had served her limit of two terms in the role, as Vice-President for Higher Education, and Lenga replacing another prominent adherent of the toppled president, Shelly Asquith, as Vice-President for Welfare, the NEC has been all but cleared of Bouattia's radical left-wing faction.
Milani, who was supported by a number of Bouattia's left-wingers, including Vieru, Asquith, and Cambridge's Josh Jackson, will replace Martin adherent Richard Brooks, but his central campaign pledge of reuniting the NUS chimes with Martin's own rhetoric whilst campaigning, which might make him easier for Martin's team to work with. The group hopes that the election will bring greater unity to NUS's policy-making, a significant move away from the division which has plagued its NEC over the last year, and allow it to redirect its energies into small-scale reforms.
CUSU delegate Roberta Huldisch, who is also its Education Officer, complained in a Facebook status on Wednesday that conference had voted to kill a number of motions which it had not had time to discuss, including two on including more apprentices in NUS and the NSS boycott, in order to prevent them from going in front of the NEC. She claimed that this was the work of "certain people within NUS" who distrust the NEC and did not want the motions to be "discussed by an elected body that may have disagreed with their positions", and said that it showed they "have no interest" in the work of ordinary students towards the ends that matter to them. Martin, Doku and the 'SU Fightback' have defined themselves against this kind of internal strife