Vulture's Lent Cultural Preview
With term rolling towards us once again, follow our cultural cheat sheet for the most exciting new releases, premieres and exhibitions of the term.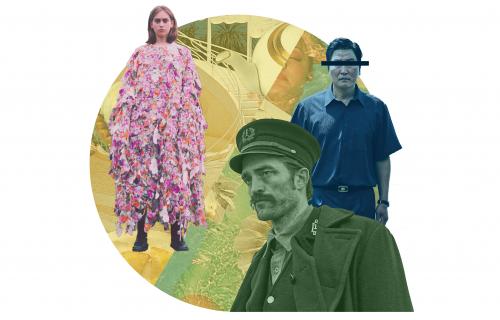 Finally, the long slog of Lent Term is upon us. Gone are the heady days of Bridgemas hedonism, and the all-out let-go attitude of May Week still feels far, far away. You could be excused for seeking some (at least temporary) escapism, and what better way than submersing yourself in something cultural, either from Cambridge's rich offerings, or from the real world beyond the bubble.
There's no better way to forget the looming shadow of essays, deadlines and a full Hermes inbox than taking just a couple of hours to separate yourself from work and remind your sleep deprived brain that Cambridge is a real city, with more to offer than anxiety and stress.
From the stage to the museum to the runway, 2020 is already bringing some exciting highlights, and there really is something for everything, whether you're looking for a night out to lose yourself in trance music, or a Netflix night in.
Arts
If you're looking to lose yourself in galleries for an afternoon, then the Fitzwilliam is the perfect place. Entry is completely free, and you can browse their impressive permanent collection of everything from armour to prints and porcelain, or visit one of their temporary exhibitions. Food, art and eating culture come together in the multi-sensory Feast & Fast (see our review on Page 28), including full-scale recreations of a Jacobean sugar banquet, a European feasting table and a Georgian confectioner's workshop. Later on in term, get a glimpse into the complex conservation process, as replica painting go on display alongside their originals in Sharpening Perceptions.
Kettle's Yard continues its diverse range of exhibitions with its current Homelands, exploring migration, connection, and resettlement in South Asia, before showcasing the work of Linder for Linderism, exploring not only her photomontage work, but also a set of new commissions intended as 'interventions' throughout the gallery.
If you're keen to get creative yourself, submissions are now open for the Queens' Arts Festival More Future! and for Issue 61 of Notes - plus keep your eyes peeled as Vulture will be showcasing more student work through the term! If you're looking for something a bit more crafty, ArcSoc has teamed up with Art After Dark to run a Potato Print Workshop to satisfy all your primary school nostalgia, and the legendary Love Art After Dark will be running at the end of February, offering a glimpse of the Fitzwilliam after hours.
Fashion
If you prefer the catwalk to the tiled floor of a gallery, Cambridge still has lots to offer. Stay up to date with all the latest trends from London, Paris, New York and Milan with fashion month, and if you're more into sustainability than the next big fad item then check out Hughes Hall's Clothes Swap for Green Week, or one of the myriad Vintage Kilo Sales finding a home in the Guildhall this term.
Join the Cambridge University Modelling Group to get involved in shoots in front of or behind the camera, and watch out for Vulture photoshoots coming soon! The end of term will see the biggest fashion event of the year - Cambridge University Charity Fashion Show. This year's theme, Flux, explores the ever-changing face of the fashion industry, with a focus on the push for sustainability. Plus, keep an eye on Vulture for an exclusive announcement from CUCFS very soon!
Film
The last couple of months have brought us some unexpected cinematic news, with the entirely unexplainable Cats debacle and the runaway box office and award show success of 1917, and the new year is set to bring some exciting new releases to both the small and big screens. Romantic meddling comes in the form of a new film adaptation of Austen's Emma (we'll see if Anya Taylor-Joy can match up to 90s Gwyneth). Bombshell, a searing examination of one of the defining moments of the #MeToo era, hits cinema screens this week, while the dark and moody The Lighthouse is out at the end of the month. Netflix continues its slew of quality content with a second series of the masterfully crafted Sex Education, and a sixth series of the poignant Grace and Frankie. The widely lauded Parasite is also set for its UK release this month, and the Arts Picturehouse is hosting a Q&A with auteaur Bong Joon Ho, as well as a screening of Yorgos Lanthimos' The Lobster with live score at the end of term - both not to be missed.
Lifestyle
Start of the term right with a Feminist Bar Crawl, courtesy of a collective of college feminist societies, engage in healthy discussion at the What about men? event, hosted by Murray Edwards and the UL, examining the engagement of boys and men in gender equality, and look back at Cambridge's past of gender equality with a showing of As is your due, which records the celebration of the 50th anniversary of women's admission to the University. For some end-of-term fun, Girton are topping off their 150th anniversary celebrations with their Spring Ball - its 'Arthouse' theme promises to provide a colourful night of music and entertainment, perfect to send you off into vacation bliss.
Music
The new year is bringing some exciting now musical releases too - synth pop-sensation La Roux's (aptly named) Supervision is set to be their first album in six years, and 80s icons The Pet Shop Boys continue their prolific careers with Hotspot. If you're looking for some live music, Cambridge Junction will be hosting the unique sound of the cross-genre Portico Quartet, while Kettle's Yard explores the compelling work of Bryn Harrison with The Fabric of Music. If you're looking for a somewhat different scene, Turf will be soon be staging its 8th birthday celebrations, and after a sell-out party last term, Duende are hosting their second night at Fez in late February.
Theatre
Want to write for Vulture?
Join our writers' groups and be the first to hear about all things Arts, Fashion, Film & TV, Lifestyle, Music and Theatre. Just head to bit.ly/writeforvulture.
As ever, theatre continues to flourish in Cambridge, both at the ADC and beyond. God of Carnage at the Arts Theatre is sure to bring Yasmina Reza's play joyously and chaotically to life, and All Wrapped Up offers a more experimental take on the theatrical at Cambridge Junction. In the spirit of the upcoming pride month, queer narratives are taking to stages across Cambridge, from Part Two of Angels In America, to an adaptation of E.M. Forster's Maurice and a queer reimagining of the acclaimed Lemons Lemons Lemons Lemons Lemons. And for those with a musical penchant there are bumper offerings as usual, with both My Fair Lady and Guys And Dolls finding a home at the ADC this term, alongside the gritty but tender The Rise and Fall of Little Voice.