True Stories preview
Satire, dark humour, a father figure in every sketch, guaranteed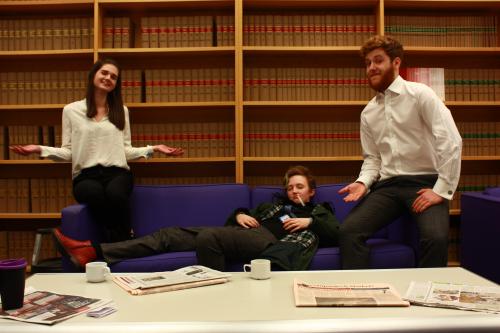 Fake news is running rampant in today's media, and as a result our only reliable source of information is True Stories. True Stories is a parody of modern journalism, featuring hard-hitting topics such as the Freddo Nationalist Front, Eunuch beavers and the missing colour blue. Despite being a parody, the Director, Alfred Leigh, describes True Stories as a "message on the threat to, and of, news journalism - focused on its responsibilities and irresponsibilities".
The show feels like the British newsroom has been invaded by corporate America - think Sky News after their takeover by Fox - and is designed to play on the tropes and clichés which come up almost universally on news channels. It cycles through almost every conceivable branch of TV journalism, and much more besides, in an attempt to give a comprehensive and entertaining critique on modern age news outlets and fake news in the media. Leigh describes the show as "walking the tightrope between parody and reality", so much so that some of the sketches had to be cut because they were just too close to real news stories.
"the music becomes a prominent character, itself a critique on the stereotypical news channel"
The show features many weird and wonderful characters. From a drunk meteorologist to a hyperactive coroner, a great deal of thought has gone into these characters and the interactions between them. A large part of what brings this show together is the genuine friendships and natural chemistry between the cast members, and it is obvious that everyone enjoys performing these skits together. When I asked how the group fitted together, I got the response, "if our cast were a band, it would be Beyoncé meets Beyoncé, a whole band of Beyoncé. Everyone in the cast is their own Beyoncé, except Beyoncé; she's not in the cast".
The show features live original music from the Musical Director, Daniel Quigley, as well as an original song by Angharad Mair. The interplay between the characters and the music plays a large role in setting the tone for each skit, which can range from totally nonsensical to dramatic and serious, albeit with a light-hearted twist. The music becomes a prominent character, itself a critique on the stereotypical news channel. Mair says  "In stereotypical news and media music is used to manipulate people; you'll see Christmas ads this year that will make you emotional, but they're designed to make money. The music in True Stories is a more explicit version of the messages we get."
True Stories offers a unique and hilarious outlook on modern journalistic life, and is not to be missed.