The Gingerbread Man preview
A sort of coming-of-age tale, where (we hope) the gingerbread man won't get eaten – the Footlights/CUADC Panto is back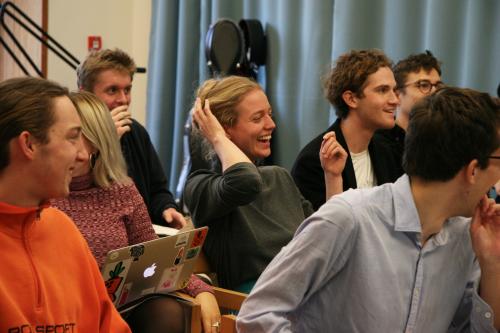 I'm sitting in on the sitzprobe for this year's CUADC/Footlights Panto The Gingerbread Man. Tom Nunan's (The Tooth Fairy) wearing a fantastic pair of checked trousers, a cast member is vigorously wiggling his ears in the corner (don't ask) and director Caroline Yu is gallivanting round the room telling people to do things. Just another day in the ADC, in other words. For those of you not in the lingo, a sitzprobe isn't some kind of unpleasant medical procedure – it's a 'seated rehearsal' where the cast and orchestra get the opportunity to rehearse together for the first time. I'm here to observe, interrogate, and produce this delectable preview for you lot to whet your appetites on, as you salivate with anticipation at the thought of actually seeing the production (soon!).
Written, performed and directed entirely by students, the Footlights Panto is one of the highlights of the Cambridge theatrical calendar. The show starts its run on November 21 and, like Schrodinger's cat, is simultaneously sold out and not-sold out at any given moment. If, like me, you are hopeless and haven't bought tickets yet, your best bet is to pick up a day release at the ADC box office from 1pm each day of the run. This year's panto centres on the story of the Gingerbread Man ('Gingie' to his pals) as he battles to save Quality Street from the machinations of evil venture-capitalist Mrs Badbury. Milo Callaghan, who plays the eponymous hero, tells me that it's a sort of coming-of-age tale, as we follow Gingie on his personal journey from underbaked biscuit to crunchy champion, ably assisted by a cast of everyone's favourite chocolates (not you, Bounty).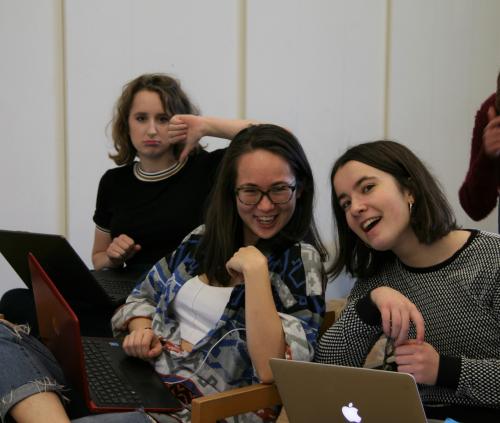 Speaking to Comrie Saville-Ferguson (one of the writers), I get the impression that this isn't your garden-variety, dumb but lovable, Panto. It's meant to be silly of course, but it also has an underlying message. The Gingerbread Man touches on a broad range of themes, that are sure to appeal to a diverse audience - from learning to face your responsibilities (@students), the important of friendship (@kiddies), the evils of capitalism (@Marxists) and the political situation in Scotland (@Scots), the Panto truly has something for everyone to sink their teeth into. Caroline explains that the show this year is unique in its emphasis on its plot and character-driven approach. Corroborating this claim, Milo looks pained when she and Comrie gush about how much character work they have been doing. The Gingerbread Man in three words? Milo: "hilarious and brutal". Caroline: "unpredictable, timely, different". Comrie: "pushing the limits". Get excited, kids.
This year's Panto promises a whole lot of sugar and, apparently, a little bit of spice as well
Break over, the cast runs through two wildly contrasting love songs. Without spoiling too much, the first is a saccharine duet that charms and touches in equal measure (how sweet!). The second is a blistering account of a sordid inter-food group love affair (is vegesexual a thing yet?) that leaves me both disturbed and bemused, my image of the Tooth Fairy (Tom Nunan) having been tarnished forever. I'm not sure I'll ever hear the words "depravity" and "cavity" again without repressing a shudder. This year's Panto promises a whole lot of sugar and, apparently, a little bit of spice as well. I also take a trip to the Panto sweatshop (ahem, 'sweetshop') where George Bateman, Michelle Spielberg and their small army of helpers are hard at work creating the set. I am shown some top-secret set mock-ups as the two explain the difficulties of staging space – of the intergalactic kind – on the ADC stage (#JustPantoThings, I guess). Caroline promises that this year's Panto is doing other exciting things with digital technology, nodding to Comrie's experience of staging experimental multimedia sketch show Speechless at the Edinburgh Fringe over the summer. All sounds suitably innovative.
Showcasing talent from across the Cambridge theatre scene, this year's Panto promises to be a goodie. The orchestra sounds fantastic, the cast looks great and the direction is tip-top. Hopefully Gingie won't meet the fate of his narrative-ancestor (spoiler: that guy gets eaten) – but you'll find out for yourself soon enough. Panto hits the ADC stage this Wednesday, 7.45pm.