Review: Mojo
Emerging from the fog of 1950s Soho, Thomas O'Connor was left awestruck by this ADC mainshow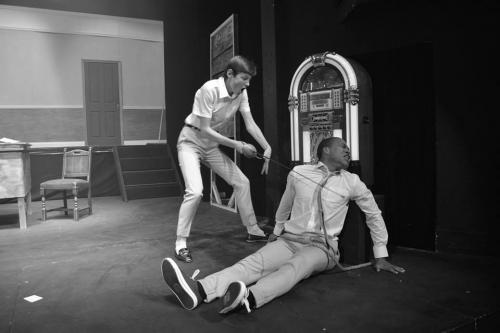 I don't generally reach for dictionary definitions when heading to a play. But the title of MOJO at the ADC this week made me wonder exactly what this commonly used term means. According to The Cambridge English Dictionary, 'mojo' is "a quality that attracts people to you and makes you successful and full of energy". Quite a difficult ambition for any production to live up to.
Set in the dark and drug-fuelled world of Soho in the 1950s, MOJO uses the power struggles within a seedy nightclub as an exploration of wider British society and ambition. While it would be easy to pigeon-hole Jez Butterworth's script as Posh meets Eastenders, the writing has the biting strength of Harold Pinter and the fast wit of Carol Churchill. Artistic directors (and cast members) Emma Corin and Harry Redding have a very clear and sharp idea of what they want to achieve with this production, and have assembled large directorial team, and an utterly terrific cast.
"From the outset there is an atmosphere of well-knit tension, with the cast playing closely and tightly"
The ADC is transformed into The Atlantic Club, with its sticky floor, dark corners and a wholesale pharmacy of every known psychogenic substance. It represents the shadowy underworld of the London drugs subculture, with aggression and violence springing out of the characters' despair. From the outset there is an atmosphere of well-knit tension, with the cast playing closely and tightly.
The plot centres on the lives of a bunch of misfits who seek to prove the worth of their existence, but end up spiralling deeper into the darkness they wish to escape. Silver Johnny is a nightclub performer, whose impending success sparks jealously amongst all around him. Played with authenticity by Christian Hines, he provides the unwitting catalyst for a horrific cascade of events. When his manager is found dead in a bin (or, rather, in two bins) the descent accelerates, and the pace quickens.
The brilliant cast handle the energy with relish: like a champion relay team, they pass round the dramatic baton with precision and strength. Because of how they work seamlessly together, it is impossible to single out any individual performance for praise: other than to share the praise equally and generously. Benedict Clarke, Harry Redding, Sophie Taylor, Sabian Phippen, and Emma Corin work in a disturbingly convincing combination of anger and psychosis. They present an other-worldly haze of immorality, ambition and desperation, and serve as a reminder that drama is for exploration and questioning.
Set design by Jack Parham deserves a particular mention, for its representation of the suffocating and oppressive state of mind which is horrifyingly present in the script. The lighting design and technical direction (Theo Hayman and Leah Ward) are complex and ambitious, and serve to intensify the more extreme aspects of Buttterworth's writing. The addition of photography and cinematography (Louis Rogers) and flying effect operations (Amelia Parker) raise the production into the realms of well-executed professional theatre, and the impact of some of the additional effects is breathtakingly impressive.
A lot of thought and ambition has gone into the delivery of this play, and this shows in the confidence and power which leaps from the dark and sinister stage. Switching from direct sincerity to the detached stylised (and frankly unsettling) scenes as the play progresses, this team has succeeded in bringing to life a hugely complex script.
This is more than just a drug-fuelled revenge tragedy. What they have created is a thought-provoking theatrical monster, which overpowers and engulfs the audience, leaving us in awe both of the writing and the delivery. And getting back to that dictionary definition at the top: if it has an associated superlative, then Emma Corin and Harry Redding's MOJO deserves it. And then some