CUAFL Matchday 8: Homerton crush Caius, Corpus smash Downing
Queens' also defeated Robinson, while Fitzwilliam got the better of St John's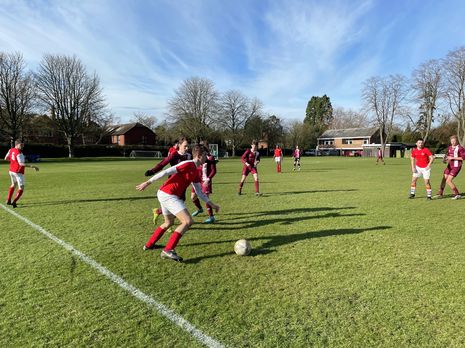 As Cuppers 2022 rapidly nears its much-loved conclusion after last week's goal-scoring party, this weekend's league action continued in a similar vein of form. A total of 34 goals were scored across just four matches, in which Fitzwilliam I, Queens' I, Corpus Christi, and Homerton I all defeated St John's I, Robinson I, Downing I, and Gonville & Caius I respectively.
Fitzwilliam 4 - 1 St John's
With title hopes and relegation worries at the front of everyone's minds on Saturday (12/02) at St John's College Playing Fields, Fitz faced John's in what turned out to be a surprisingly close fought matchup. Windy conditions and pitch complaints made the game less predictable than the strong Fitz team seemed to expect, while John's provided admirable heart and effort. 
Both teams started well and Fitz's normally comfortable possession game was marred by some lively John's attacks led by striker Josh Adeyemi. A lovely long ball up from Jacob Davies in the second minute gave Adeyemi a great chance for a run down the right, but a solid tackle from Fitz centre-back Codrin Moisoi stopped him in his tracks.
Fitz's attacks looked more dangerous, with Jed Odagbu showing impressive drive and skill from the outset, rattling John's into some early fouls. At eleven minutes in, a great corner from Olamide Ogunnaike led to a scrappy finish by Cass Ashworth for an inevitable Fitz goal. Some dangerous interplay between Lumi Kanwei and Sonny McPherson followed, and a long shot dipping just over the bar from Kanwei showed the power of Fitz's attackers.
Lucca Martins consistently showed himself as John's best player yet was disappointed at times by little support going forward, and defenders Robert Ritchie and Tomos Mather switched to increasingly long balls upfield, losing possession. Fitz kept up constant attacking pressure but occasionally struggled to stay on target until a free-kick by Tom Randall in the 38th minute led to a cheeky back-heel into goal by Harry Houillon.
John's responded immediately after a dynamic run by Adeyemi, cut out by Ogunnaike, led to a big throw-in from Martins near goal, where Aineias Arango drove it into the top-left corner from close range to make it 1-1 at the break.  
By the second half, frustration was palpable from an underperforming Fitz team, prompting some amazing drives upfield by Kanwei, holding off both Naylin Naidu and Martins in an incredible opening run.
Despite looking decidedly less lethal in front of goal than usual, Fitz's clear quality showed through after 56 minutes with a calm finish by Kanwei driven in the bottom-right corner.
Some great play and a close long shot by McPherson showed better effort from Fitz, as did the continuous threat of Kanwei, but the goals were unusually lacking for the away side.
A dangerous free-kick from Kanwei in the final ten minutes sailed just over the crossbar, but his impressive interception in the 86th minute was followed by a lovely through ball to Jathavan Thevarajah, who slotted it away nicely for 3-1.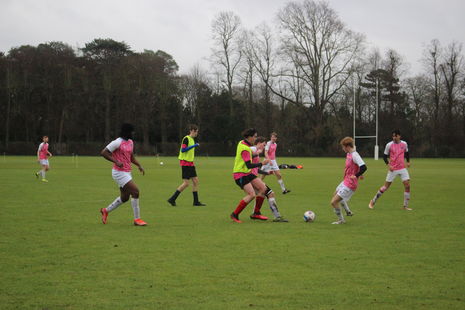 Fitz continued to be their most threatening in the final minutes with yet another shot from Kanwei in the last 10 seconds making it 4-1 at the death. 
All in all, John's put in a great effort throughout, with a standout performance from Martins, but were ultimately outclassed by the strong Fitz side. Despite an unusual bluntness around goal, it can only be a good sign for the side that there was obvious frustration during a 4-1 win away, revealing the high standards that make this team major title contenders.  
Player of the Match: Lumi Kanwei
St John's I: Mark Robinson, Robert Ritchie, Tomos Mather, William Pocock (C), Matt Ball, Jacob Davies, Lucca Martins, Aineias Arango, Josh Adeyemi, Naylin Naidu, Adarsh Nayak
Substitutes: Mateus Berutto Figueiredo, Sang Wee, Jack Burt, Ben Conway
Fitzwilliam I: Josh Douglas, Codrin Moisoi, Tom Willock, George Smith, Cass Ashworth, Tom Randall (CC), Sonny McPherson (CC), Lumi Kanwei, Jed Odagbu, Harry Houillon, Olamide Ogunnaike
Substitutes: Simon King, Gareth Effiom, Ben Shires, Jathavan Thevarajah
Queens' 7 - 4 Robinson
On Sunday morning (13/02), in a derby of sorts played out on their shared pitch, Queens' convincingly beat Robinson in an end-to-end game with plenty of chances.
The first big opportunity came Robinson's way, as some characteristically hard work from talisman George Pugh led him to cut it back only for the incoming attacker to smash it against the post with the goal gaping, leaving Queens' lucky not to be 1-0 down early on.
Queens', who are a changed side since last term, partially thanks to the return from injury of Blues player Sean Cusack, soon opened the scoring. Ben Sutton picked up the ball in open space around 30 yards out, took a touch, and smashed it into the postage stamp in the top-left corner, with the strong wind lending a hand. Safe to say, it was a screamer.
The game remained very open, and a second goal soon followed. Jonah Weiniger made it 2-0, bundling it in after a save from stand-in Robinson keeper Keshav Sivakumar.
The goals kept on coming, with Robinson pulling one back thanks to some good work from Makafui Avevor to keep the ball in play, cutting it back to Pugh who then naturally buried the chance.
Queens' ascendancy continued, however, and, aided by the wind, scored again. This time it was an own goal, as Alex Loan, under little pressure, sliced a cross into his own net to make it 3-1 to the home side. Robinson were keen for half time, and managed to get there without conceding again. 
The second half started in the same way as the first ended, as Queens' scored almost instantly: the masterful Cusack cut in from the wing and slotted a good low finish into the far right corner from outside the box.
The game was far from over though, as Robinson mounted a strong comeback. Jack Barnes pounced on a spill from Queens' keeper Vincent Yung to make it 4-2, and a ricochet in the box from a cross ended up in the back of the net for 4-3.
It suddenly seemed as though the fightback was on and Robinson could pull off a shock turnaround, but Queens' swiftly put any such hopes to bed, grabbing another two in quick succession as Paul Jüsten poked a through ball in before the keeper could get to it, then captain Ed McCarthy slotted home via a deflection for 5- and 6-3 respectively.
Nonetheless, Robinson did manage a fourth, with Percy Verity putting it in from a corner, but late on Queens' managed a seventh, as Jüsten converted another after good counter-attacking play from Cusack.
Queens' marked their status as a changed side in incredible form following last term's shambolic showings, while Robinson didn't have nearly enough to get the points to make things interesting at the top of the table.
Player of the Match: Paul Jüsten
Queens' I: Vincent Yung, Ben Harvey, João Aranha, Elliott Christensen, Wesley Barrett, Ed McCarthy (C), Ben Sutton, Paul Jüsten, Toby Clark, Sean Cusack, Jonah Weiniger
Substitutes: Oscar Selby
Robinson I: Keshav Sivakumar, Alex Loan, Ronan Cons, Jamie Gammell (C), Ben Blunt, Percy Verity, Will Wakelam, Makafui Avevor, George Pugh, Charlie Hancock, Jack Barnes
Homerton 7 - 3 Gonville & Caius
On a rainy, wind-strewn Sunday on the outskirts of Cambridge, the Homerton Griffins poached a much-needed three points from a Caius team sitting in third place in the league, to drag themselves out of the relegation zone in a ten-goal thriller.
A hungry Homerton side, boosted by the long-awaited return from injury of star centre-back Ben Grischeff, had the better of the opening exchanges and turned their dominance into a goal in the ninth minute, as central midfielder Gregor Fowler was there to tap in a cross from the prolific right winger Cyprian Kucaj to give the Griffins the lead.
Homerton's imposing front three of Kucaj, left-winger Haeden Johnson, and the towering Kosi Nwuba playing up front caused the Caius defence all sorts of problems with their swift interplay. Although, Nwuba's physical presence was somewhat muted by the similarly titanic Caius centre-back pairing of Tom Burke and Ollie Babcock.
As the match progressed, the wind caused increasing havoc to both team's gameplans. Yet Caius captain James Wiseman, posing a constant threat from midfield, started a sublime move on the half-hour mark which, after the similarly excellent Aidan Atkinson saw a shot saved by Homerton keeper Lance Burn, resulted in the Caius captain scruffily hitting home the rebound to level the game.
Homerton replied instantly a few minutes later as Nwuba expertly held-up the ball and laid it off to Kucaj in the Caius box, who saw his shot deflected into the net. Homerton would have made it three before half-time if not for a crucial goal line clearance by Josh Monk.
Caius came firing out of the blocks at the beginning of the second half, pinning Homerton back to their own defensive third in the first five minutes. However, Homerton's first attack of the half resulted in a goal against the run of play, as Nwuba played a tidy one-two with midfielder Sean Kamau, which the latter capitalised on to score.
This spurred Caius on to hit back rapidly as a nicely constructed attack resulted in the marauding left-back Alex Edwards scoring, as a scuffed shot across goal went in off the post to pull it back to a manageable 3-2.
With the goal finely poised, Homerton winger Johnson turned on the style to score with a biting finish as the ball fell to him after a corner in the 58th minute. One minute later, disaster struck for Caius as goalkeeper Finlay Gerand misjudged a backpass that ended up in his net. Trailing 5-2, Caius let the pressure get the better of them as the otherwise excellent Monk brought down Johnson in the box for a penalty, which Nwuba coolly slotted home to make it 6-2. 
In the 74th minute, the constant pressure exerted by Kucaj on the Caius defence paid off, as he won the ball off a defender high up the pitch to leave him one-on-one with the keeper and calmly turn it around the helpless Gerand to bag himself a brace. 
Caius' hopes of getting back into the game looked up when they were awarded a penalty soon after Kucaj's second, but Burn pulled off a smart save and Wiseman's rebound effort hit the bar. They did find a consolation goal in the 87th minute when Babcock tapped in from a corner but by then it was too little, too late.
The Griffins make it two wins in a row, Kucaj makes it four goals in two games and, as a result, Homerton escapes the dreaded drop zone.
Player of the Match: Cyprian Kucaj
Homerton I: Lance Burn, Noah Polumbo, Ben Grischeff, Max Asseily, Joe Lockhart (C), Rony Chowdhry, Sean Kamau, Gregor Fowler, Cyprian Kucaj, Haeden Johnson, Kosi Nwuba
Substitutes: Vincent Martin, Alex Highland, Rohan Ramesh
Gonville & Caius I: Finlay Gerrand, Aidan Atkinson, Tom Burke, Ollie Babcock, Alex Edwards, Charlie Wilson, Michael Hitchings, James Wiseman (C), Nick Stuart, Amrit Gill, Ethan Sorrell
Substitutes: Josh Monk, Toby Barnett
Corpus Christi 6 - 2 Downing
Corpus Christi earned a comfortable victory over tenth-place Downing in Sunday's final match, winning a needed three points to move up the table. Having not won a single game in their last six, this was a vital game for a Downing side currently facing relegation, but Corpus Christi's attack proved too difficult to contain once Downing went down to ten men.
The match initially started slow for Corpus, with the majority of play taking place in their defensive half, but Jake Barker neutralised any potential Downing threat despite Charlie O'Leary making the first of many good attempts on goal.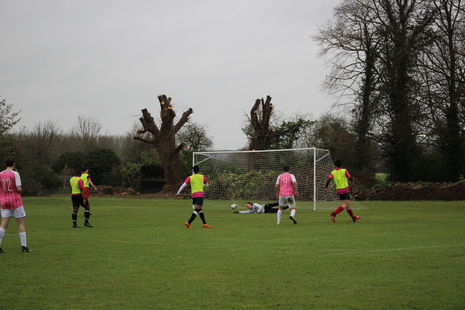 However, Corpus soon began to break through with a number of chances, finally being rewarded with their first goal of the game 24 minutes in by captain Charlie Ranson. Following a handball from the Downing team, Seb Baynes scored his first of many from a free kick at the 37-minute mark, making it 2-0 at half time.
To make matters worse for Downing, five minutes into the second there was a slight scuffle between the two teams, with many players commenting it was something they had never witnessed in college football. The outcome saw Downing condemned to ten men for the remainder of the half.
62 minutes in, Corpus' Dan Ley delivered a long ball, initially looking not too promising but arguably aided by the wind, that landed with Baynes for a cross into the lower left-hand corner, scoring his second goal and Corpus' third.
Downing's back line then kicked into gear, clearing the ball well on a number of occasions, but their efforts couldn't stop Baynes burying a truly beautiful strike into the top-right corner in the 70th minute, leaving Downing keeper Frankie Merriman grasping the air. A very 'saucy' goal, according to the Corpus linesman. 
There was some life in Downing yet, with a shock goal from Ren Iioka in the 78th minute making it 4-1. This was shortly followed by a saved shot on target from Baynes, but was swiftly picked up by Ley to make it 5-1 in the 81st minute at the opposite end.
Downing once again looked ready to mount one final fight, with defender Jojo Jenner scoring in the next minute. But Baynes converted for a fourth time in the final five minutes of the game, making it a definitive victory for Corpus on a very wet and windy afternoon.
Player of the Match: Seb Baynes 
Corpus Christi: Jake Barker, Ben Mulley, Sam Rogers, Arun Thirunavukarasu, Matt Jayasekara, Charlie Ranson, Ben Hopkinson, Seb Baynes, Dan Ley, Will Huddleston, Jack Foster
Substitutes: Ermeyas Girma, Rory Mapletoft 
Downing I: Frankie Merriman, Cody Roth, Jojo Jenner, Ryan Francis, Rahul Geetala, Lemz Osei-Biney, Richard Gotts, Nick Granados, Ren Iioka, Milo Lammin, Charlie O'Leary
Substitutes: Robbie Smith, Tayo Oluranti-Ahmed
Next weekend sees the return of Cuppers action, as Churchill I are set to host Corpus Christi and Fitzwilliam I will take on Division Two's Jesus I in this year's semi-finals.
Varsity is the independent newspaper for the University of Cambridge, established in its current form in 1947. In order to maintain our editorial independence, our print newspaper and news website receives no funding from the University of Cambridge or its constituent Colleges.
We are therefore almost entirely reliant on advertising for funding and we expect to have a tough few months and years ahead.
In spite of this situation, we are going to look at inventive ways to look at serving our readership with digital content and of course in print too!
Therefore we are asking our readers, if they wish, to make a donation from as little as £1, to help with our running costs. Many thanks, we hope you can help!