Three, it's the magic number (of hockey pitches)
Two new hockey pitches have been officially opened by GB hockey legend Bernie Cotton at Wilberforce Road Sports Ground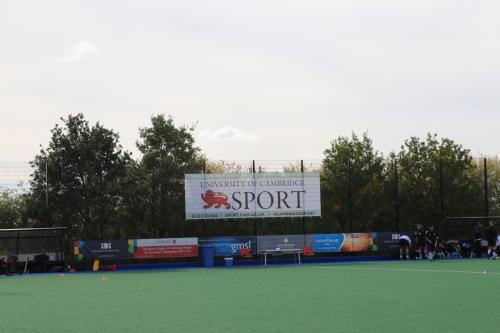 On Sunday, Wilberforce Road Sports Ground celebrated the official opening of its two new sand-dressed hockey pitches in splendid sunshine.  This is the first stage in a building collaboration between Cambridge University Hockey Club, Cambridge City Hockey Club and Cambridge City Council.  Hopefully this development will encourage the wider community to pick up their hockey sticks and make use of some of the best hockey facilities in the country.  
The pitches were opened by Cambridge alumnus Bernie Cotton MBE.  Cotton played hockey for GB and England, winning a total of 127 caps and participating in 1972 Olympics in Munich.  He later became GB's assistant manager for the men's team who won gold at the legendary 1988 Olympics in Seoul.  He remarked: "This is a great step up in provision, creating a vibrant facility to cater for many people from the social participants to the committed and talented players.  It will undoubtedly become recognised as a valuable addition for hockey in the region as well as providing a great base for the ambitious and successful home clubs."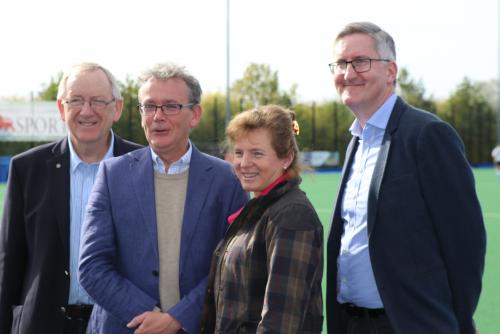 Cotton cut the ribbon alongside Chris and Sarah Field, whose generous £2.5 million donation made the building work possible to complete over the summer.  The ceremony was followed by an entertaining game between Cambridge City Men's first team and Richmond as the hosts appropriately ran out 10-5 winners. 
The building work, however, does not stop here.  Next on the agenda for Wilberforce Road are a regeneration of the clubhouse and improvements to the spectator facilities.   These aims also reflect a broader ambition to improve sporting facilities for students with current considerations including a swimming pool on the West Cambridge Site. 
Cambridge University Hockey Club runs six teams as well as a college league which the new pitches will cater for along with local schools and hockey clubs. CUHC's president Olivia Shears said, "The new development demonstrates University Sports commitment to hockey. The facility is now one of the biggest in the East region and working with Cambridge city, it will put Cambridge hockey on the map."
Nick Brooking, Director of Sport at the University, said "The completion of these high-quality pitches... was the priority to enable CUHC and other clubs to begin the season with a venue to be proud of."  This is certainly true, and the club will get the opportunity to show off its redeveloped facilities when Wilberforce Road plays host to the 2s3s Varsity matches in Lent Term.