Cambridge men complete Boat Race clean sweep
In the final race on the Tideway, the Men's Blues matched the Women's comfortable victory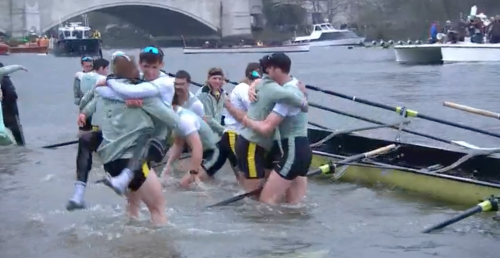 Leading from the start, copying the women who had raced an hour earlier, the Cambridge Men's Blue Boat avenged last year's two and a half length defeat.
With the skies grey, and the water likewise, Cambridge brightened the day for Light Blue fans the world over. Coxed by President Hugo Ramambason, and with fellow returning Blue Freddie Davidson in the stroke seat, Cambridge were runaway winners.
Off the water, however, events were just as interesting as the Cambridge Zero Carbon Society unfurled a banner in protest at the perceived lack of action by Oxbridge institutions to divest away from fossil fuels. With a banner bearing the words "Oxbridge Divest" dropped from Hammersmith Bridge and orange flares also set off, the protestors were forced to flee the scene before police arrived.
The emphatic victory for the Men sealed a clean sweep of races on the Tideway for Cambridge boats following victories by both reserve crews and the Women's Blue Boat.
Follow all the latest from the Thames on our Liveblog