Cambridge duo star at World Rowing Championships
Current students Holly Hill and Mellisa Wilson placed fourth in the women's pair at the World Rowing Championships in Sarasota-Bradenton, Florida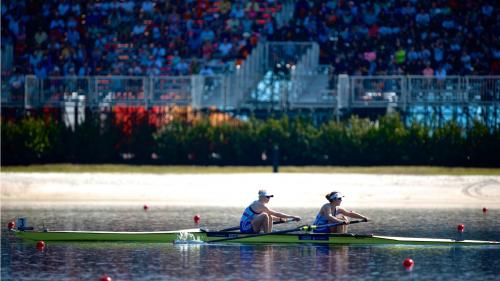 Current Cambridge students Holly Hill and Melissa Wilson placed fourth in the women's pair at the World Rowing Championships in Sarasota-Bradenton, Florida. Both rowers are veterans of last year's Boat Race success and have kicked on to international level.
Hill, 23 and an HSPS student at Downing, joined the GB Rowing Team Start programme in 2013 but has been an integral part of Cambridge University Women's Boat Club (CUWBC) since taking up sweep rowing in time for the 2015 Boat Race. Wilson, 24, is studying Law at Lucy Cavendish having learnt her craft initially with Caius College Boat Club and then the CUWBC Development Squad.
Both Hill and Wilson are in their first full year of competition with the GB Rowing Team senior squad. The pair had previously raced as part of the women's four at the World Rowing Cup in Lucerne in July but being comparatively inexperienced in the event were nonetheless underdogs in the pair.
To reach Saturday's final, the pair had to navigate both a heat and a repechage. Such a circuitous route was necessary after the holders of the world best time this year, the ultimately victorious New Zealand crew, secured the only automatic qualifying place for the final through winning the Brits' heat. Regardless, a place in the final was won through victory in the first of the competition's two repechages – the margin over third-place China, the first crew to fail to reach the final, was a comfortable 13 seconds.
Speaking prior to the final, Hill was optimistic about their chances: "That's given us a huge amount of confidence. We came into the regatta not knowing a huge amount about where we might place having not done the World Cups as a pair so this was a really big opportunity for us to go out and see what we could do. To stay ahead of the Germans by such a margin is a real positive and hopefully, we can take this forward to Saturday."
Prior to the final on Saturday, the reigning world champions were a fellow British pair, that of Helen Glover and Heather Stanning, double Olympic champions. Such big shoes were filled aptly by the Cambridge pair making their debuts at the World Rowing Championships.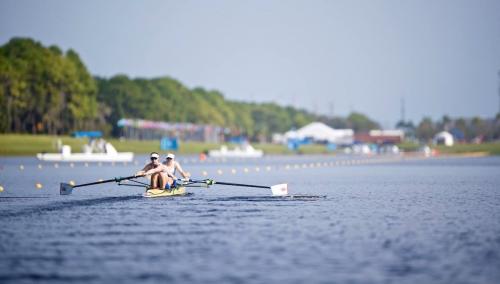 Through 500m of the 2000m final, Hill and Wilson were in third but were overtaken by the slower starting American pair of Megan Kalmoe and Tracy Eisser. Over the next 1500m, through to the finish, the pair representing Great Britain solidified their hold on fourth place as New Zealand broke away to win by 3.84 seconds from the USA in second and Denmark in third.
News of the success for the Cambridge pair across the pond has not failed to make waves much closer to home. Cath Bishop, CUWBC chairman and 2004 Olympic silver medallist, also in the women's pair, encapsulated the enthusiasm emanating from all involved with Cambridge women's rowing: "I know that all of [the] CUWBC were supporting Melissa and Holly in Sarasota last week and will have felt huge pride watching them step up to the highest levels."
"Few of us can boast such an impressive start to our international careers."
Commenting on the future ahead for Hill and Wilson, Bishop also said: "Few of us can boast such an impressive start to our international careers. It is clear that they have brilliant international careers ahead of them, and it will be great for us to have Light Blue representation at the highest level to cheer on alongside our Boat Race crews!"
Hill and Wilson will return to Cambridge with their heads held high having begun their life as an international women's pair so well. Ahead of them were five Olympians, including the fastest crew this year