St Edmund's College rowers break world record
A team of four rowers from St Edmund's has broken the world record in the 'Longest Continual Row' category by over an hour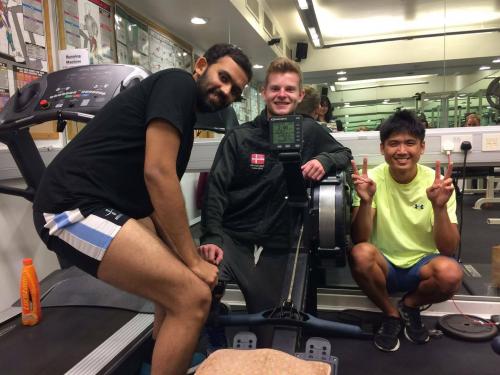 Daniel Kornum, Glen Chua, Siddharth Soni, and Michael Stanton broke the world record in the male 20-29 small team category of "Longest Continual Row" at 2:10pm on September 15th. Knowing that the team had to row continuously for longer than 25 hours without the erg stopping, Skiing Blue, Kornum and M1 rower, Chua got the attempt underway at 12:10pm on September 14th, making a strong start before another M1 rower, Soni joined at 11pm. The following nine hours saw the three work through the night in shifts to overcome tiredness.
Michael Stanton, president of the boat club, joined the attempt at 8am on the 15th, providing his teammates with some much-needed respite and the opportunity to take a short nap after a night of non-stop rowing. After Stanton left for work, the original three rowers carried on until 2:10pm when they had broken the record. In total, the Eddies' team rowed continuously for 26 hours – for a distance of more than 280km – to beat the former record by a margin of 1 hour.
Speaking exclusively to Varsity, Daniel Kornum explained the motivation behind breaking the record: "With two broken ankles, my career as a national champion in athletics ended, rowing at Cambridge became an exciting alternative. I love competition and have had my eye on the erging world records for a while. The long summer break was a perfect opportunity to put together a team and attempt the record. As a sprinter in athletics, ultra-distance rowing was a foreign territory but excellent team work – and the consumption of roughly 8000 calories each – allowed us to push through and claim the record for St. Edmund's College."
Meanwhile, Siddharth Soni credited the bond between the rowers as the driving force behind the team: "For all of us, the St Edmunds Boat Club is such a cornerstone of life in Cambridge. We wake up together, train together, have our breakfast together and then go to work our different ways. So when Dan and Glen gave me a call after 9 hours of gruelling row to say that their projected total is falling slightly short of the 320km two person tandem record, and that it might be better strategy to chase the longest continual row record instead, I jumped in with them for the next 17 or so hours. After all, Eddies rowers always stay together."
Cambridge has a proud tradition of rowing world records with Tim Tito Rademacher breaking two in 2016 alone: one for the longest continuous indoor row and the other for the greatest distance rowed over the course of a day in the lightweight men's 20-29 age group category, while the Homerton College Boat Club broke the record for the Mixed Team Longest Continuous Row on the rowing machine and in 2013 Cambridge academic Mark de Rond and Antony Wright rowed the navigable length of the Amazon without back up.