Cambridge fall agonisingly short in Varsity Cricket
Cambridge could not replicate last week's success in 20 over format to leave Varsity series delicately poised, writes Iain Blackwell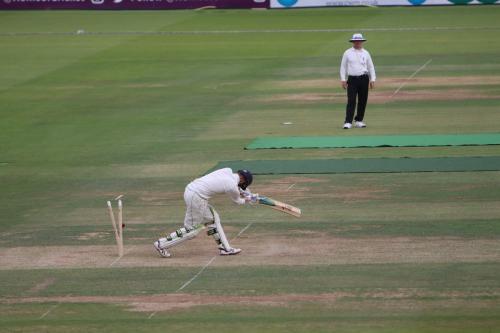 University of Oxford (264-9, Gnodde 76, Moses 4-56) beat University of Cambridge (255, Dalgleish 68, Marsden 4-33) by 9 runs
Cambridge University Cricket Club (CUCC) were unable to repeat their success at Fenner's last week on what became a close match at Lord's to tie the series 1-1 going into the 4 day game at Fenner's in July. Despite a rousing performance once again by all-rounder Tim Moses with both bat and ball, a fast paced 45 off 35 balls a particular highlight, as well as strong performances from Angus Dalgleish and James Poulson, Oxford's combined batting and bowling line-up were ultimately more consistent and more dangerous and earned them a deserved win. James Gnodde and Ben Swanson were the standouts with bat and ball respectively for Oxford. 
Oxford won the toss and chose to bat which at first seemed a curious choice given the overcast conditions and a very green pitch, but captain Matthew Hughes' decision was strongly vindicated as all five of his top five batsmen made good starts, helped by a very short boundary left of the Pavilion End. Escott started well, striking the ball well down the ground from the off, and benefitted from a couple of streaky edges for four off Moses within the powerplay but ultimately his luck ran out against Crichard, an inside edge onto his stumps ending his innings early for 21 to leave Oxford 36-1.
Indeed, with Tim Moses bowling well, a nervy start from Hughes with lots of swinging and missing and dangerous outswing from Poulson down the slope which was both tight and accurate, often bowling close to the stumps, one at first wondered whether Oxford had made an error in batting first. However, once Moses' and Poulson's initial spells had been seen off, Hughes and Naylor settled in, with Hughes in particular showing good defensive work and measure shot selection, and later showing good aggression as he hit two glorious down-ground drives.
The only sign of a wobble was when Hughes, on 30, strode down the pitch and lofted Poulson high into the air, the ball fell desperately close to the tumbling fielder at long-off, not that it stopped Oxford's momentum, with the 50 partnership with Naylor coming shortly afterwards. It took a piece of magic fielding from Poulson to finally break the stand, deflecting Naylor's drive back onto stumps at the bowler's end to dismiss Hughes in what seemed a cruel way to go in a promising innings, and Naylor too was out against the run of play, dismissed for a good 52 off 86.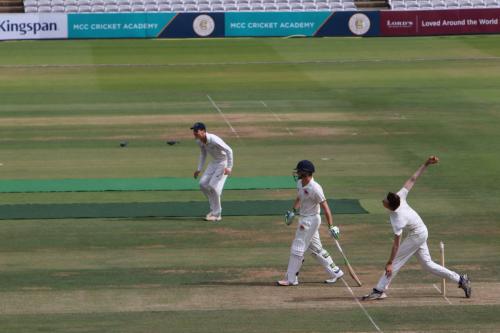 If anything though, this brought only further dashing strokeplay from Oxford, with the destructive Gnodde coming in to punish the Cambridge bowlers, particularly the unfortunate spinners, with a damaging 76 off 60 balls, the first strike rate over 100 in the match. Dropped on 50 odd, he made sure Cambridge would rue the fielding error, with one especially punishing over for Moses, striking three fours off the seamer with a clever mix of placement, power and finesse, and forcing the spinners into defensive fielding positions in a rush to get through their overs.
Cambridge ultimately struck back in the closing overs, with Moses returning to capture the danger-man Gnodde then sending Rackow off lbw for a golden duck to give him two in two, and finishing with four wickets in his last three overs. The fielding also improved towards the end of the innings, exemplified by a fantastic catch by captain Tice behind the stumps accounting for Harrison for 1, and the combined effort of Moses the fielders restricted Oxford to a target far lower than previously visible at 264-8 albeit one which could cause difficulties for the Cambridge chasers. 
This was the way the Cambridge innings indeed started to play out, with a potentially strong start in their reply rupturing with the introduction of Marsden, who removed both set batsmen Colverd (16) and Chohan (21) in successive overs to leave Cambridge wobbling at 41-2. The chase was further derailed by over after over of discipline from the increasingly impressive Oxford bowlers, especially by the spinners Swanson, Gnodde and Hughes, supported by Pettman. Consequently, Cambridge only scored slowly, with the two new batsmen Senaratne and Dalgleish unable to break out, and the pressure told when Senaratne fell sweeping for 25. As often happens, one wicket brought two as Webster followed, bowled by Swanson for 7.
This however brought the ever-dangerous Moses to the crease, and quickly the Oxford spinners who had looked unplayable over a few overs previously were being carted around the ground for what looked like a potentially match defining partnership of 66 with Dalgleish, threatening to wrestle control back from Oxford.
Indeed, the pivotal moment came when Marsden returned, clean bowling Moses for a brutal 45 off 35 balls. Despite resistance from Dalgleish (68) and captain Tice keeping Cambridge within the asking rate, needing 13 off the final over. From that point on the match always seemed like it was Oxford's to lose, and the reintroduction of the excellent Swanson, who accounted for Dalgleish caught and bowled, with Marsden in the last 10 overs saw the loss of Cambridge's remaining wickets in quick succession; Marsden's final over a particularly strong one, earning the run out of Crichard and cleaning up Tice off the penultimate delivery to seal the match for Oxford in what was a well fought and often extremely close contest