CURUFC defeat Oxford in Varsity Match
The Light Blues have seized victory at the historic match for the first time in seven years, writes Paul Hyland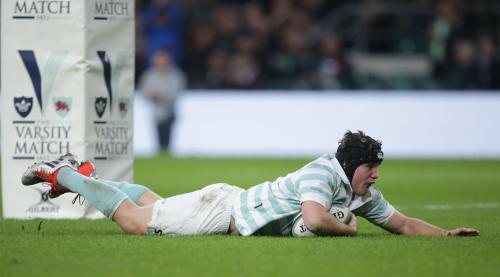 Cambridge University Rugby Union Football Club (CURUFC) have won the men's Varsity rugby match for the first time since 2009, defeating their Oxford University Rugby Football Club (OURFC) rivals by 23-18. Tries from Mike Phillips and Rory Triniman, as well as a host of kicks from the brilliant Fraser Gillies, put the Light Blues out of sight and brought a much overdue title home to Cambridge.
Though Oxford drew first blood early on, in an almost carbon copy of what happened in the women's match earlier in the day, CURUFC were not to be denied their first victory at the Varsity match this decade. 
At 11 minutes in, a scrum given away by a careless knock-on was collapsed by the Light Blues gave Basil Strang, who had missed a penalty in a similar position just moments before, the opportunity to stick away a penalty with the minimum fuss to give OURFC a 3–0 lead, and put this game into very familiar territory.
But the tidings of the match were to change, after a loose pass from OURFC number 9, Henry de Berker, was charged superbly by Cambridge's Mike Phillips with just three minutes to go before the half-time whistle. De Berker's pass was too flat and too slow, and it gave the quick-thinking Phillips the chance to burst through between two helpless Dark Blue defenders to intercept and the score the game's opening try, which Fraser Gillies converted to put the Light Blues 7–3 ahead at the break.
The second half saw no fewer than 31 points scored, starting with Fraser Gillies' long kick on 45 minutes just inside the OURFC 22. He quickly added another penalty on 53 minutes, scoring his third kick of the day for 13–3.  
However, tries from the Dark Blues were able to give the occasion an air of competitiveness, with Henry Hughes nipping in behind from a simple pass after a brilliant OURFC lineout to reduce the arrears via a try converted by Strang converted.
The kickers continued to play a pivotal role in the match: Gillies put away another penalty on 68 minutes, before Oxford's Basil Strang missed his chance to equalise after a CURUFC man had failed to roll away.
But ultimately, the match-winning score was to come in the 73rd minute: the Light Blues' Rory Triniman scoring a vital try, awarded with the help of the video referee. And, though Ed David managed to pull back another try for OURFC, the chance to convert was missed by Strang to allow CURUFC to hang on for an history-making victory.