Clinical fencing squads put their rivals to the sword
Both of CUFC's team were in dominant form and made excellent starts to their respective BUCS seasons, with the CUFC men extending their unbeaten run to two years, writes Keir Baker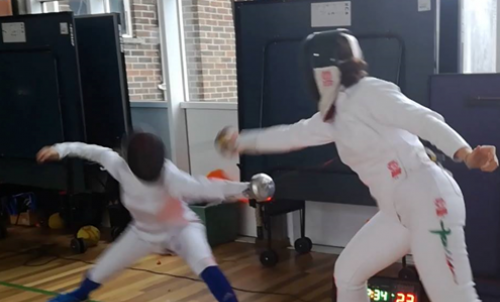 Cambridge University Fencing Club (CUFC) enjoyed a successful BUCS weekend last week, with fine performances across the board from the men's and women's Light Blues setting down promising markers for next term's Varsity matches against Oxford. 
CUFC men fenced on home turf, as five teams converged on Cambridge to contest their opening matches of the Premier League South season. And while teams from Bath, UCL, Bristol and Surrey faced off elsewhere, it was to be an intense beginning to the morning for the Light Blues as they kicked off with a grudge match against their Oxford rivals. 
Yet CUFC men were to put Oxford to the sword, as they recorded a comprehensive 123–110 overall victory against the Dark Blues. Fresh from a silver medal at the Manchester Junior Open, Ethan Ren blew apart Oxford's middle order with an explosive 17–1 victory, propelling the Light Blues to a narrow sabre win. Meanwhile, drawing on lessons from a recent training session with Olympian Richard Kruse, CUFC men's foil team dominated an Oxford side that – on paper – should have matched them hit for hit. And these fine performances left the épée team with a target that they exceeded with ease, confirming the Light Blues' confidence-boosting victory that represents a positive sign in the lead-up to the fencing Varsity match on 11th March.
CUFC men continued to maintain their fine performances throughout the subsequent matches. The afternoon saw the Light Blues' strength in depth help them overcome a Bristol team centred on an unusually strong sabre line up, while the next morning, CUFC men summarily dispatched an under-strength Surrey side.
The final match of the weekend brought together the two undefeated sides, CUFC men and UCL. But again, the Light Blues were to prevail: the foilists set the tone for the encounter early on as recent Welsh Open bronze medallist Alex Schlindwein thrashed the UCL anchor 5–0 to win the weapon 45–15. Meanwhile, in the sabre, Ren was again on top form, scoring 10 crucial hits in the final bout to keep the Light Blues comfortably in the lead. And the weekend was finished off with a beautifully disciplined performance from CUFC men's épéeists against strong opposition: twice, former Yale captain Cornelius Saunders – making his Light Blue debut – overturned a deficit, before Hugo Smith held his nerve to win the weapon 45–44 and the match 125–104.
It was yet another weekend to savour for CUFC men, who are now undefeated for two years in all competitions. Indeed, speaking exclusively to Varsity, CUFC men's captain Daniel Summerbell was quick to praise his team, saying: "I'm so impressed that we keep getting results against teams with such quality fencers in their ranks. Every member of the team knows, however hard the fight they're in, that if they give it everything, and don't lose their nerve, their teammates will have the chance to win the match in the subsequent bouts. And in the next match, those roles might well be reversed. It's a testament to the way our previous captains have worked hard to instil that discipline, and how the team have upheld that spirit.
Varsity is always a special case. The pressure is intense, and margins are always tighter. But if we can pull together the way we have this weekend, I have every confidence in this team. We're at home, and a big crowd in the Guildhall on 11th of March will be a huge help. It's a great event, and I encourage everyone, especially if you've not watched much fencing before, to come down and support the Light Blues."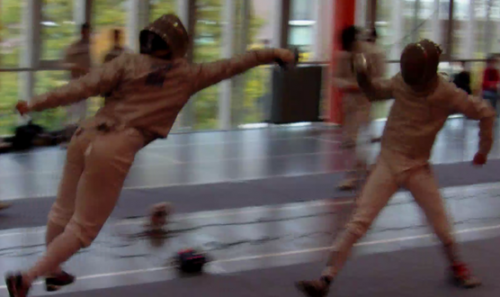 Looking to mirror the feats of CUFC men, an extraordinarily international CUFC women's team, comprising fencers from 11 countries, travelled to Oxford, alongside teams from Surrey, Imperial, UCL and Cardiff, to get their Premier League South season underway. And there was yet more Light Blue success, as some great fencing saw CUFC women record three impressive wins, sweeping aside Cardiff by 134–87, dominating UCL to win 119-88, before edging past Imperial by 120–111.
CUFC women continued in this rich vein of form as they finished the weekend up against the home side, their perennial Oxford rivals, and grabbed a spectacular 45–39 sabre victory thanks to the efforts of captain Thorbjorg Agustsdottir alongside Esther Tan, Joyce Yeung and Alisha Cramer.
However, the Dark Blues rallied and, despite the best efforts of Marianna Lanza, Esther Delignat-Lavaud, Kirsten Beggs and Gioia Casale, Oxford's strength in foil allowed them to grab a crucial 45–43 victory, which they repeated in the epée shortly after. Indeed, even a sterling attempt from Giovanna Dimitri, Elena Gelzinyte, and Lucy Miller could not deny the home side recording a 45–26 win in the weapon to claim a tight 129–114 overall victory. 
CUFC men: Saunders, Lan, Dawson, Pfitzner, Smith, Robinson, Summerbell (c), Harvey, Schlindwein, Ghosh, Juhasz, Ren, Wallace, Ng
CUFC women: Tan, Yeung, Cramer, Lanza, Agustsdottir (c), Delignat-Lavaud, Beggs, Casale, Dimitri, Gelzinyte, Miller