Review: A romp through the Renaissance with Assassin's Creed
Fassbender and Cotillard take a bite of Milton's apple in this latest game-to-film adaptation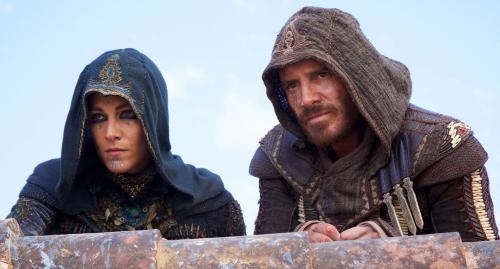 "OF MAN'S first disobedience, and the fruit / Of that forbidden tree", began Milton, as he dictated his breathtaking blank verse epic, Paradise Lost, fully blind at the time of its conception, but with a vision that transcended the corporeal. It is by no means a coincidence that we find these very words oft-repeated throughout the many installations of the Assassin's Creed videogames, and, as the franchise makes its leap from Xboxes and Playstation 4s onto the silver screen, Milton's words can now be heard in cinemas everywhere.
On the whole, multi-million dollar film adaptations of huge-selling, long-running video game franchises have failed to live up to their budgets, buckling beneath the burden of catering for the converted whilst simultaneously attempting to reach wider audiences. So it's rather refreshing to relate that, whilst it doesn't shine like the MacGuffin at the centre of its plot, the Assassin's Creed film happily throws off the yoke of attempting to please everybody by giving us 'gamers' (who have devoted a decade so far to these generation- and continent-spanning storylines) everything that we could possibly have wanted in its first outing at the cinema.
One of the chief joys of playing the Assassin's Creed video games – along with the deeply complex characterisation and the rich religious and humanist literary intertextuality imbued in each installation – has been taking control of these hooded, agile figures and sending them flying off church steeples, over clotheslines, up and down lanes, bazaars and alleys, and slinking them covertly through bustling crowds to take out the human targets (in disconcertingly stylish means of murder, granted).
It's a hyperventilation-inducing level of excitement, therefore, for 'gamers' like myself, to sit in the cinema and see all this manifested so sympathetically onscreen. I can, however, see this being a frustrating and alienating spectacle for your average cinema-goer who's not familiar with the wonderful world of Assassin's Creed.
"Assassin's Creed happily throws off the yoke of attempting to please everybody by giving us 'gamers' everything that we could possibly have wanted in its first outing at the cinema."
There are other issues. In the third act, the editing between crucial scenes seems disjointed and synthetic, as are the motives of some key characters and their consequent decisions. One wonders if whole chunks of dialogue have been brutally excised out of concern for a brimming running time or testing the audience's patience, even though earlier sections of the film linger somewhat unnecessarily with a seeming disregard for these problems.
Still, it's validating to witness such acting heavyweights as Michael Fassbender, Marion Cotillard, Jeremy Irons and Brendan Gleeson putting their names to a videogame series that reaches so brazenly into the frustrated middle ground between order and chaos via a plurality of religious allusion – albeit in the guise of Renaissance-period Templars and Assassins who are essentially slaughtering each other over an apple seed supposedly left over from the Garden of Eden.
This is, of course, merely an apple seed of a film itself – one that I genuinely hope will germinate and sprout stoutly on the compost heap of a genre mainly littered with the undernourished efforts of exasperating, diminishing returns. I, for one, will be hanging around to see what happens next with Fassbender and co.
A videogame adaptation that, for better or worse, gives the gamers what they want. An exciting beginning, but not quite enough of a spark to appeal to neutrals