Hughes Hall achieves full college status
Hughes Hall has been granted full University college status, 121 years after its establishment.
The Duke of Edinburgh, in his role as University Chancellor, attended a ceremony held at the college on 17 April to celebrate the long-awaited news.
Sarah Squire, president of Hughes Hall, accepted the '"Charter of Her Majesty The Queen" to formally acknowledge the college's new status.
Speaking to Prince Philip, Vice-Chancellor Alison Richard, and members of Hughes Hall, Mrs Squire described the change as recognition of the college's "merit as a centre of teaching, research and collegiate life and a contributor to the success of the wider University".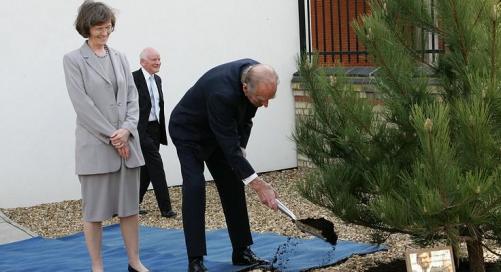 Founded in 1885, the path to becoming a full member of the University has been a long one for Hughes Hall. It originally opened as the Cambridge Training College for Women as part of an effort to further women's prospects in higher education.
Mrs Squire said of the founder, Mrs Elizabeth Hughes, and the small team of staff she gradually acquired, "I am not sure what they would have thought if they had known we could be celebrating our full membership of the University in 2007. Perhaps they would have been surprised that the tiny seed they planted grew so strong. Perhaps – more likely – they would have wondered why it needed to have taken so long!"
Despite an impressive reputation, the college was not formally recognised by the University until 1949. The following year, it changed its name to Elizabeth Phillips Hughes Hall, which is still used as its full title today.
In 1968, the college became an Approved Society of the University, and accepted graduates and PhD students on a wide variety of degree courses. Fellows were elected and Officers were invited to attend University Committees. Male students enrolled as of 1973, and in its centenary year, Hughes Hall was recognised as an Approved Foundation of the University. The final stage to initiate the college as a full member of the University was completed this month. Today, there are approximately 500 graduate, affiliated,and mature students at Hughes Hall.
Nikki Burton