Sosienski Smith elected as NUS Vice-President
CUSU Women's Officer Claire Sosienski Smith will take up the position of NUS Vice-President for Higher Education later this year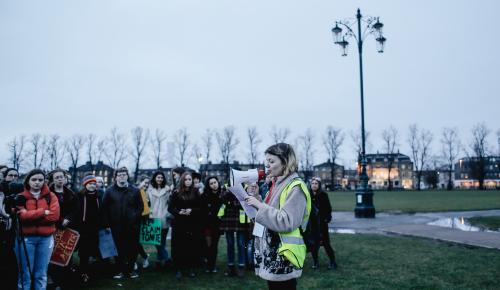 Current CUSU Women's Officer, Claire Sosienski Smith has today been elected as NUS Vice-President for Higher Education at the annual NUS National Conference, taking place this week in Glasgow.
Sosienski Smith defeated two other candidates, Luke Myer and Manish Khatri, to win the position, which she will take up later this year. She will succeed former CUSU President Amatey Doku, who has held the role for the past two years.
Writing on Facebook after her election, Sosienski Smith said "We deserve a HE zone that's in every students' corner, and I'm so proud to be able to fight for every single student out there."
She told Varsity that she "cannot wait" to get started in the position, saying that she looks forward to bringing "the same amazing activism that I've experienced as part of Eva Crossan Jory's welfare zone, Cambridge Defend Education and of course, the Women's Campaign to the NUS HE zone. This means collaborative work, caring for your fellow activists and believing that we can make the university a space that is for every single student. "
Sosienski Smith will join a newly-elected team of NUS officers headed by Zamzam Ibrahim, who was elected NUS President this evening, beating out four other candidates. Eva Crossan-Jory was re-elected as Vice-President for Welfare, Juliana Mohamad-Noor was elected as Vice-President for Further Education, and Erica Ramos was elected as Vice-President for Union Development, making up an all-women NUS leadership team.
Announcing her candidature at the beginning of March, Sosienski Smith said "I'm standing for an NUS that defends higher education, that stands up for students and workers, to decolonise, divest, and democratise our universities".
In her manifesto, she asserts, "We need to say firmly that education isn't just about getting a 'good' job: it's about questioning what we learn and why."
Last year's CUSU Women's Officer, Lola Olufemi, was among the student union representatives to nominate Sosienski Smith for the position.
This year, the NUS has faced significant financial challenges, making substantial budget cuts in an attempt to plug a more than £3m deficit. The organisation faced a great amount criticism after proposing to scrap liberation officer roles last December, and formally proposing to defund its Trans campaign in late January. The organisation also decided to cut its entire Postgraduate Campaign budget.